The 3A Areas in Central Tokyo – The Allure of Azabu, Akasaka, and Aoyama
Poste date: Sunday, August 14, 2022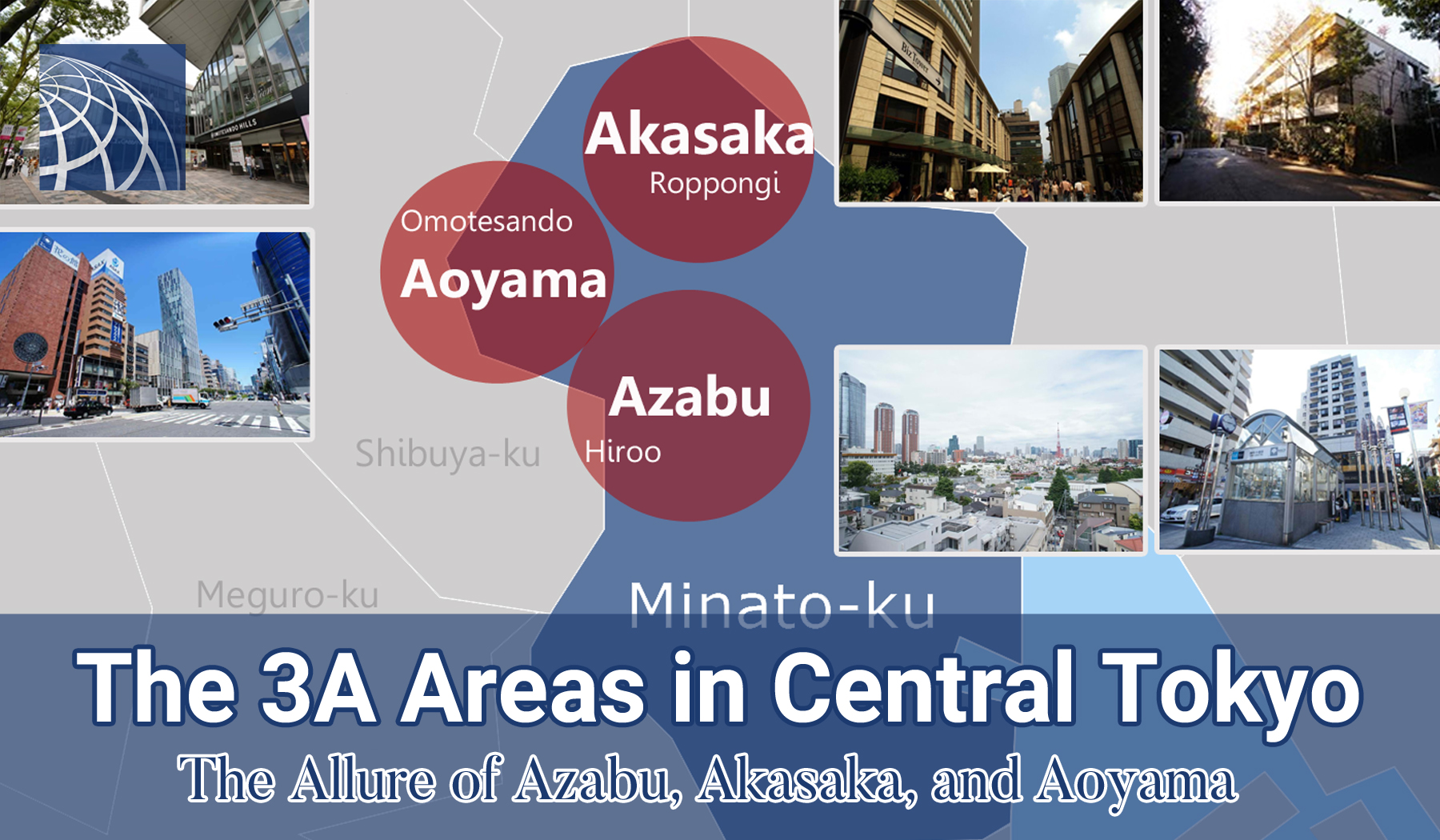 Minato-ku lies at the center of Tokyo and its allure attracts many big domestic and foreign companies looking to establish their offices there and business people with high incomes looking for a place to live. Within this ward are the areas of "Azabu", "Aoyama", and "Akasaka". These three locations are widely known as the "3A Areas" and are specially branded as high-end areas with super luxury apartments, and in recent years, the attention of foreign investors. Here is an introduction to the specialties of each area along with reasons why the 3A's area is so popular.
Azabu Area 
Azabu Area is an area with many hills stretching from the area around Azabu-juban Station to Hiroo Station. Home to embassies from various countries, this old upper class residential area still maintains its prestige. With a wealthy expat population Azabu has a variety of international schools and high-grade supermarkets with imported goods further bolstering its international atmosphere. Along the ever busy shopping street in front of Azabu-juban Station you can enjoy the friendly atmosphere of its traditional commercial and working-class neighborhoods.
For details: Azabujuban/Motoazabu Area, Hiroo area
Station, Line:
Azabu-juban Station (Namboku Line and Toei-Oedo Line)
Hiroo Station (Hibiya Line)
Roppongi Station (Namboku Line and Toei-Oedo Line)
The market price of pre-owned apartment (per 3.3m2) as of the year 2021
| | |
| --- | --- |
|  Azabujuban |  JPY5,810,000 |
|  Hiroo |  JPY5,380,000 |
|  Roppongi |  JPY5,300,000 |
Aoyama Area 
Aoyama is a refined area lined with the world's most well-known brand shops and high-class restaurants. There area along Omotesando Street in particular attracts crowds looking to stay at the forefront of fashion trends. A block away from the busy streets of Omotesando is a quiet low-rise residential townscape, a great dwelling environment with its close proximity to the lush greenery of Yoyogi Park and Meiji Jingu Shrine.
For details: Aoyama Area, Omotesando/Harajuku Area
Station, Line:
Aoyama-itchome Station (Ginza Line, Hanzomon Line, and Toei-Oedo Line)
Gaiemmae Station (Ginza Line)
Omotesando Station (Ginza Line, Hanzomon Line, and Chiyoda Line)
The market price of pre-owned apartment  (per 3.3m2) as of the year 2021
| | |
| --- | --- |
|  Aoyama-Itchome |  JPY6,590,000 |
|  Gaienmae |  JPY5,920,000 |
|  Omotesando |  JPY5,340,000 |
Akasaka Area 
The Akasaka area lies close to Nagatacho, home to the National Diet Building and other government facilities, and is an active business area with an international atmosphere due to the United States and other embassies in the neighborhood. The area has had a recent rise in popularity among those wanting to live close to work. This is due to having many tower apartments and large-scale commercial facilities in the neighborhood such as Roppongi Hills, Tokyo Midtown, and Akasaka Sacas.
For details: Akasaka Area, Roppongi Area
Station, Line:
Akasaka Station (Chiyoda Line)
Akasaka-mitsuke Station (Marunouchi Line, Ginza Line)
Aoyama-itchome Station (Ginza Line, Hanzomon Line, and Toei-Oedo Line)
Nogizaka Station (Chiyoda Line)
Roppongi Station (Namboku Line and Toei-Oedo Line)
The market price of pre-owned apartment  (per 3.3m2) as of the year 2021
| | |
| --- | --- |
|  Akasaka |  JPY5,670,000 |
|  Nogizaka |  JPY4,250,000 |
|  Roppongi |  JPY5,300,000 |
Allure of the 3A-areas
Each located within Central Tokyo and with their own special features, are luxurious residential neighborhoods that satisfy all conditions one could want in a residential area. Here are some of the features that add to the allure of the 3A areas and brand them as high class residential areas within Central Tokyo.
Convenience for transportation
Each of the 3A's are in close proximity to the major business areas of Tokyo and with easy access by car or taxi. Multiple trains lines cross and meet at nearby stations making for easy access to all of Tokyo. These areas are best suited to affluent people and executives working in Central Tokyo wanting a home nearby.
Stable asset value
In the past few years the land price in Central Tokyo has been experiencing a stable upward trend. It has been observed that the lease demand due to population growth may be high while the risk of decreasing asset value may be low in the long term in Central Tokyo. This in turn is attracting many companies, commercial facilities, and educational facilities as well as further development of the transportation network. The address names of Azabu, Aoyama, and Akasaka have value to those seeking status and are well-known among foreign investors.
Historically proven as good locations
Due to the areas' hilly locations with the highest level of ground stability and safety agaiAs the areas are located in an area with many hills, they have the advantage of having the highest level of ground stability as well protection from earthquakes and floods. The value of the land in these areas has been highly assessed for a long time. With many spacious pieces of land and broad streets in throughout the areas, Daimyo's mansions, Shinto shrines, and Buddhist temples were built here throughout the Edo era. Today many of these properties are succeeding as modern and stately, high-class residential towns. 
Many high-grade apartments
As the area is known for its affluent residents, many major construction companies choose to build new luxury apartments here. These apartments include a full range of high-grade facilities and services such as; a fitness gym, swimming pool, security system, and concierge service.
Residential environment blessed with lush greenery
Arisugawa-no-miya Memorial Park, Akasaka Gyoen, Hikawa Shrine, Meijijingu Gaien, and Yoyogi Park are located within the 3A's areas' neighborhood. In this environment that you can enjoy nature and lush greenery while in Central Tokyo.
Good educational environment for children
Within the area are many well-known private and public schools with good reputations for students gaining entrance into junior high and high schools as well as various international schools. The quality and variety of available school options attracts families that are devoted to the education of their children. The areas lie along the school bus routes for the international schools allowing children to get to school safely. There are also many parks, facilities, and libraries for children within the areas.
Epicenter of fashion and culture
There are art museums, movie theaters, art galleries, entertainment facilities, hotels and restaurants within the areas. Without having to go too far from home, you can enjoy everyday life filled with cultural inspiration in Tokyo's leading areas for fashion and culture.
Popular residential areas for expats
Many luxury residences catering to foreign executives, such as Homat branded apartments, were built after WWII in the 3A areas. This in turn attracted many international schools, supermarkets with imported groceries, and other facilities convenient for foreign residents to be built here. The are also embassies from various countries scattered throughout the areas, providing well-maintained public peace.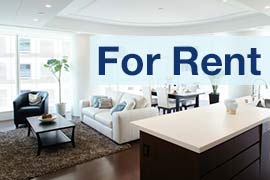 Listings of popular and luxurious rental apartments, condominiums, and houses designed with expats in mind.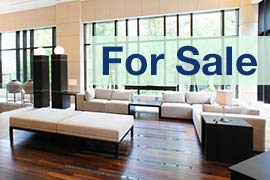 Listings of apartments, condominiums, and houses available for purchase in Tokyo.