Minato City Guide
( Minato Ward, Minato-ku )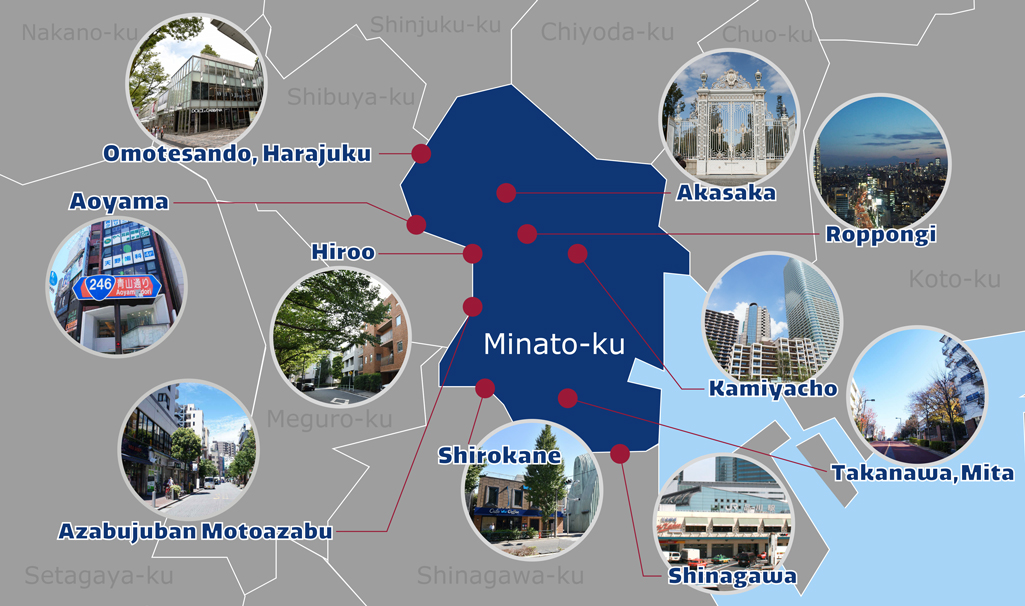 Minato City Overview
Many companies placing their headquarters in Minato City has resulted in it becoming a center for a variety of business activities. Many foreign corporations and embassies can be found spread throughout this area as well. Due to a comparatively high population of foreign residents, Minato City can be considered one of the most international areas of Japan. Minato City's business districts include areas such as Toranomon, Shimbashi, and Shiba. Also included within Minato City are its commercial areas of Aoyama, Akasaka, and Roppongi; its residential areas of Azabu and Shirokane; and its large-scale redevelopment districts of Shiodome and Daiba. Throughout Minato City are areas with an abundance of greenery and nature, such as The Crown Prince's Palace, The State Guest House in Moto-Akasaka, Shiba Park, and the Institute of Nature Study in Shirokanedai. All these different areas which help to illustrate that Minato City has many different faces.
Within Minato City are many large-scale commercial complexes, with hotels and conference centers, such as Roppongi Hills, Tokyo Midtown, Toranomon Hills, ARK HILLS, and Shiodome Sio-site. The "Special Zone for Asian Headquarters" initiative–started by the Tokyo Metropolitan Government to attract foreign companies–includes the major business areas in the city: Roppongi, Toranomon, Shimbashi, Tamachi, and Shinagawa. Foreign companies establishing their head offices in these areas can enjoy preferential treatment such as local tax discounts, deregulation, financial support, business and life support, and more.
Minato City has the highest concentration of facilities and services for foreigners in all of Tokyo. There are many establishments that foreign residents will find a welcome convenience such as international schools, English-speaking hospitals, and international supermarkets. Luxurious housing in Minato City mostly consists of condominiums and single-family houses designed with European and American style layouts intended for foreign executives and diplomats. High-class condominiums usually provide front desk services in English.
Minato City Residential Areas
---