The Quality of Homat Series Apartments in Tokyo
Poste date: Friday, January 21, 2022
Homat brand apartments are designed and built by Kowa Real Estate specifically for foreign company executives and diplomats living in central Tokyo. Since 1965, Homat rental apartments have been developed mainly around central Tokyo in areas such as Hiroo, Azabu, Akasaka, and Roppongi. These areas are popular residential neighborhoods among foreigners in Japan. 

All Homat apartments have been built in convenient locations with easy access to public transportation (bus stops and train stations). The apartments blend in amongst other high-end residences in peaceful and luxurious neighborhoods.
One of the main contributing factors to Homat's popularity among foreigners is the expert blending of Western style room layouts with Japanese aesthetics. When looking upon a Homat apartment the first thing that will catch anyone's eye will be the tiled exterior of the building followed by a stone pathway leading to the entrance lined with Japanese stone lanterns surrounded by carefully trimmed trees.
 


The interior of the apartments are designed to be more spacious than Japanese homes to suite a more Western lifestyle. The living and dining are spacious enough to comfortably host dinner parties. Bedrooms layouts are spacious as well, with ample storage space. Each Homat apartment usually has 2 full bathrooms, perfect for families. For those who like to drive, parking on the premises is available.

The majority of Homat brand properties were built between 1965 and 1988, though some of these have been renovated after 2000 to reinforce their earthquake resistance capabilities and update the kitchens and bathrooms to something more modern and contemporary. These renovations have help to further increase the popularity of Homat buildings.

While the majority of Homat apartments are relatively low-rise buildings in residential neighborhoods, there stands amongst them one built atop a high-rise building. The Homat Viscount, built in 2005, has residential apartments from the 16th floor up and offices on the floors below. It comes equipped with the latest facilities, high quality living spaces, English hospitality support, and the Japanese garden on the rooftop that Homat properties are known for.
 
Homat Viscount in Akasaka, Minato-ku, Tokyo

In June 2021 a new Homat Sharon was completed on the land of the former Homat Sharon and the additional land on the east side. This is the first low-rise Homat apartment in the past 34 years and one of the largest Homat branded luxury rental apartment with 6 floors above ground, 1 basement floor, and a total of 55 units.
Homat properties are highly sought after when it comes to top-end luxury apartments that will achieve the global standard of living.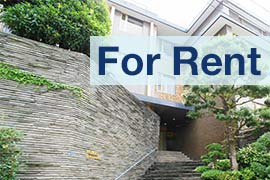 Designed and built by Kowa Real Estate specifically for foreign company executives and diplomats living in central Tokyo.
Homat Series Apartments in Tokyo

Minato-ku
| Property Name | Photo | Address | Nearest Station | Built |
| --- | --- | --- | --- | --- |
| Homat Baron | | 4, Nishi-azabu, Minato-ku | Hibiya Line, Hiroo Station | 1981 |
| Homat Ace | | 3, Minami-azabu, Minato-ku | Hibiya Line, Hiroo Station | 1978 |
| Homat Ambassador | | 4, Minami-azabu, Minato-ku | Hibiya Line, Hiroo Station | 1971 |
| Homat August | | 3, Minami-azabu, Minato-ku | Hibiya Line, Hiroo Station | 1977 |
| Homat Capital | | 1, Shirokanedai, Minato-ku | Namboku Line, Shirokanedai Station | 1980 |
| Homat Cathay | | 3, Motoazabu, Minato-ku | Hibiya Line, Roppongi Station | 1980 |
| Homat Concord | | 5, Roppongi, Minato-ku | Namboku Line, Azabujuban Station | 1977 |
| Homat Excelsior | | 2, Mita, Minato-ku | Namboku Line, Azabujuban Station | 1984 |
| Homat Gardenia | | 5, Minamiazabu, Minato-ku | Hibiya Line, Hiroo Station | 1997 |
| Homat Governor | | 1, Roppongi, Minato-ku | Namboku Line, Roppongi-itchome Station | 1980 |
| Homat Majesty | | 5, Roppongi, Minato-ku | Namboku Line, Azabu-juban Station | 1977 |
| Homat Manor |   | 4, Shirokane, Minato-ku | Namboku Line, Shirokane-takanawa Station | 1986 |
| Homat Oak | | 2, Shirokane, Minato-ku | Namboku Line, Shirokane-takanawa Station | 1990 |
| Homat President | | 1, Roppongi, Minato-ku | Namboku Line, Roppongi-itchome Station | 1971 |
| Homat Princess | | 5, Roppongi, Minato-ku | Hibiya Line, Roppongi Station | 1971 |
| Homat Riviera | | 2, Motoazabu, Minato-ku | Namboku Line, Azabu-juban Station | 1983 |
| Homat Royal | | 1, Akasaka, Minato-ku | Ginza Line, Tameike-Sanno Station | 2012 |
| Homat Ruby | | 1, Minami-Aoyama, Minato-ku | Chiyoda Line, Nogizaka Station | 1987 |
| Homat Shalom | | Toei-Oedo Line, Azabu-juban Station | 5, Roppongi, Minato-ku | 1978 |
| Homat Sharon | | 4, Minami-azabu, Minato-ku | Hibiya Line, Hiroo Station | 2021 |
| Homat Sun | | 4, Roppongi, Minato-ku | Toei-Oedo Line, Roppongi Station | 1986 |
| Homat Virginia | | 4, Minami-azabu, Minato-ku | Hibiya Line, Hiroo Station | 1984 |
| Homat Viscount | | 1, Akasaka, Minato-ku | Ginza Line, Tameike-sanno Station | 2005 |
| Homat West | | 3, Roppongi, Minato-ku | Hibiya Line, Roppongi Station | 1970 |
| Woodville Azabu | | 4, Nishi-azabu, Minato-ku | Hibiya Line, Hiroo Station | 1988 |
Chiyoda-ku
| Property Name | Photo | Address | Nearest Station | Built |
| --- | --- | --- | --- | --- |
| Homat Admiral |   | Nibancho, Chiyoda-ku | Yurakucho Line, Kojimachi Station | 1983 |
|  Homat Amber |   | Ichibancho, Chiyoda-ku | Hanzomon Line, Hanzomon Station |   |
| Homat Camellia | | Ichibancho, Chiyoda-ku | Hanzomon Line, Hanzomon Station | 1978 |
|  Homat East | | Ichibancho, Chiyoda-ku | Hanzomon Line, Hanzomon Station | 1977 |
|  Homat Kaya | | Ichibancho, Chiyoda-ku | Hanzomon Line, Hanzomon Station | 1987 |
|  Homat Orient | | Ichibancho, Chiyoda-ku | Hanzomon Line, Hanzomon Station | 1984 |
|  Homat Kojimachi | | Kojimachi, Chiyoda-ku | Hanzomon Line, Hanzomon Station | 1981 |
|  Homat Sanbancho | | Sambancho, Chiyoda-ku | Hanzomon Line, Hanzomon Station | 2003 |
Shibuya-ku
| Property Name | Photo | Address | Nearest Station | Built |
| --- | --- | --- | --- | --- |
| Homat Olympus | | 1, Sendagaya, Shibuya-ku, Tokyo | Sobu Line, Sendagaya Station | 1984 |
| Homat Duchess | | 2, Uehara, Shibuya-ku, Tokyo | Chiyoda Line, Yoyogi-uehara Station | 1984 |
| Homat Duke | | 2, Uehara, Shibuya-ku, Tokyo | Chiyoda Line, Yoyogi-uehara Station | 1984 |
| Homat Hills | | 4, Shibuya, Shibuya-ku, Tokyo | Ginza Line, Omote-sando Station | 1988 |
| Homat Monarch | | 2, Hiroo, Shibuya-ku | Hibiya Line, Hiroo Station | 1987 |
| Homat Orange | | 3, Nishihara, Shibuya-ku | Chiyoda Line, Yoyogi-uehara Station | 1987 |
| Homat Rose | | Oyamacho, Shibuya-ku | Chiyoda Line, Yoyogi-uehara Station |   |
| Homat Swan |   | 2, Uehara, Shibuya-ku | Chiyoda Line, Yoyogi-uehara Station | 1985 |
Shinagawa-ku
| Property Name | Photo | Address | Nearest Station | Built |
| --- | --- | --- | --- | --- |
| Homat Arcadia Hills | | 3, Kamiosaki, Shinagawa-ku | JR Yamanote Line, Meguro Station | 1989 |
| Homat Flora | | 2, Kamiosaki, Shinagawa-ku | JR Yamanote Line, Meguro Station | 1983 |
| Homat Leona | | 6, Hatanodai, Shinagawa-ku | Tokyu-Ikegami Line, Hatanodai Station | 1988 |
| Homat Lilac | | 2, Kamiosaki, Shinagawa-ku | JR Yamanote Line, Meguro Station | 1988 |
| Homat Golden | | 5, Higashi-Gotanda, Shinagawa-ku | JR Yamanote Line, Gotanda Station | 1986 |
| Homat Magnolia | | 7, Koyama, Shinagawa-ku | Tokyu-Meguro Line, Senzoku Station | 1982 |
Meguro-ku
| Property Name | Photo | Address | Nearest Station | Built |
| --- | --- | --- | --- | --- |
| Homat Keyaki House | | 4, Komaba, Meguro-ku | Keio-Inokashira Line, Komaba-todaimae Station | 1969 |
| Homat Orchid | | 2, Higashiyama, Meguro-ku | Denen-toshi Line, Ikejiri-Ohashi Station | 1980 |