2nd Roppongi Hills (Roppongi 5-chome Project) completion in 2030 – Roppongi will be an even more attractive town! -
Poste date: Friday, July 28, 2023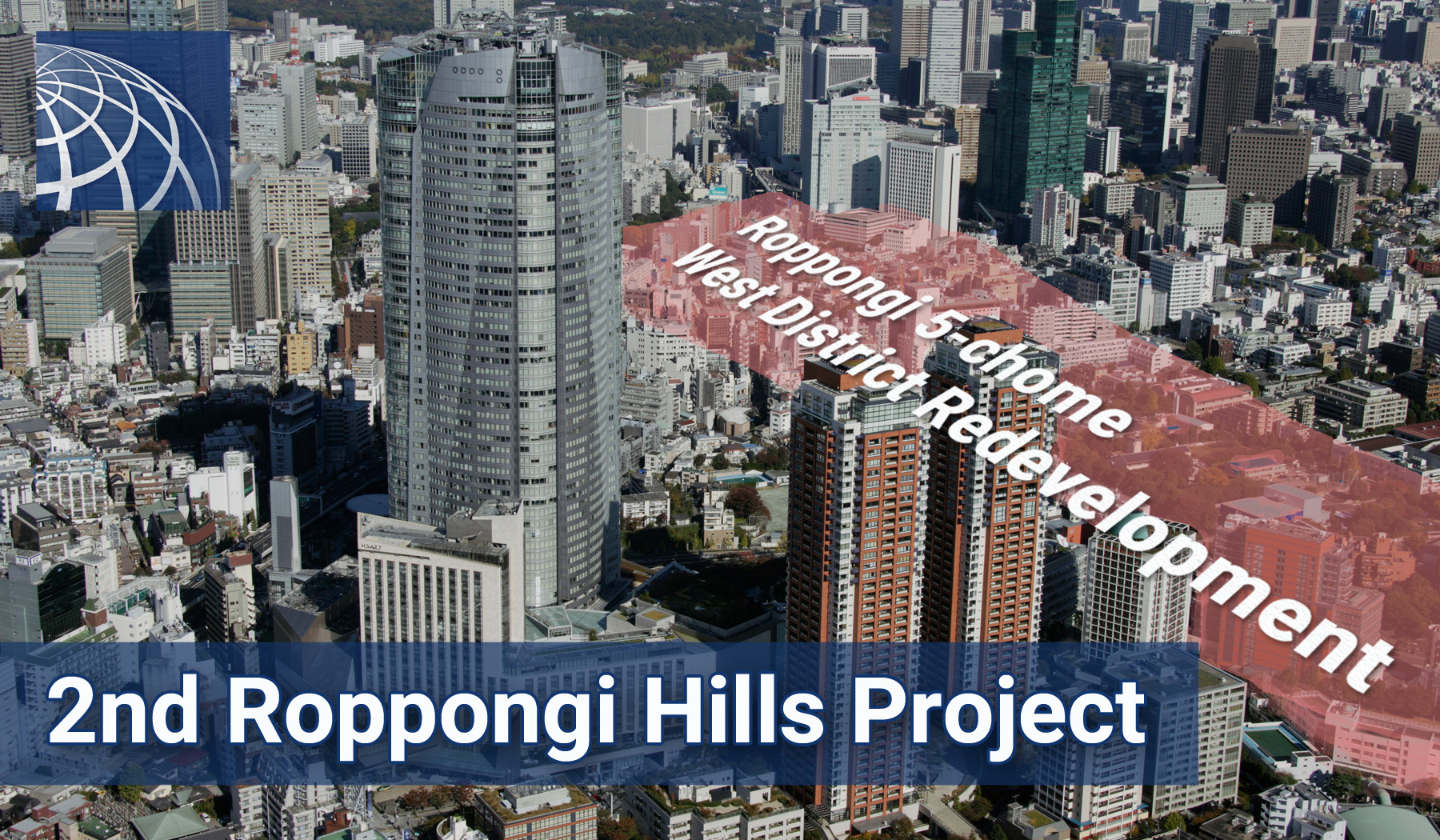 The outline of the plan for Tokyo's largest redevelopment, "Roppongi 5-chome West District Redevelopment", has finally been revealed. The plan is also commonly known as "2nd Roppongi Hills", which covers a vast area adjacent to Roppongi Hills and Roppongi Intersection. In Minato Ward, where ARK Hills, Roppongi Hills, and Toranomon Hills were built, and Azabudai Hills will open in the fall of 2023, this is another super-large-scale redevelopment project.
The project, which will be developed by Mori Building Co.Ltd. jointly with Sumitomo Realty & Development Co. Ltd., started planning in March 2008. It is a super-large-scale plan on a site of approx. 80,000 square meters and a total floor area of approx. 1.08 million square meters, which is scheduled to begin in the year of 2025 and to complete in the year of 2030.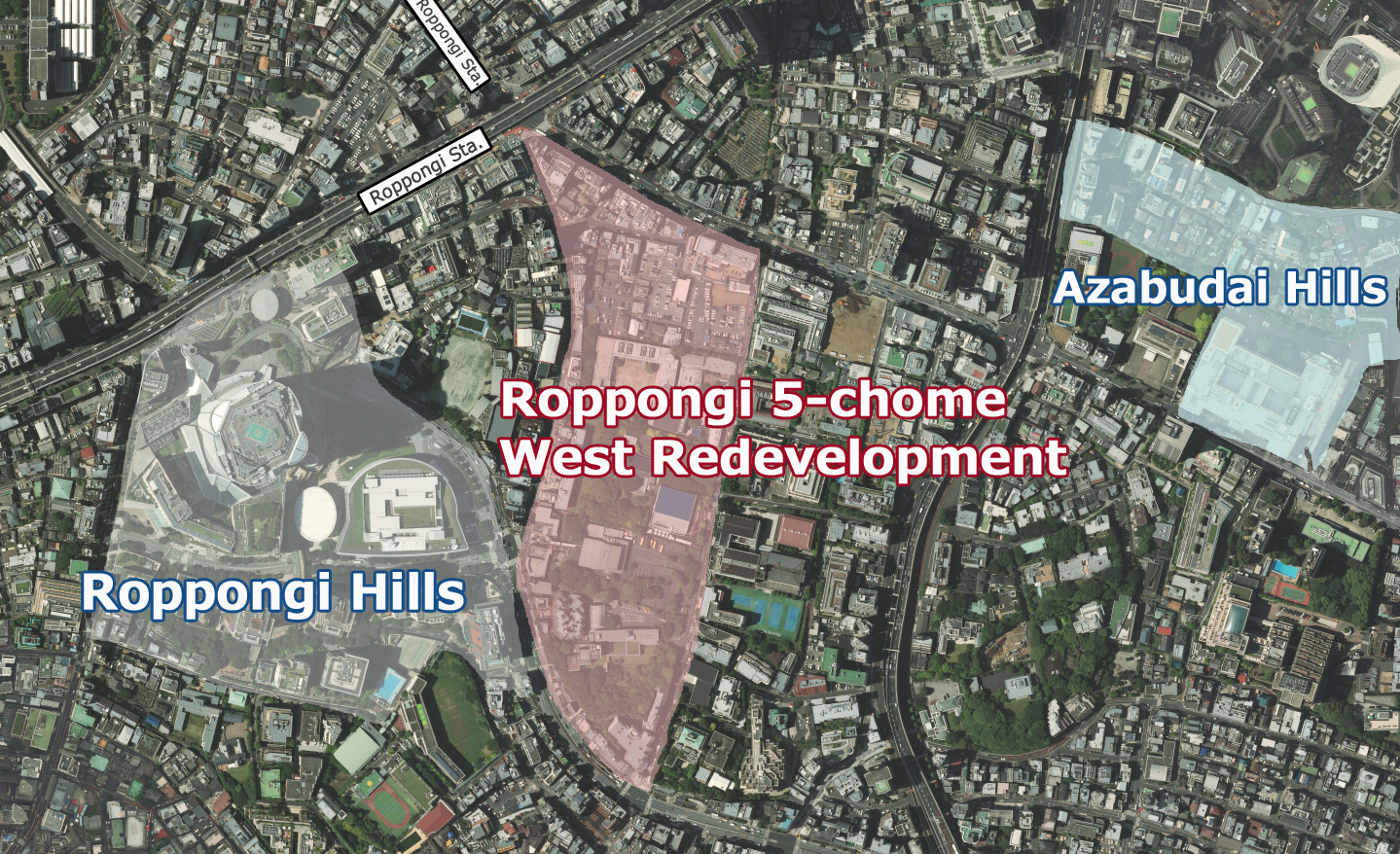 Source: Created based on a map from Geospatial Information Authority of Japan
Location
Roppongi 5 & 6-chome, Azabujuban 1-chome, Minato-ku, Tokyo
Nearest Station
Tokyo Metro Hibiya Line/Toei Oedo Line "Roppongi Station" (to be directly connected)
Toei Oedo Line/Tokyo Metro Namboku Line "Azabu-juban Station"
Plan Details
It consists of 5 town blocks from A to E
Block A 
Block A-1: Skyscraper with 66 floors above ground and 8 floors below ground (including shops, offices, hotels, theaters, and observation facility)
Block A-2: Temples, etc.
Block A-3: Church, etc.
Block B
Skyscraper with 70 floors above ground and 5 floors below ground (including residences, offices, shops)
Block C
6-story building (School: Tokyo Eiwa Jogakuin Primary School and Toyo Eiwa Kindergarten)
Block D
Building with 3 floors above ground and 1 floor below ground (the existing International House of Japan and the former Iwasaki House Garden are preserved on the site)
Block E
Building with 9 floors above ground and 3 floors below ground (for residences)
The building to be built in Bock A will be a skyscraper with a height of 327m and will be the 2nd tallest building in Japan after the "Torch Tower" (with 63 floors above ground and 4 floors below ground, abt.390m high), which is scheduled to be completed in 2027 in front of Tokyo Station. The tower condominium to be built in Block B will be the tallest tower condominium in Japan.
Summary
It has been 20 years since the birth of Roppongi Hills, which greatly changed the former image of Roppongi only as a nightlife area. "2nd Roppongi Hills" is expected to transform Roppongi into an even more sophisticated international city while carefully protecting old things. We would like to introduce on our website further details of the project and the process of change in the site from demolition of the current buildings to opening of the new buildings, so please look forward to it.
The above image is sourced from Google Street View, at the time when it was updated, which was taken in front of Roppongi Roa Building (scheduled for demolition) on Gaienhigashi-dori Avenue.
References:
https://www.mori.co.jp/projects/
https://skyskysky.net/construction/203013.html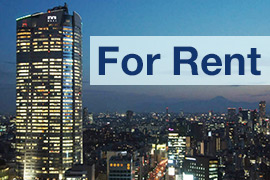 Listings of popular and luxurious apartments, condominiums, and houses
designed with expats in mind.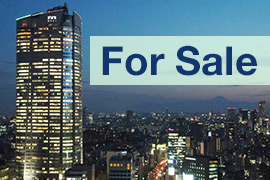 Listings of apartments, condominiums, and houses centering around the
Roppongi Hills and Tokyo Mid Town areas.