Living in Akasaka
Guide to Akasaka, a popular expat residential area in Tokyo.
The area around Akasaka Station, Chiyoda Line, Akasaka-mitsuke Station, Ginza Line / Marunouchi Line, and Tameike-sanno Station, Nonboku Line / Ginza Line
Addresses included are: Akasaka, Moto-Akasaka, and Toranomon in Minato-ku, Nagatacho and Kioicho in Chiyoda-ku
This area was developed around Akasaka Station on the Tokyo Metro Chiyoda Line and Akasaka-Mitsuke Station on the Tokyo Metro Ginza Line and Marunouchi Line. This area is adjacent to the governmental districts of Nagatacho and Kasumigaseki, where Japanese government institutes including the National Diet Building and the central functions of politics gather. There are also many noteworthy hotels in the area.
Commercial complexes such as ARK HILLS, Akasaka Sacas, Akasaka Garden City, and Tokyo Midtown attract a lot of tourists to the area. The area adjacent to the Akaska area is full of hilly landscapes and quiet urban oases such as Akasaka Goyochi (Akasaka Detached Palace) and the garden of the Hotel New Otani.
The area also serves as an entertainment district where higher end dining places such as Korean restaurants, traditional Japanese restaurants, bars, and other drinking places can be found.
Many foreign companies establish their head offices here and many embassies, including the American embassy, can also be found here.
Hotel-like large scale tower apartments are also concentrated in this area and there are also many luxury rental apartments for foreigners.
Only a step away from the street and behind Tokyo Midtown, is a quiet high class residential area with low-rise apartments called Hikawacho. The cityscape is full of green and with a rich history centered around the Hikawa Shrine.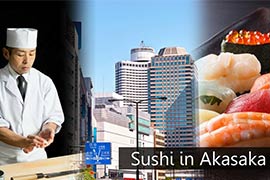 Due to many salarymen and women in the area working late, an excellent gourmet scene has developed, making Akasaka one of the most underrated places to live and dine in downtown Tokyo.