Azabudai Hills – Toranomon Azabudai Redevelopment Project
Poste date: Tuesday, August 15, 2023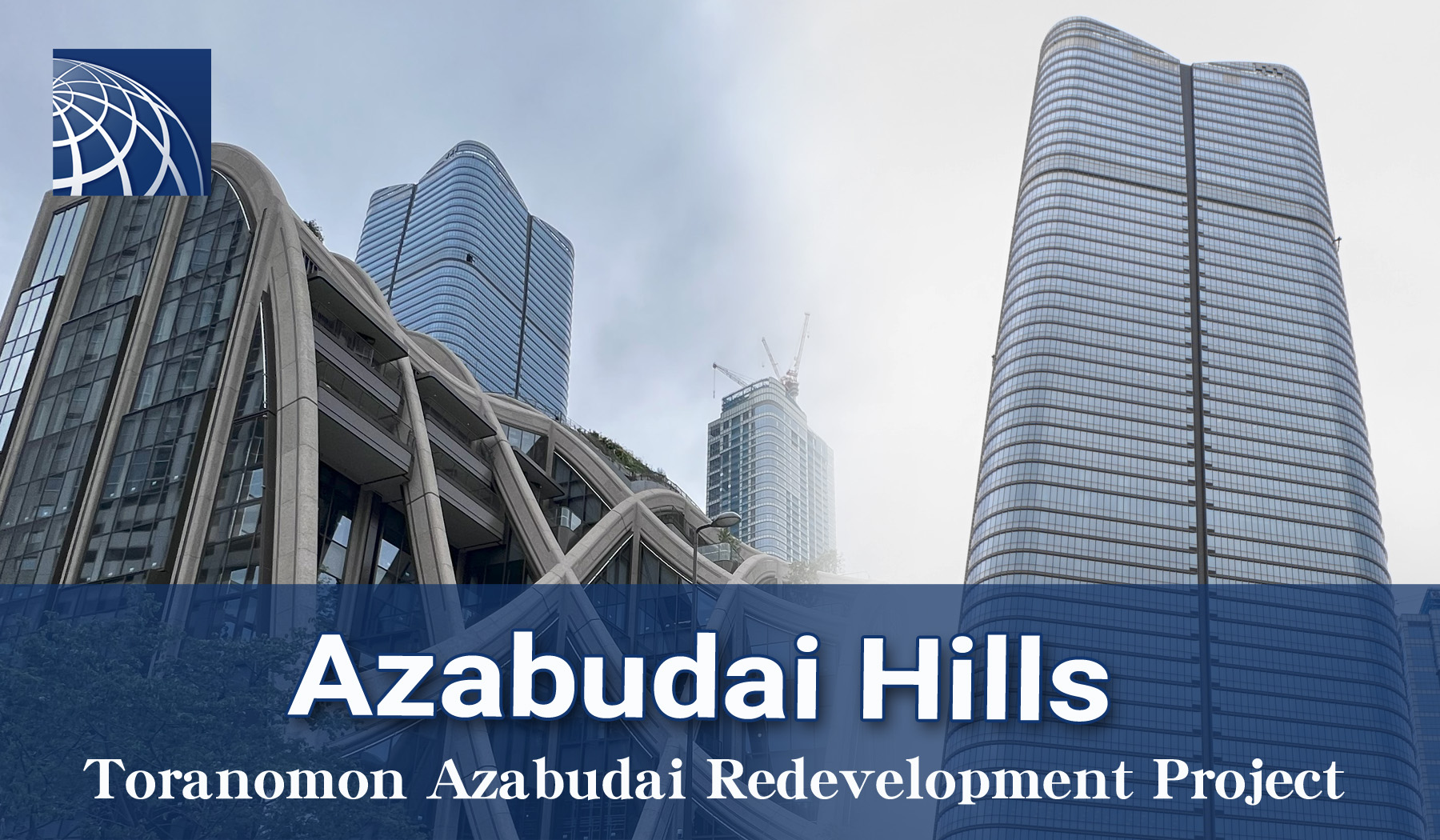 The Azabudai redevelopment project, "Azabudai Hills," which commenced construction on August 5, 2019, has been announced to open on November 24, 2023. Furthermore, some facilities are scheduled to open gradually after December 2023.
It will be the birth of  "MODERN URBAN VILLAGE" named "Azabudai Hills",  a city surrounded by lush greenery like a "square" that connects people. By greening the entire site, "Azabudai Hills" aims to be a space where you can enjoy the healing power of nature while in central Tokyo, and to be a city which contributes to mitigating the urban heat-island phenomenon.
The nearest stations to Azabudai Hills are Kamiyacho Station on the Hibiya Line and Roppongi-itchome Station on the Namboku Line. The city, composed of seven buildings including three high-rise towers and a spacious plaza for people to relax, will house approximately 150 stores and numerous companies, including venture capitals.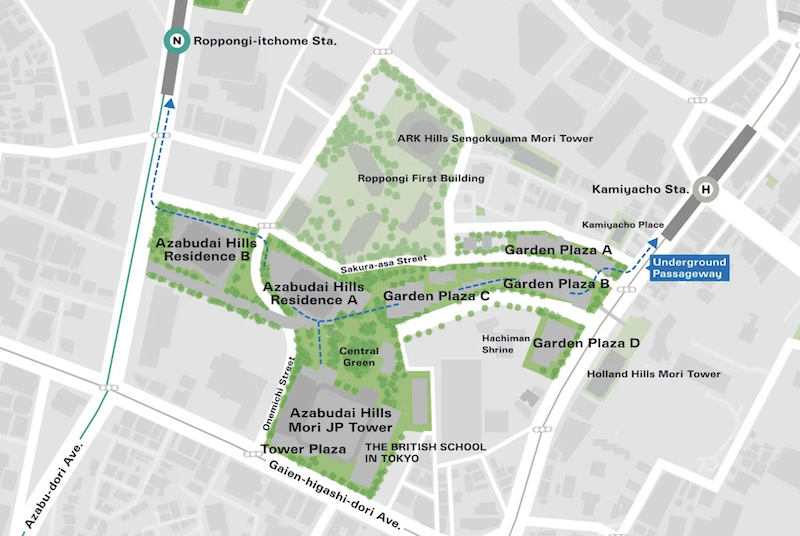 Image source: Mori Building website
Azabudai Hills Mori JP Tower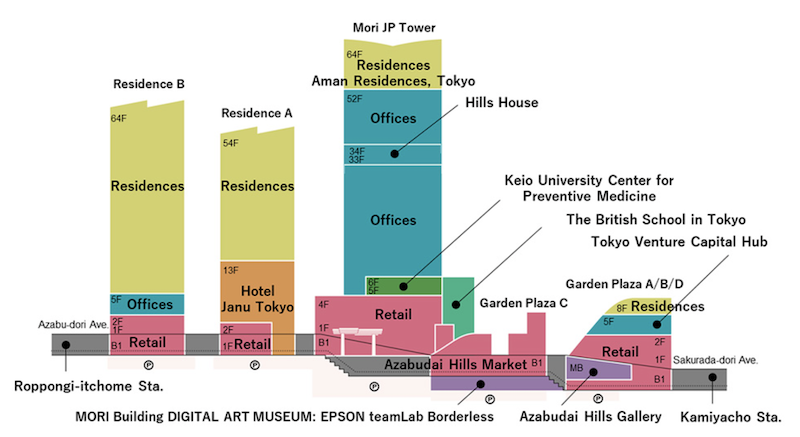 Image source: Mori Building website
It is a 330m-high main tower building, and the floors from 54th to 64th floor at the top level of the building are the luxury hotel branded condominium "Aman Residence Tokyo".  It is the finest condominiums in Japan, having a total of 91 units, which comes with a private dining room served by a private chef, tearoom, library, and many other resident-only shared facilities. Aman Spa also features a 25m private swimming pool where you can enjoy panoramic views of central Tokyo.
From the basement level one to the seventh floor, the "British School in Tokyo" primary school will open (scheduled to start on August 30, 2023). It is planned to be the largest international school in the city, catering to 740 students aged 3 to 11 from over 60 countries around the world. The campus will feature facilities such as a gymnasium, playground, indoor pool, library, and a Discovery Center for STEM education.
On the fifth and sixth floors, the "Keio University Hospital Prevention Medical Center" will relocate. In addition to offering highly accurate health check-ups with state-of-the-art equipment, the center will collaborate with facilities in the tower, including the "Azabudai Clinic" on the fourth floor, "Azabudai Nishi-bori Dental Clinic," and "Hills Spa," providing support for health and wellness (scheduled to start from November 6, 2023).
From the basement first floor to the fourth floor, there will be commercial facilities such as restaurants, cafes, bookstores, and a post office. From the seventh floor to the fifty-second floor, the building will house office floors, with various companies from different industries scheduled to occupy them. Additionally, the 33rd and 34th floors will be designated as "Hills House," providing a space where employees from occupying companies can gather and interact beyond their workplace boundaries, serving as a place for relaxation and networking.
>> Azabudai Hills List of Stores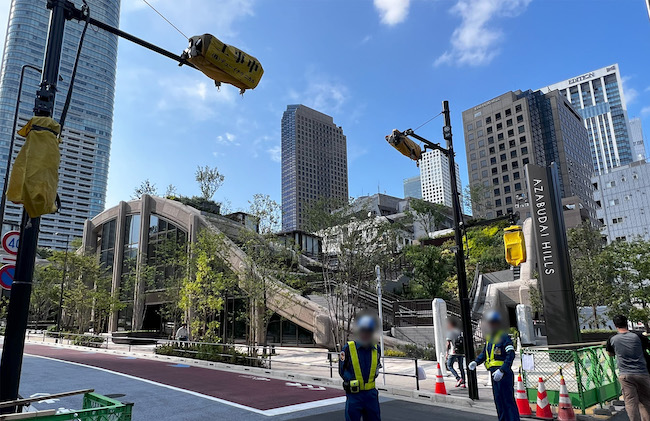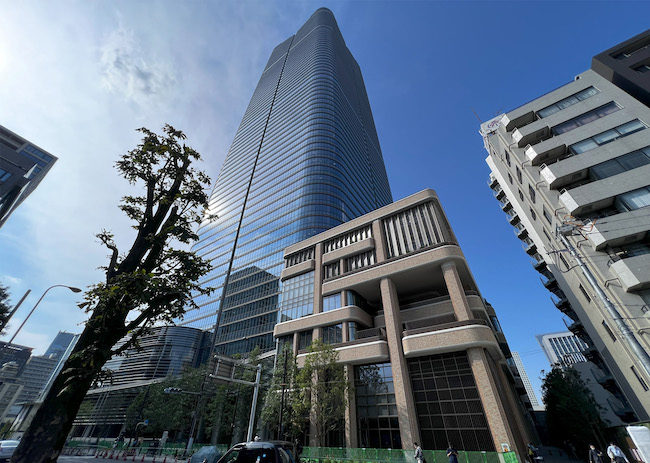 Azabudai Hills Residence A
This 54-story tower will feature a unique configuration. From the 3rd to the 13th floors, the world's first hotel of Aman's latest sister brand, "Janu Tokyo," will open (expected to open in the winter of 2023). With 122 guest rooms, along with restaurants, cafes, and bars, the hotel will also offer a gym of approximately 4,000 square meters, making it one of Japan's largest. The gym will include 7 treatment rooms, a studio for activities like simulated golf training, yoga, and Pilates, a 25-meter pool, and a spa.
From the 14th to the 54th floors, there will be around 330 residential units. These residences will offer luxurious features such as services coordinated with "Janu Tokyo," residences with private pools, and duplex units with double-height ceilings. On the 1st and 2nd floors, there will be commercial facilities.
Azabudai Hills Residence B
This 64-story tower will comprise various residences, with layouts ranging from around 30 square meters to nearly 400 square meters, spanning from the 6th to the 64th floor. There will be approximately 970 residential units, each offering different floor plans.
From the 13th to the 18th floor, there will be 168 units of furnished apartments known as "serviced apartments," available for short-term rentals. Within the building, shared facilities such as a gym, theater, kids' room, study room, and lounge will be provided. The 1st and 2nd floors will be designated as commercial spaces, with a nursery planned to open on the 2nd floor. The 3rd to 5th floors will be dedicated to office floors.
Garden Plaza A
On the basement first floor, there will be a cultural hub called "Azabudai Hills Gallery," showcasing various forms of culture such as art, fashion, and entertainment. Additionally, a café where you can enjoy food and drinks collaborated with exhibitions and events will also be open.
Garden Plaza B
From the 6th to the 8th floors, there will be a total of 31 residences known as the "Azabudai Hills Garden Plaza Residence." These luxurious residences offer the opportunity to live in a unique building designed by Thomas Heatherwick (anticipated move-in to start around November 2023).
On the 3rd to 5th floors, there will be the first large-scale venture capital hub in Japan, called the "Tokyo Venture Capital Hub." This facility will house 70 venture companies within approximately 3,600 square meters. Additionally, there will be a co-working area that can be used as a space for inter-company networking and events.
Rental Apartments in Garden Plaza B
A luxury residence with a unique and impressive exterior located within the "Azabudai Hills," just a 1-minute walk from Kamiyacho Station.
Garden Plaza C 
On the basement first floor, the "MORI Building Digital Art Museum: teamLab Borderless," previously located in Odaiba, will be relocated. This popular facility, which drew approximately 2.3 million visitors within a year, is set to evolve further, offering new and unreleased artworks for enjoyment (scheduled to open in January 2024).
Garden Plaza A, B, C - The 1st floor
area
It will be transformed into an upscale shopping street featuring luxury brand shops and high-end restaurants (expected to open in February 2024).
Central Green
The basement first floor, will house a 4,000 square meter food market named "Azabudai Hills Market." The spacious interior will host specialty stores offering fresh produce, bread, sweets, wines, and more. Not only serving as a place for providing groceries, but also collaborating among the specialty stores to create a shopping district. This includes partnering with both internal and external stores, schools, and businesses of Azabudai Hills. Additionally, they will make use of the inner gardens and plazas within Azabudai Hills to create a space where the entire community can learn, explore, and experience aspects of food and wellness (expected to open in January 2024).
Summary
Azabudai Hills as a whole is set to consist of around 1,400 residential units, approximately 214,500 square meters of office space, and about 150 stores. Not only from within Japan but also from around the world, numerous attractive shops and restaurants are expected to open, making it nearly impossible to explore everything in just one day. Moreover, within the premises, around 320 varieties of plants such as blueberries, peaches, herbs, and Somei Yoshino cherry trees will be cultivated. It seems that the city will be a place that not only offers enjoyment through shopping and dining but also caters to those who want to leisurely stroll and take in the surroundings.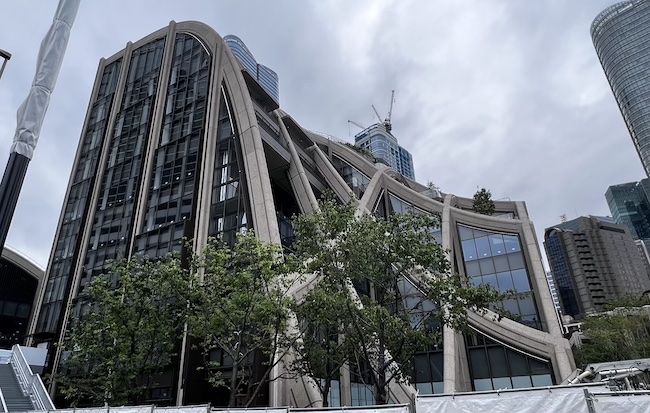 When everything in the city is completed, we will provide you with more information.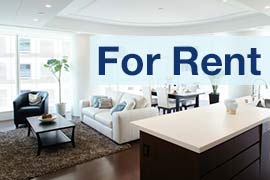 Listings of popular and luxurious rental apartments, condominiums, and houses designed with expats in mind.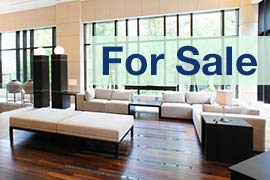 Listings of apartments, condominiums, and houses available for purchase in Tokyo.