How to Get from Narita Airport to Tokyo
Poste date: Thursday, September 8, 2022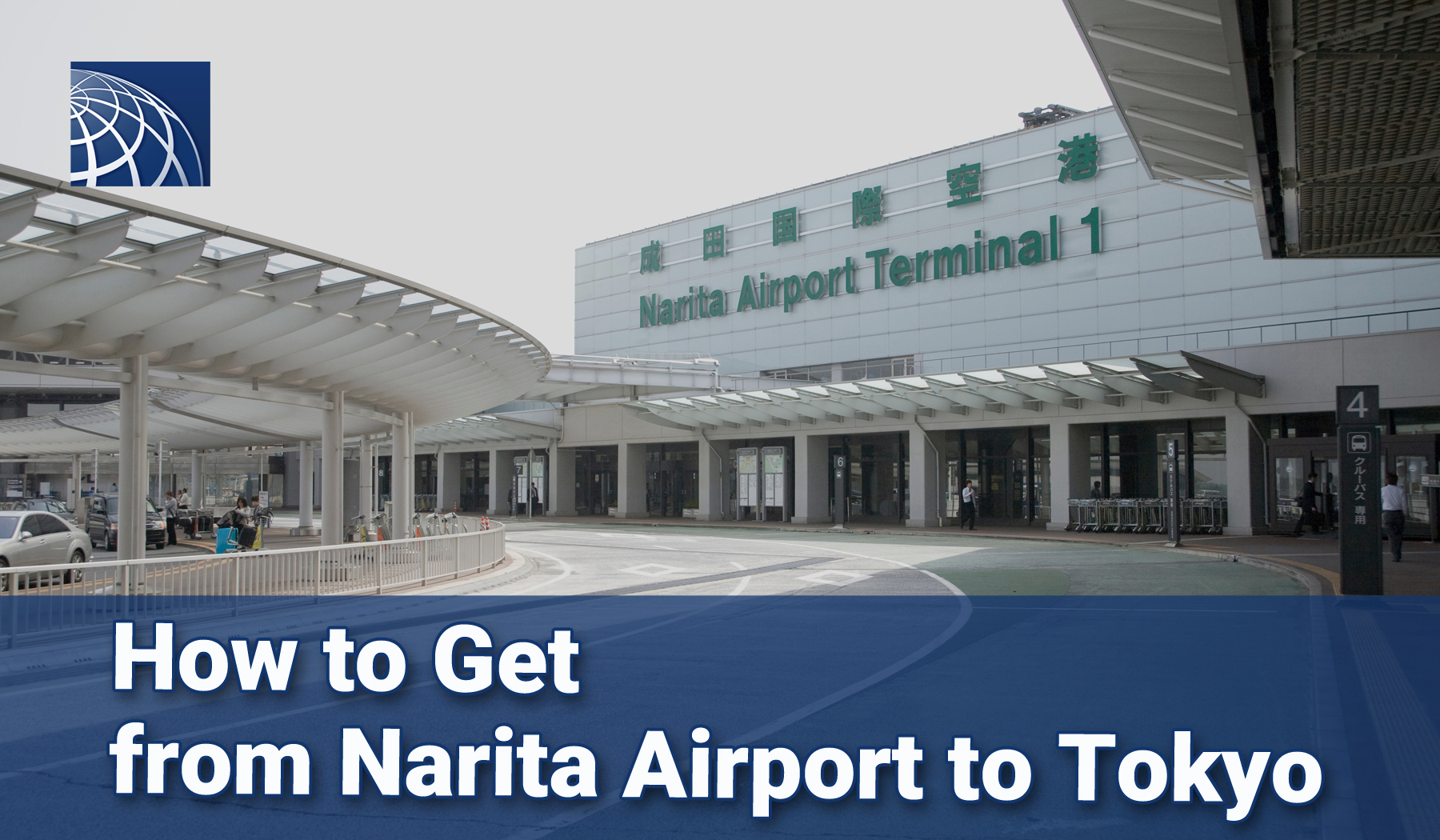 Narita International Airport is in many ways the gateway to Japan. With three terminals including one low cost terminal, it was originally built in 1978 to help relieve Haneda Airport from the volume of passengers coming to Japan in the wake of the economic boom.
Despite its recognition among international travelers as being one of Tokyo's airports, Narita Airport is actually located in the neighboring prefecture of Chiba just outside of the capital's boundaries. While Narita Airport's distance from the city center still makes it a little less convenient for traveling than Haneda Airport, recent improvements in train technology and road routes have made it easier than ever to access this major hub. Keep reading to find out every which way for getting from Narita Airport to Tokyo, from the best, to the cheapest, to the most comfortable options.
Train Options from Narita Airport
If you are more concerned about budget than time, check out the Sobu or Keisei line regular trains heading to Tokyo. These are going to be your cheapest option, but beware: a trip can take up to three hours one way. For faster train options, your best choice is to go with the Keisei Skyliner or Narita Express.
Keisei Skyliner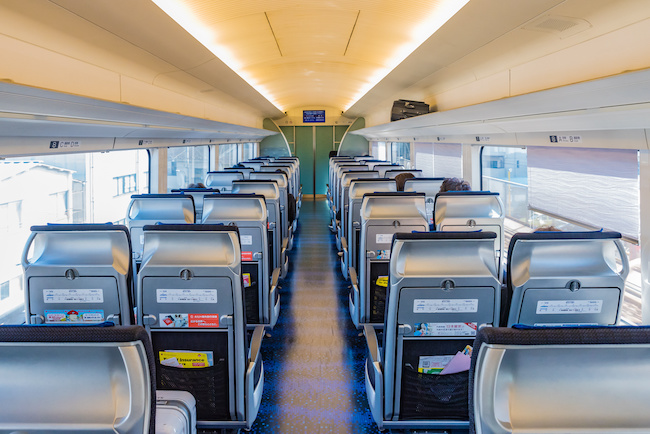 Spacious, well designed, and arriving in Tokyo in less than 40 minutes, Keisei Skyliner is our recommendation.


Image Source: keisei.co.jp
By far, the fastest way to head into Tokyo by train is the Keisei Skyliner non-stop service. Leaving from Narita Airport's terminals, the train takes you to two major hubs in the city's center — Nippori Station and Ueno Station, both with convenient access to several of the major train lines that spread throughout and beyond the city.
This reserved-seat train is a great way to start your Tokyo adventure. It is easiest and safest to buy a ticket directly at the counter once you arrive at Narita Airport as customs and immigration processing times can vary widely and you may end up wasting money on a train ticket if you miss your assigned time.
There are other trains on the Keisei Line as well, including the Keisei Access Express, which goes farther into southeast Tokyo for better access to the business district and many more stops along the way.
Narita Express (N'EX)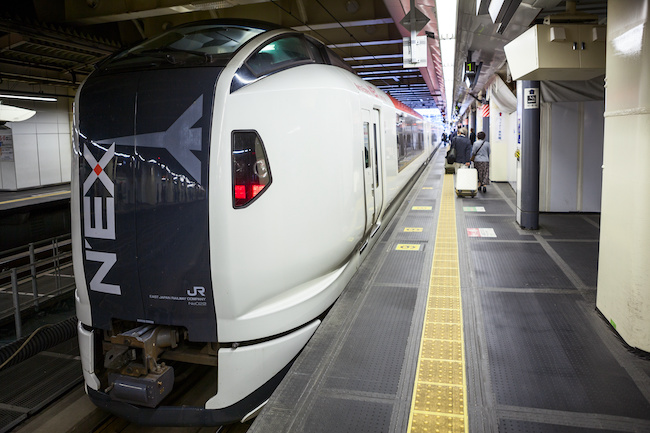 For those with a JR pass, the jreast.co.jp, shortened to "N'EX," is the best option. The N'EX is a reserved-seat train and a wonderful cross between taking a short scenic route and getting to your destination on time. An international tourist discount for round-trip tickets available if purchased at the airport, and almost all JR passes allow free use of this train.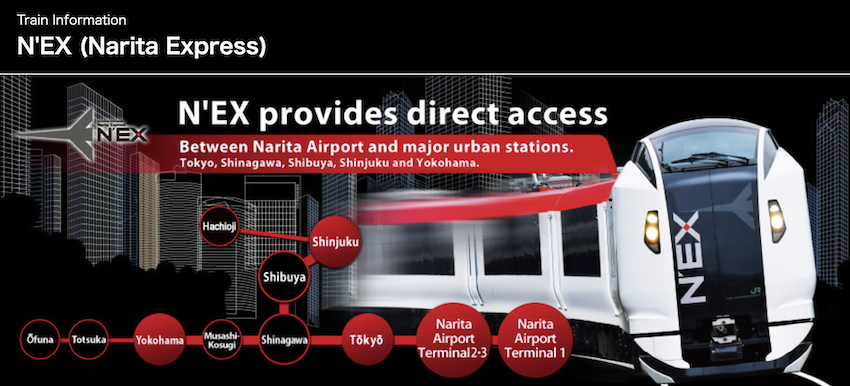 Image Source: JR-East
Bus Options from Narita Airport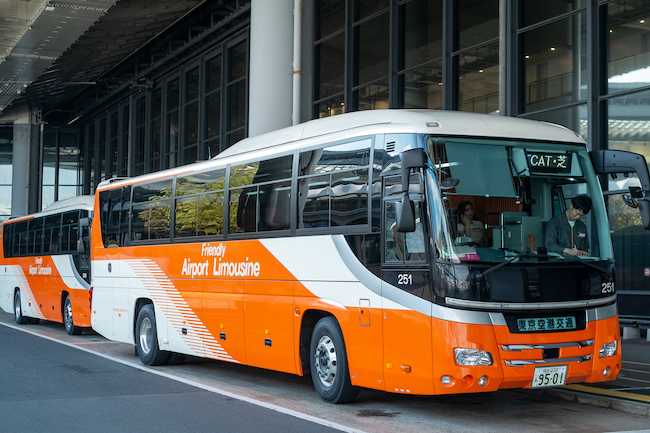 A handy choice when you want to avoid dealing with Tokyo's overly crowded rail system during morning and afternoon rush hours.
There are plenty of bus options (known in Japan as "limousine buses") leaving Narita Airport for all parts of Tokyo as well as shuttles to major hotels. The limousine buses will also take you outside of Tokyo as well, including the surrounding prefectures of Yamanashi, Saitama, and Chiba. While quite a bit slower than most of the express train options due to regular traffic jams, limousine buses have the advantage of avoiding Tokyo's crowded rail system entirely. In addition, many night buses offer routes significantly later than the trains, which stop running at around midnight.
There are also several cost-saving bus lines that have recently come onto the scene and travel from Narita Airport to Tokyo Station, Odaiba Station, or Ginza Station.
Taxi Options from Narita Airport
A competitive option for groups traveling six or more, travelers with mobility problems, and parents with young children who need a little more attention.
Fixed-rate taxi rides are available from Narita Airport, though they are rarely cost-effective unless you are traveling in a large group. However, if taking a taxi is the best travel option for you, you should expect to pay ¥20,000 to ¥25,000 depending on your final destination. Note that there is a 20-percent additional charge for rides between the hours of 8 p.m. to 2 a.m.
With Japan's highway speed limit significantly lower than what trains can travel and with a cost much higher than riding a limousine bus, taking the taxi is our least recommended option for most travelers.
If you would like to book a ride, please also refer to Tokyo Chauffeurs are Your Personal Guide.
Uber
Similar to taking a taxi, it is possible to hail a ride with Uber. The service is not nearly as popular as it is in the United States and much of Europe, so it is not used that often by locals. It also ends up being more expensive than taking a taxi. While Uber in Japan does exist, it differs from other countries by not allowing drivers to use their own vehicles, which makes them pretty much just like a taxi service.
https://www.uber.com/global/en/airports/nrt/
More Ways to Make Your Narita Airport Experience Stress-Free
Narita International Airport has worked hard in recent years to catch up with the convenience of Haneda International Airport as its sister airport is often much more popular due to its closer proximity to Tokyo. However, the ride from Narita Airport can be quite a lovely introduction to the countryside of Japan, which you might never get to experience if you fly straight into Haneda Airport.
If you prefer to take a chauffeured limousine, there are several companies offering pickup and drop-off services. It is also possible to have your luggage shipped from the airport to your final destination, which is especially useful when you are traveling with small children or have more luggage than you can comfortably handle. Whatever services you choose to use to get from Narita Airport to Tokyo, we hope this information is helpful in creating a stress-free journey.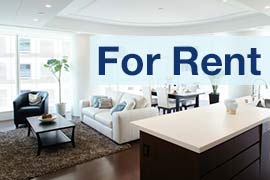 Listings of popular and luxurious rental apartments, condominiums, and houses designed with expats in mind.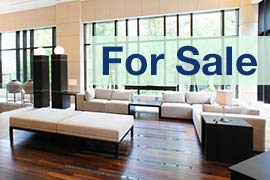 Listings of apartments, condominiums, and houses available for purchase in Tokyo.