Living in Azabujuban & Motoazabu
Guide to Azabujuban & Motoazabu, popular expat residential areas in Tokyo.
The area around Azabu-Juban Station, Toei Oedo Line / Nanboku Line, and the area around the south side of Roppongi Station, Hibiya Line.
Addresses included are: Azabujuban, Motoazabu, Minami-Azabu, Ropponogi, Mita, Higashi-Azabu, Azabu-Nagasakacho, and Azabu-Mamianacho, all in Minato-Ku
Azabujuban & Motoazabu Overview
---
Azabu-Juban shopping street is known for being a traditional shopping street that also has new, trendy and stylish shops. Motoazabu is a quiet high class residential area with a refined and elegant atmosphere.
Azabu-Juban shopping street is well-established as a traditional shopping street. After the completion of Roppongi Hills and the opening of the Azabu-Juban subway station, many trendy and stylish shops and restaurants have opened along the street. Today, the street has the unique character of having a traditional atmosphere while still being the home of cutting edge trends. From Azabu-Juban Station many different areas within Tokyo are easily accessible with the Tokyo Metro Nanboku Line and the Toei Oedo Line. Roppongi is also within walking distance. Due to recent redevelopments in the area, large tower apartments are emerging in within walking distance of Azabu-Juban Station.
Motoazabu is a quiet and luxurious residential neighborhood. Because most of the residential properties found in this area are luxurious low-rise apartments or detached houses, the nearby high-rise apartment on the top of the hill, 'Motoazabu Hills', stands out as a symbol landmark. Some embassies have moved to this area because it is very close to Roppongi, which is known as an international commercial district, consequently having the atmosphere of an international and high class residential area. An added benefit of having many embassies in the area is the enhanced security.
Nishimachi International School, Early Learning Center of ASIJ, and Tokyo International School are easily accessible from these areas. Furthermore, many international school buses cover this area and there are many luxury rental apartments for foreigners.  Being close to Azabu-Juban, Roppongi Hills, and Hiroo, it is one of the most popular areas among foreign expat families.
Azabujuban & Motoazabu Information
---
Tokyo has the most Michelin stars in the world, with many decorated establishments located in its posh Azabu-Juban neighborhood. Find out what they are, along with how Plaza Homes can help you find your next home near these!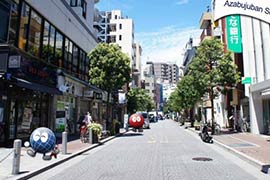 The Azabujuban shopping street has the atmosphere of an old Edo Era old village, and attracts many foreign visitors with more than 300 new and old shops. Some of these shops are over 100 years old!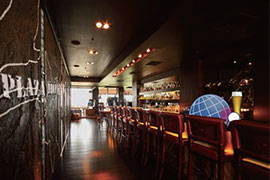 From burger joints and basement bars to supermarkets, here are eight cool spots in Hiroo and Azabu-Juban you should definitely try!
Azabujuban & Motoazabu Map
---