Shinjuku City Guide
( Shinjuku Ward, Shinjuku-ku )
The area around Shinjuku Station is the biggest commercial and amusement area in Tokyo. Many high-rise buildings, including the Tokyo Metropolitan Government Building, are in Nishi-Shinjuku. In the southern part of Shinjuku City are the Shinjuku Gyoen Garden and Meiji Jingu Shrine Gaien (Outer Garden), adding rich greenery to the area.
The Metro Tozai Line runs through the northern part of the City, and along it from the east, are the old commercial areas of Iidabashi and Kagurazaka. To the west is the academic area of Waseda and the commercial and residential area of Takadanobaba.
In the south, along Yasukuni-Dori Street and the Metro Toei Shinjuku Line, are the residential areas of Ichigaya and Akebonobashi. Along the Metro Marunouchi Line are the residential areas of Yotsuya and Shinjuku-gyoenmae. The JR Chuo Line runs through the southern end of the city. Residential areas can be found around Shinanomachi Station. The area next to Jingu-gaien and Akasaka Detached Palace has an abundance of greenery. 
In the southern parts, where many well-known university hospitals are concentrated, residential neighborhoods near the stations are lined with mid-size and high-rise condominiums. Commercial areas catering to these residents have risen up adjacent to their residential neighborhoods.
At the west end of the city is JR Shinjuku station, serving as the main entrance to the city. It is here that the JR Yamanote Line and JR Chuo-Line intersect. The area around the station is one of the most prominent commercial areas in Tokyo. On the west side of Shinjuku Station (Nishi-shinjuku), many high-rise office buildings and condominiums line the streets.
Some foreign diplomatic embassies are also located in Shinjuku City.
Shinjuku City Living Guide
---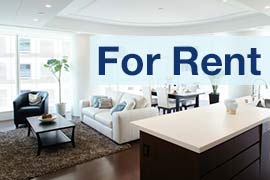 Listings of popular and luxurious rental apartments, condominiums, and houses in central Tokyo, including Shinjuku City, designed with expats in mind.
Shinjuku City Residential Areas
---