A Day at Roppongi Hills
Poste date: Thursday, February 22, 2018
If you frequent our website, you have no doubt at least heard of Roppongi Hills. Roppongi Hills is a large mixed-use property development in Minato Ward in the Roppongi neighborhood, a popular destination for expatriates. With giant steel and glass towers full of offices, apartments, shops, and restaurants combined with beautiful green spaces and open-air amphitheaters, there's something for everyone in Roppongi Hills.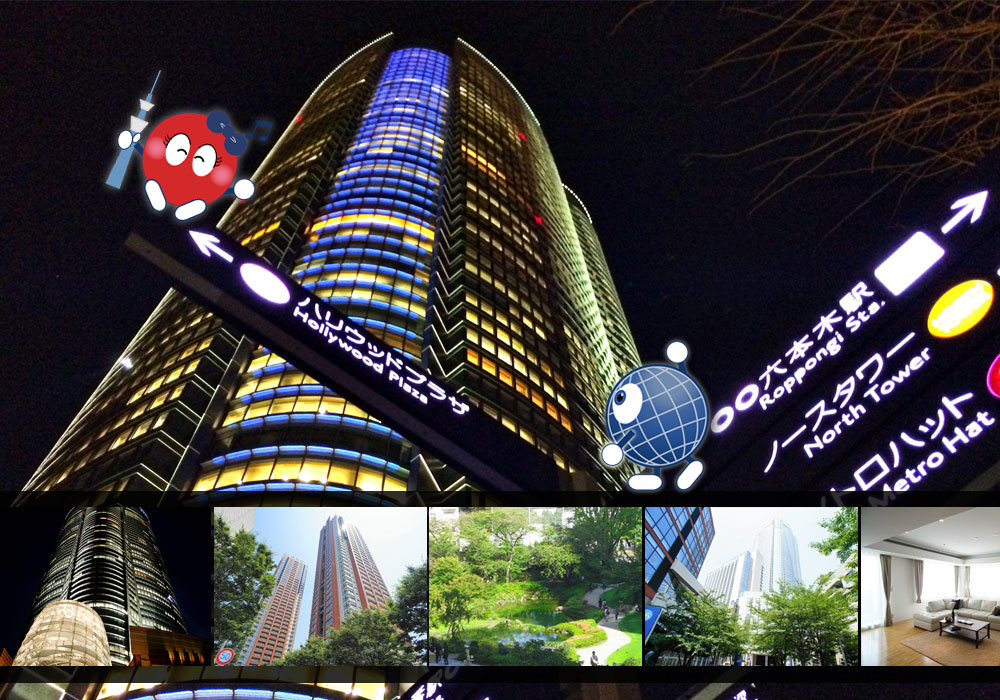 The background


Roppongi Hills is the first major project by a Japanese building tycoon named Minoru Mori and was completed in 2003 at a cost of over $4 billion dollars. Mori's vision for Roppongi Hills was to create a city within a city with everything needed for daily life. To that end, the complex consists of several buildings (housing apartments, hotels, shopping, and various entertainment options), the Mori garden, various other open spaces, and the centerpiece, Mori Tower. 
The lay of the land


Mori Tower

   
Mori Tower is the most visible element of Roppongi Hills. It is a 54 story skyscraper with a roof height of 238 meters and nearly 724,000 m2 of floor space. It houses offices for numerous major companies, including Barclays Capital, Goldman Sachs, Konami, Salesforce.com, Lenovo, Ferrari Japan, Google, and the headquarters of the Pokémon Company. The top six floors of the tower are home to the Mori Art Museum and the Tokyo City View observatory, an open-air deck that offers generally unobstructed views of the whole Tokyo metropolitan area. On the first six floors, there is no end of shopping, restaurants, and entertainment options.
Mori Garden

 
Mori Garden was built in the style of a traditional Japanese landscape garden and is an oasis of green in the middle of the gleaming steel and glass of the surrounding buildings. The cherry trees here make for a nice spot for a Hanami party in March and April.
Roppongi Hills Residences

 
The Roppongi Hills Residences includes a number of buildings in the Roppongi Hills filled with luxury condos and apartments in a variety of floor plans (click through to the link to see current available offerings from PLAZA HOMES). If you want to live where you work and play, this could be a good option. We offer a number of listings available.
Other locations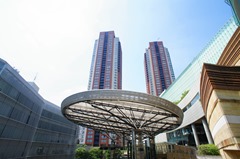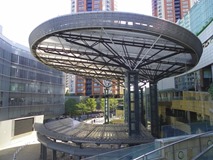 In addition to the above, there are a number of other facilities in the Roppongi Hills Complex. There are several hotels, including the Grand Hyatt Tokyo, with convenient access directly to Mori Tower. You can also visit the Roppongi Hills Arena, which is a large open-air amphitheater where you can see any number of entertaining performances. There is also a movie theater and over 200 restaurants and shopping locations to enjoy. 
An Itinerary for Roppongi Hills


Here's a sample itinerary for a day of fun at Roppongi Hills that you can use as a basis for planning an outing.
 
■ 8 am – Wake up and head to Roppongi Hills.
■ 9 am – Get coffee and a muffin at Starbucks in the West Walk Lounge of the Mori Tower and people watch while you get energized for the day.
■ 10-11:30 am – Head up to the Mori Art Museum and enjoy some aesthetic stimulation from the modern art on display.
■ 11:30-1pm – Head to the Tokyo City View on the 52nd floor of Mori Tower for a light lunch at Sunset Café and then go up a couple more to the Sky Deck and enjoy the gorgeous view of the Tokyo skyline.
■ 1:30–4:30 pm – Catch an afternoon film at the TOHO Cinemas movie theater.
■ 4:30-5pm – Take a quick rest in the late afternoon in the Mori Garden.
■ 5-7pm – Shop till you're hungry in the huge variety of stores of the 66 Plaza and the West Walk.
■ 7:15-9pm – Have some delicious fusion Asian food at Green Asia for dinner.
■ 9-whenever pm – Head over to the Roppongi Arena for a concert or other public event and then head home for bed.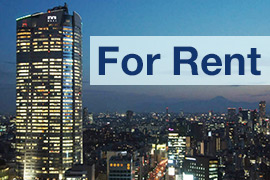 Listings of popular and luxurious apartments, condominiums, and houses designed with expats in mind.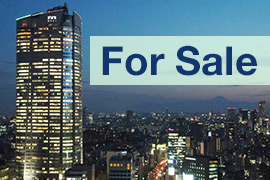 Listings of apartments, condominiums, and houses centering around the Roppongi Hills and Tokyo Mid Town areas.