A Brief Guide to Roppongi
Poste date: Monday, February 26, 2018
Your Ultimate Expat Guide To Roppongi

Roppongi, which means "six trees" in English, is located in the Minato Ward of Tokyo. It is known as the most popular enclave for expats living in Japan. With such a big portion of Tokyo's expat population residing in Roppongi, you can expect much of the area to cater to all their needs and wants.



The six zelkova trees that defined the area and gave Roppongi its name, no longer exist. 3 were removed and the remaining 3 were destroyed during WWII. Since the late 1880s, Roppongi was known as the place to go to enjoy an active nightlife. Historically, non-Japanese lived here after WWII with a few U.S. military installations established in the area. Not long after, foreign embassies began setting up their diplomatic offices in Roppongi and its entertainment scene blossomed with the heavy influx of foreign workers and diplomats.
Some buildings that mark Roppongi's transition to a modern cosmopolitan area are; the Izumi Garden Tower (2003), Roppongi Hills (2002), Tokyo Midtown (2006), and The Ritz-Carlton Hotel (2006). The construction of the National Art Center, the Mori Art Museum, and the Suntory Museum of Art, commonly referred to as the "art triangle", marked Roppongi as a cultural center for Japan. With everything you could want in one convenient area, Roppongi is as ideal a place for expats and foreign visitors as you can get.
Some of the global names that have set up shop in Roppongi are Google, Yahoo!, Ferrari, Credit Suisse, Goldman Sachs, and Lenovo.
Housing

Expat housing in Roppongi is characterized as cosmopolitan and trendy when compared to other areas in Tokyo. For foreign families, there are international schools, excellent medical facilities, English-speaking doctors, nurses, sales people, teachers, workers, and police and government authorities. The most common options for housing are residences, hotels, serviced apartments, or high rise complexes. 
· Rent is higher in places that have been recently built, and closer to the city center, train stations, and commercial and business districts. 
· Rent is usually paid one month in advance and does not include the initial start-up costs of the Kanrihi (maintenance fee), reikin (non-refundable key money), shikikin (deposit), agent's fee, insurance, etc.
There are several luxurious, convenient options when searching for expat housing. PLAZA HOMES is one of a few global companies that offer expat housing and has been in the real estate business (rentals and purchasing & selling of property) since the late 1960s. They help you find the perfect fit for you housing needs and offer bilingual services as well. Their office is located at 9-12, Azabudai 1-chome, Minato-ku, Tokyo 106-0041.

Another housing option is the Roppongi Hills Residences. There are 5 Roppongi Hills Residences conveniently called Roppongi Hills Resident Towers A, B, C, and D. The fifth is the 15-floor Roppongi Hills Gate Tower Residence. All buildings were completed in 2003 except for the fifth building, which was completed in 2001. The buildings are earthquake-proof with emergency power generators, emergency water wells and emergency supply storage. They also have a variety of services such as a spa, pool, front desk, garden, video intercom, Jacuzzi, sauna, fitness room, and are within close proximity to top medical, business, commercial, and financial establishments.

After work, before work or during weekends and holidays, Roppongi is a vibrant metropolis offering a variety of activities and entertainment options. 
Roppongi Hills


Located near the Hibiya and Oedo lines in Roppongi station, Roppongi Hills is an entertainment and shopping complex. At the center of the complex is the Mori Tower, which has an amazing observation deck with a 360 degree view of the city. Aside from the usual mish-mash of shops and restaurants are the Mori Art Museum, the Mori Garden, and the Mori Urban Institute for the Future.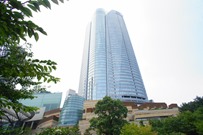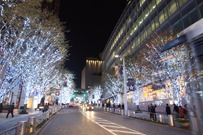 Roppongi Hills has a popular movie theater called Toho Cinemas that shows many English movies with Japanese subtitles. It is also known for hosting movie premieres and of being friendly to foreigners. They offer regular discounts, and English-speaking guides to show you how to use the ticket machines. When you buy food from the concessionaires, they give it to you in a tray which you can attach to your seat. 
Tokyo Midtown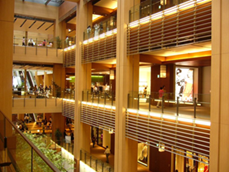 Accessible from Nogisaka and Roppongi stations, Tokyo Midtown is another part of Roppongi where one can go shopping and dine out. The tallest building in Tokyo can be found here, the Ritz Carlton which is a hotel that also offers residences for long-staying guests. Compared to Roppongi Hills, Tokyo Midtown is has more greenery, is more relaxing with less concrete, and is newer having opened its doors just 5 years ago. It also has Midtown Hinokicho Park, Fujifilm Square, and the Suntory Museum of Art. 
Shopping


There are hundreds of stores in Roppongi selling high end fashion brands to electronics, art, knick knacks, liquor, and groceries. Roppongi Hills is a high end mall that is easy to find.
Roppongi Hills is a mega shopping complex which is made up of 2 buildings that have been described as a "giant spider." It has everything an expat would need including restaurants, shops, a theater, mini gardens, a hotel, secure parking, and a viewing deck. Shops are open from 11 am until 9 pm while restaurants stay open until 11 pm. The complex is never closed on holidays and all major credit cards are accepted. Some interesting trivia about the complex is that the restaurants and bars on the lower floors are more affordable than those located on the higher floors. 
Tokyo Midtown is the other shopping complex consisting of 6 buildings. The shops are open from 11 am until 11 pm while the restaurants are open from 11 am until midnight, though some do close after midnight. One of the buildings is known as the Galleria and is has 12 duty-free shops. The Midtown Tower has a post office and all buildings offer concierge services. Most Tokyo Midtown stores accept credit cards but not traveler checks. 
Gyms and Fitness Centers


This guide to Roppongi would be incomplete without some info on gyms and fitness centers. Two of the top places to go in Roppongi for fitness are Club 360 and Esforta Fitness Club. Club 360 was the brain child of 2 expats, Sam Gilbert, a physiotherapist, and Nathan Schmid, a personal trainer.  It is located at Cma3 Building B1.3-1-35 Motoazabu and offers kickboxing, core, cardio, boxing, karate for kids, and even massage aside from the physiotherapy and personal training classes. Though they accept non-members, members receive certain privileges like discounts and free workshops. 
Esforta Fitness Club at Izumi Garden Terraces in Roppongi offers family, corporate, and personal memberships. You can pay monthly or annually. There are other types of memberships like Day Plus, Morning, Night, Esthe, Time Use, Regular, and Platinum. They offer a gym, aerobics, fitness, sauna, pool, studio, and parking for all its members. 
Food and Restaurants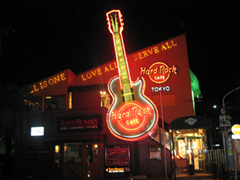 Roppongi is a non-stop food trip with all kinds of cuisine available like Indian, French, Italian, American, Indonesian, Chinese, and of course, Japanese. One of the top sushi restaurants in the area is Roppongi Fukuzushi.
Fukuzushi is a family run restaurant that has been around since 1917. They are to be the home of the "best sushi" by many expats. It can be hard to find it on your first try because it's located in an obscure side street, but it is worth a visit.

If you want a touch of the familiar, Roppongi has restaurants and bars that you can probably find at home such as:
Hard Rock Café – The restaurant stays open daily up to 2am except for Fridays and Saturdays, which closes at 4 am.
Outback Steakhouse Roppongi – Outback has been in Japan since the year 2000 and has around 8 branches across the country. The Roppongi branch is on the 2nd floor of the Roppongi Food Gate ROCMON and reservations are highly recommended. They are open daily but close from 3pm to 5 pm then remain open up to midnight.
Cinnabon – The first Cinnabon closed down in 2009 but it reopened in 2012 in Roppongi Hills.
Almond – Located in the main Roppongi intersection, this store was completely demolished and rebuilt in 2010. It currently is known as the best coffee/ice cream/cake shop in Tokyo. It is open daily from 9 am to 5 am although closes at 3 pm on Sundays.
Other great places to go for food are Jumanji 55, Chinese Café Eight, Super Deluxe Club, Ryugin, L'Atelier de Joel Robuchon, the Oak Door, Roti Roppongi, Honmura An, Bourbon Street, and Pizzeria 1830. 
Nightlife in Roppongi



There is no end to the bars, nightclubs, strip joints, dive bars, karaoke clubs, restaurants, discos, live shows, and party places in Roppongi. In fact, you have a choice of intimate, rowdy, wild, elegant, or romantic and you can base your choice on the kind of entertainment. Some bars have nightly tournaments, live shows, special buffets, exhibitions, pageants, and art festivals to draw in the crowds.
 
The Hub Roppongi – This British pub opened in 1980 and is home away from home for many expats. You can find it at the Haiyuza Building in Minato ward and reservations are highly recommended because there are only 58 seats. Happy hour is from 5 to 7 pm and credit cards are not accepted.
The Muse – Basically the hang-out for western expats since guests from the Middle East and South Asia are not common. It has a cover charge of 3,000 yen (Fridays and Saturdays) or 2,000 yen (rest of the week), which comes with 2 free drinks, offers dance floors, VIP rooms, billiards, table tennis, and karaoke.
 
Fortunately, as long as you take the normal precautions when you go out at night, you should be safe. The Japanese are not violent people even when intoxicated. It would take something extraordinary to get them heated and angry.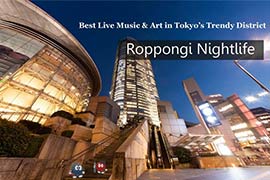 Tokyo's trendy Roppongi district is known as a place of residential towers and office blocks in the daytime, and a popular destination for foreigners going out to bars and restaurants in the evening.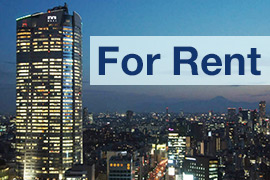 Listings of popular and luxurious apartments, condominiums, and houses
designed with expats in mind.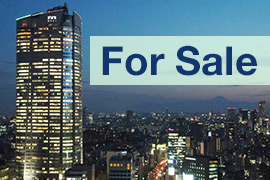 Listings of apartments, condominiums, and houses centering around the
Roppongi Hills and Tokyo Mid Town areas.