Japanese Gardens in Tokyo – Nihon Teien
Poste date: Monday, January 29, 2018
For those looking for a moment of Zen or looking for some peace and quiet amid the hustle and bustle of daily life in Tokyo, you may be surprised to learn that Tokyo is home to more than a few traditional Japanese gardens (Nihon Teien)? Depending on the style of garden, you may find a small Karesansui (dry landscape) or Sekitei (stone garden) with a bed of white sand pebbles and some carefully arranged rocks. It could also be a spacious park with all sorts of trees and shrubbery arranged throughout the garden at what appears to be random, with a small shrine in one corner, a pond in the center, and small walking paths throughout to allow visitors to wander among the vegetation.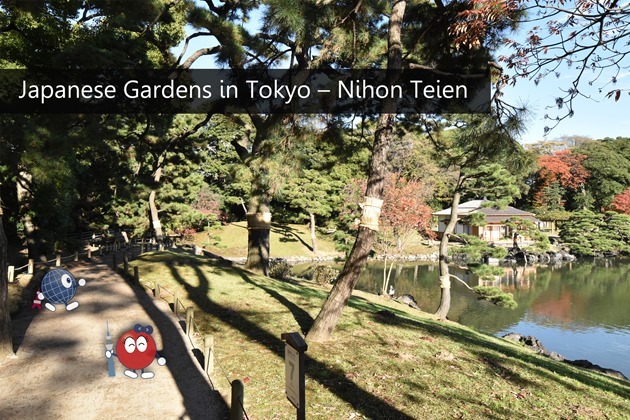 Major Elements of Japanese Gardens

■ Water is a central theme in Japanese gardens. You will find ponds, streams, lakes, or sometimes white sand or gravel symbolizing water, often raked in a wavy pattern.
■ Rocks, another major element, are often used to symbolize geography like miniaturized mountains or hills.
■ Stone lanterns and water basins were originally associated with Buddhist temples but have become common elements to accent a garden.
■ Trees, flowers, and shrubs are found throughout gardens. They are often carefully trimmed and shaped to provide the viewer with a specific scene or image.
■ Fish, especially nishiki-koi (colored carp) and goldfish, are often found in the ponds and lakes of Japanese gardens.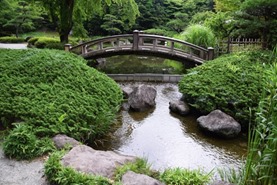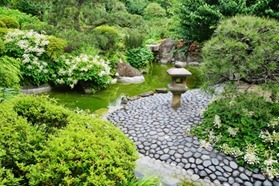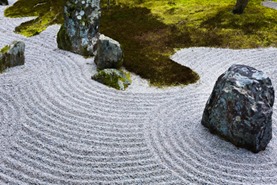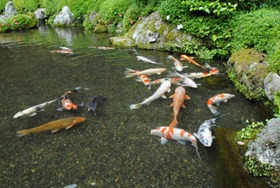 Japanese Gardens in Tokyo

Below is a list of Japanese Gardens in Tokyo for you to enjoy.


Hamarikyu Onshi Teien
These gardens are located in Chuo Ward and are surrounded by a seawater moat filled by Tokyo Bay. It is the only garden in Tokyo with a saltwater pond. Be sure to drop by the teahouse on an island in the center of the pond that offers "matcha" green tea and Japanese sweets in tea-ceremony style.
Address: 1-1, Hamarikyu Teien, Chuo-ku, Tokyo
Access: 7 minutes walk from Shiodome Station or Tsukiji-shijo Station on Toei Oedo Line.
Website : /news/hamarikyu-gardens

Koishikawa Korakuen
This is one of Tokyo's oldest gardens, having been built during the Edo period (1600-1867). It is called "Korakuen" after a poem that advised rulers to put the happiness of the people before his own. It has a beautiful network of walking paths with carefully landscaped ponds, stones, manmade hills, and trees intended to replicate Japanese and Chinese scenery. Combine this with Tokyo Dome and other skyscrapers in the background and you have a recipe for a perfect image of Japan in miniature, nature and modernity coexisting peacefully.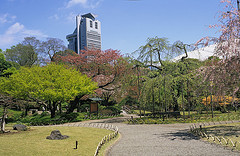 Address: 1-6-6, Koraku, Bunkyo-ku, Tokyo
Access: 3 minutes walk from Iidabashi Station on Oedo Line,
8 minutes walk from Iidabashi Station on Sobu /Tozai/Yurakucho/Namboku Line.
Website : https://www.tokyo-park.or.jp/park/format/index030.html#googtrans(en)

Rikugien Garden
This is considered to be one of Tokyo's most beautiful gardens, alongside the above-mentioned Korakuen. This is a good example of a "strolling garden." As you walk along its large network of paths, you can view 88 miniature scenes reproduced from famous Japanese poems. Also, be sure to visit Fukiage Chaya teahouse and have some tea and dessert when you visit!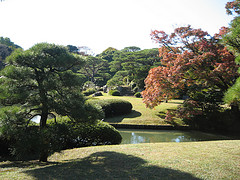 Address: 6-16-3, Hon-Komagome, Bunkyo-ku, Tokyo
Access: 2 minutes from Komagome Station on JR Yamanote Line or Namboku Line.
Website : http://www.japan-guide.com/e/e3026.html

Shinjuku Gyoen
This garden combines multiple garden styles: French Formal, English Landscape, and Japanese traditional in a unique mixture not often encountered. The gardens contain more than 20,000 trees of many varieties, including 1,500 cherry trees. As such, this is a popular spot to for hanami parties during the cherry blossom season so don't miss out.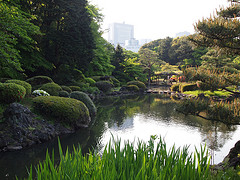 Address: Naito-cho, Shinjuku-ku, Tokyo
Access: 5 minutes walk from Shinjuku Gyoen Station on Marunouchi Line or 10 minutes walk from Shinjuku Station.
Website : http://www.env.go.jp/garden/shinjukugyoen/english/index.html

Kyu Shiba-Rikyu Gandens
This garden has a long history, dating back to the Edo period like Korakuen. This garden was purchased by the Imperial Household Agency in 1875 and it became an Imperial residence with a European-style guest house. The entire property was destroyed by fire in the Great Kanto earthquake on 9/1/1923 and then donated to the city of Tokyo in 1924. It was re-opened to the public on 4/20/1924 and has been "a place of scenic beauty and special historic interest" as designated by the Government of Japan ever since.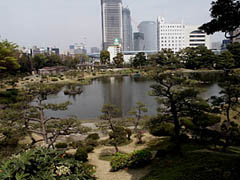 Address: 1-4-1, Kaigan, Minato-ku, Tokyo
Access: 1 minute walk from Hamamatsu-cho Station on JR Line or 5 minutes walk from Daimon Station on Toei Oedo Line.
Website : https://www.tokyo-park.or.jp/teien/en/kyu-shiba/index.html


For additional suggestions, please see the below links:
Japan Guide's Top 10 Japanese Gardens
Wikipedia list of Botanical Gardens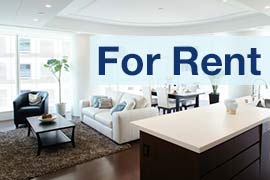 Listings of popular and luxurious rental apartments, condominiums, and houses
designed with expats in mind.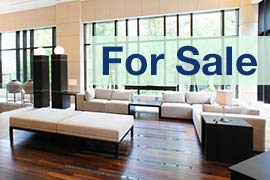 Listings of apartments, condominiums, and houses available for purchase in Tokyo.