What Makes Hiroo a Great Neighborhood for Tokyo Expats?
Poste date: Friday, January 13, 2023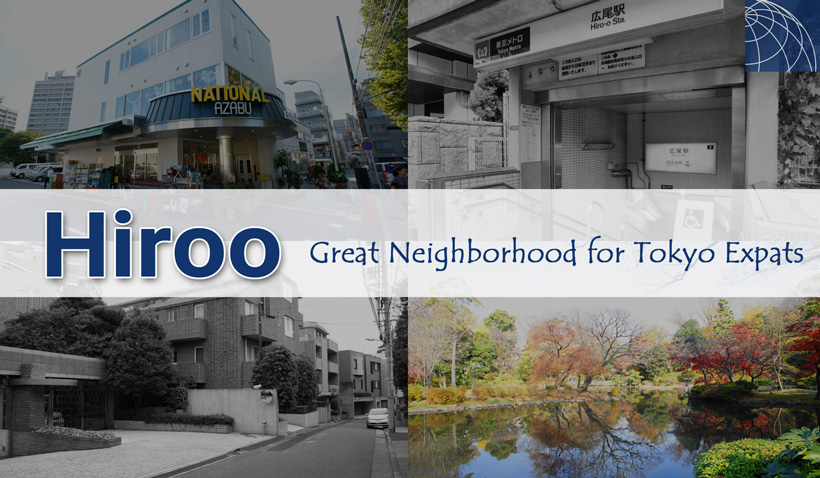 Hiroo has maintained its place as one of Tokyo's most upscale neighborhoods for many years. Home to several of the capital's embassies, Hiroo is a place where Japan's international communities have carved out a comfortable expat-friendly lifestyle. The neighborhood offers a wide variety of Western necessities and easy access to many of Tokyo's thriving entertainment districts. So, what does Hiroo have to offer? Keep reading as we explore its living essentials and many amenities. If you would like to learn about Hiroo's history, please refer to: History of Hiroo.
How to Get to Hiroo?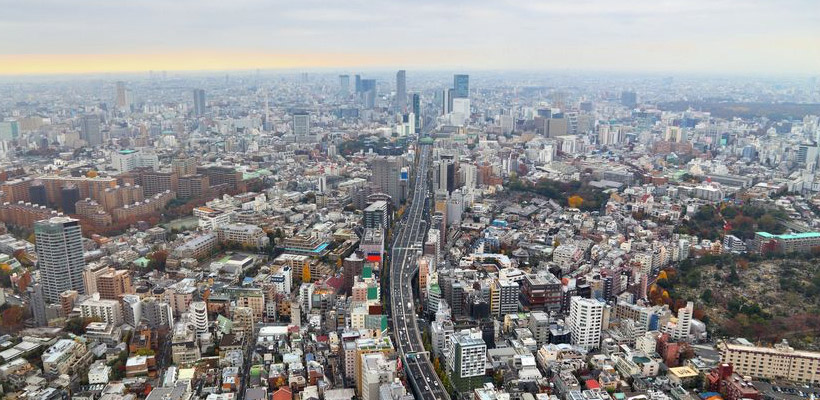 Hiroo is conveniently located between two train stations. Hiroo Station is a stop along Tokyo Metro's Hibiya Line (and is technically considered to be part of the nearby Minami-Azabu district). Depending on where you live in Hiroo, you may actually have easier access to Tokyo's massive subway system with Ebisu Station, which is a slightly more convenient option as it's located on the Yamanote line.
Living in Hiroo
Hiroo and Azabu-Juban (and subsequently Roppongi) make up much of Tokyo's international community, and Hiroo's location at the center of the Shibuya-Ebisu-Roppongi triangle makes it an ideal location for business people to live, work, and play. Also, because Hiroo is nestled within the triangle, there's almost no train thru-traffic or major thoroughfares, making it perfect for young families or bicycle enthusiasts.
The neighborhood offers many upscale Japanese and expat apartments and houses available to rent or own. Whether you want to rent an apartment in Hiroo or settle down by buying a house, Hiroo is a slice of heaven for anyone with the income and a dream!
International Grocery Stores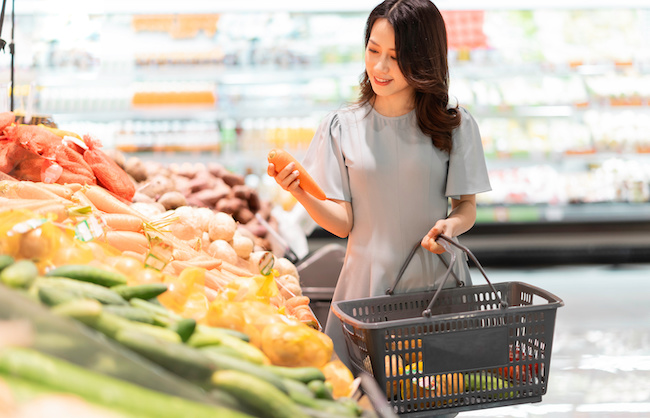 Hiroo provides many attractions and amenities that match the diplomatic lifestyle. Even for those who don't live in the area, it's a popular destination for Westerners to find the comforts of home that elude them in other parts of Tokyo and beyond.
National Azabu Supermarket is one of the most well-known Western supermarkets in Tokyo. If you're looking for something you might need for your favorite recipes or are craving some comfort foods, you'll likely find it here. Especially around the holidays, though, you'll need to get pre-orders in early.
MEIDI-YA is chain of import stores with lots of niche ingredients from all over the world, especially from Europe. They also have a pretty good variety of wines and spirits, including a delightful array of top-shelf mini bottles.
Hiroo Plaza and Hiroo Garden are shopping malls with numerous shops and restaurants. Various events are also organized.
Read More: International Supermarkets in Tokyo
Restaurants in Hiroo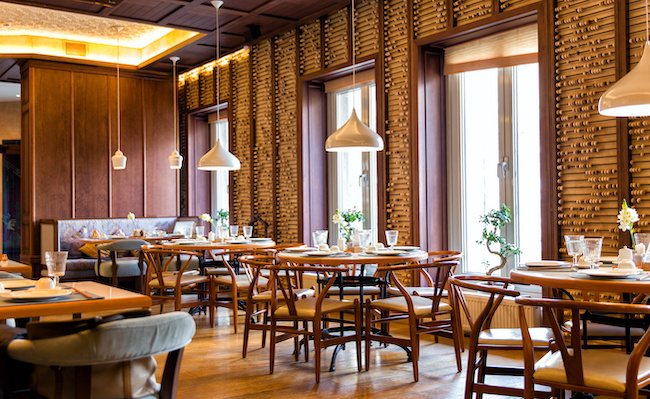 There are many culinary options within Hiroo and the surrounding area. We recommend trying the following two if you're looking for a local night out.
Restaurant Hiramatsu is a much-beloved classic in elegant French cuisine and one of the priciest in the neighborhood. It's a popular fixture for special occasions and has played roles in many an anniversary or proposal. The restaurant provides a white glove experience with wonderful traditional French food and ambiance.
The Restaurant is an amazing and expansive food hall and the stuff of dreams. From simple gyoza to a hefty satisfying burger, just about every major cuisine is represented in the plethora of food stalls throughout the complex.
There are also Mexican cuisine La Jolla, creative French cuisine ODE, organic restaurant LUCA DELI, and an Italian restaurant where you can taste authentic Neapolitan pizza Pizzeria BUGANVILLE Hiroo.
Nightlife in Hiroo is less rowdy than its nearby party cousin Roppongi, though there are some small tasteful bars and members-only clubs that are a real pleasure to visit on a Saturday night.
Sports Clubs in Hiroo
Fitness Club Hiroo is an excellent choice if you're looking for a little extra help in the gym. New members get a full-body consultation after signing up, which helps the trainers build a custom fitness plan that suits your workout goals. A variety of studio classes also makes this a great fitness club for expats looking to get in shape while meeting new people.
If you'd rather smash a squash ball than do some reps, Double Blue is an excellent public squash court that's open and friendly to all. Slots can be reserved anywhere from 10 minutes up, and unlike many other clubs in Tokyo, there's no annual fee or membership dues — simply pick an open spot and pack your goggles!
Hiroo Club is located in Hiroo Plaza and it is a membership-based gym. There is also a golf range and a studio.
Jujitsu is a well-known martial art, but did you know that the original form started in Japan? Carpe Diem Brazilian Jujitsu Hiroo is open to all ages, so stop by and observe a lesson for free anytime. Visitors are welcomed as long as they remain quiet and respectful throughout the class.
Read More: Fitness Clubs in Central Tokyo
English-Speaking Hospitals and Clinics in Hiroo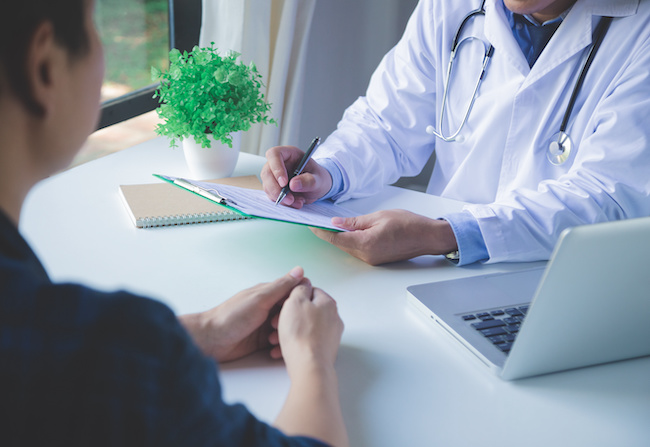 One of the reasons expats want to live in Hiroo is the neighborhood's close proximity to comprehensive, English-speaking healthcare services. The Japanese Red Cross is perhaps the most famous English-speaking hospital in Tokyo, offering full-service clinics and both in and outpatient procedures. There are also many specialist clinics located in and around Hiroo, and often they are the only ones that will accept overseas diplomatic insurance (though if you don't qualify, you must register for Japanese National Health Insurance).
Hiroo International Clinic
Medical institution primarily for foreigners. English-speaking physicians with both US and Japanese qualifications provide medical care.
http://www.hiroo-ic.com/index-j.html
---
Japanese Red Cross Medical Center
General hospital with the closest distance within Hiroo and most experienced English-speaking medical staff for emergency services.
https://www.med.jrc.or.jp/en/tabid/393/Default.aspx
---
Medical Clinic Hiroo
This clinic is for foreign residents. Doctors have received training abroad and are familiar with the health insurance situation in foreign universities, schools and language schools.
http://www.suwa-pediatrics.com/english/
---
National Medical Clinic
This clinic is for foreign residents. Doctors have received training abroad and are familiar with the health insurance situation in foreign universities, schools and language schools.
---
For more information on expat-friendly clinics and hospitals, please look through our comprehensive list of English-speaking medical facilities in Tokyo.
English-Speaking Dentists in Hiroo
Going to the dentist is already stressful enough, but adding a language barrier on top of that can give expats so much anxiety that they fail to seek out proper routine care. Our Guide to English-speaking Dentists in Tokyo offers a wealth of information on how to find proper services, but the following two English-speaking dental offices are a great place to start if you live or work in Hiroo.
Dr. Kaku's Office (Hiroo)
Dentistry, Pediatric Dentistry, Orthodontics
http://www.drskaku.com/en.html
---
Yo Dental Office
General Dentistry , Osseo implant, Cosmetic, etc.
https://www.yodental.jp/english/
---
International Schools in Hiroo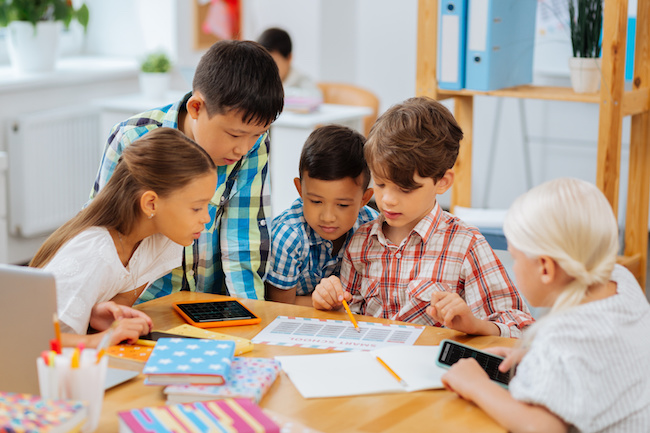 One of the primary reasons expat families move to Hiroo is the surrounding area's close proximity to excellent schooling options. Most notable is the International School of the Sacred Heart, a private all-girls Catholic school run by the nuns of the Order of the Sacred Heart. Schools of this caliber follow a full IB curriculum, so that your children can keep up with their English-language studies no matter what country comes next on your journey. Little ones will also be taken care of at one of the many English-speaking preschools in the area, the closest being Sesame International Preschool.
For more information on available education options around Central Tokyo, please visit our guide to international schools.
International School of the Sacred Heart
English is the official language of education for foreign students from more than 50 countries. All-girls school for education from kindergarten to grade 12.
---
Seisen International School
This school has about 700 foreign students from about 60 countries and offers a kindergarten to grade 12 curriculum. Only kindergarten is co-educational, the rest are girls' schools.
---
Nishimachi International School
Coeducational. Eligible students from kindergarten to grade 9.
---
Other Facilities
Arisugawa Park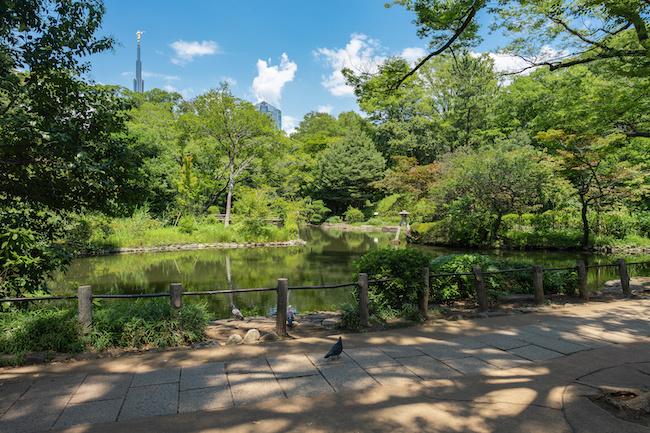 Arisugawa Park is a popular kid-friendly locale, dotted with many landscaped hills and pathways, as well as a few delightful ducks and their affectionate feeders. It's a perfect getaway for momentary tranquility before heading to nearby Hiroo Station, only a four-minute walk away.
Tokyo Metropolitan Central Library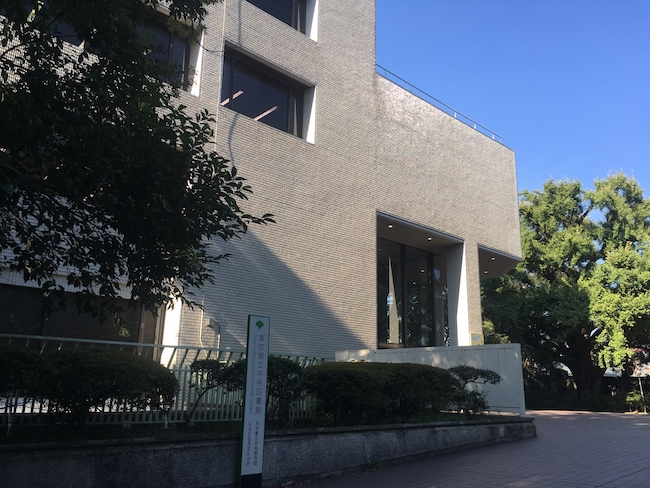 English-speaking library in Arisugawa Park. You can also read newspapers from different countries.
Make a Day or Spend a Lifetime Enjoying the Best of Hiroo
No matter where you decide to live in Tokyo, you will be astounded by the cultural, culinary, and communal variety of this upscale eclectic neighborhood. Charming and green, the verdant landscaped back roads on a breezy summer day are truly one of Tokyo's hidden pleasures. Come see for yourself why diplomats have made Hiroo their home for decades, and if you need a little more convincing, no problem! Our full area guide to Hiroo will answer any of your lingering questions.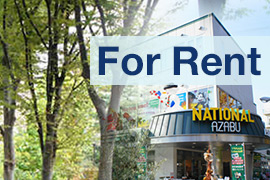 Listings of popular and luxurious apartments, condominiums, and houses designed with expats in mind.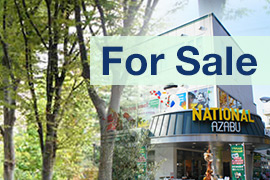 Listings of apartments, condominiums, and houses near international schools and foreign embassies.