Craft Beer Tokyo Guide: 5 Great Hop Spots in Roppongi
Poste date: Wednesday, February 14, 2018
Roppongi has one of the largest concentrations of non-Japanese people in Japan in general and Tokyo in particular. With so much diversity around, it should come as no surprise that Roppongi is one part of the Tokyo craft beer scene that is brimming over with possibilities! Let's refresh ourselves with a look at 5 awesome places to go bottom's up in the heart of Tokyo.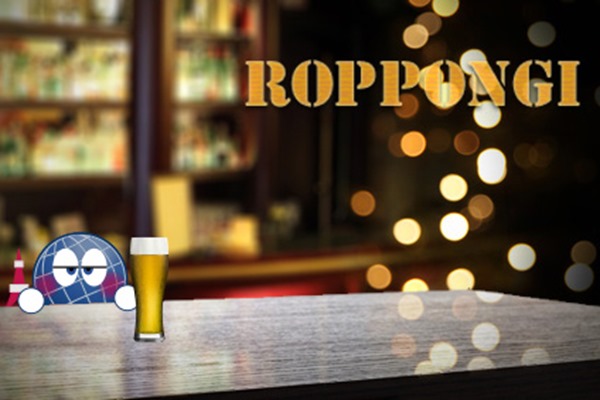 Tokyo Craft Beer: Roppongi Restaurants and Bars
2 Dogs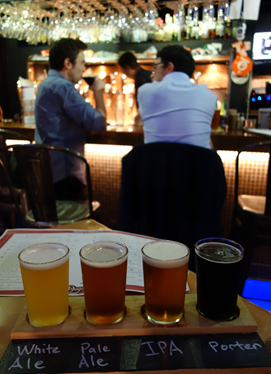 Address : Aries Building 2F., 3-15-24 Roppongi, Minato-ku.
Directions : Walk down the main Roppongi Street. Walk past Don Kihote and turn left after a Family Mart. You will see the 2 dogs building ahead of you, at the end of the short street, down a slight slope.
Website: http://www.twodogs-tokyo.com/
Finding craft beer in Tokyo sometimes means choosing between an all-Japanese or all-foreign selection, but not at 2 Dogs. A relative newcomer to the Tokyo craft beer scene, this one features a varied combination of both Japanese and international beers and is quite popular with the international crowd. Comprising 3 floors and providing seating for 90 or more people, this spacious building also features a large pizza oven and 25 taps, mostly filled with craft beers. You can find the largest range of Kawasaki-brewed Brimmer beers here, with up to 12 regularly rotating Japanese craft beers, as well as some very fine international offerings.
At around 1,000yen per US pint, prices are good. Two Dogs offers a 4 beer taster set for 2,000yen and a happy hour from 5-7pm, where all beers can be increased one size for free (200ml to 360ml or 360ml to 473ml). They also have an all you can drink option and are popular for parties. All staff speak English and there are English menus, which is not surprising since the bar is managed by two American gentlemen. They offer wifi and are smoking friendly, although if you request no smoking, they will open a special VIP room for you. The building features big screen TVs and is a popular place to watch the latest sporting events.
Ant n Bee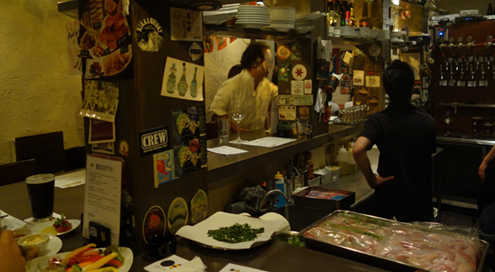 Address : 5-1-5, Roppongi, Minato-ku
Directions : Located just off the Hibiya line, Roppongi station, Exit #3. Turn right, then right at the large intersection, taking you down the main street, towards Tokyo Tower. Craft Beer Bar Ant 'n Bee is on the right, just below Abbot's Choice (look for the large neon sign).
Website: http://ameblo.jp/roppongi-beerbar-antnbee/
For another good selection of Japanese craft beers in Roppongi, head to the basement bar, Ant n Bee, started in 2010 by manager Makiko Kawabe, who has surrounded herself with friendly and knowledgeable staff. With around 20 taps (all Japanese), this is the best option for the widest range of Japanese craft beers in the area; since they stay open until the first train, you'll have more than enough time to sample a few.
Ant n Bee offers 4 beer sizes: small (250ml), regular (350ml), large, US Pint (473) and maas (a huge, heavy 1L German mug). Prices are 900yen for regular and 1200yen for a pint. Although a little on the expensive side, some of the beers on offer are hard to find elsewhere, especially all in one location. Food wise, they have a nice selection of small but delicious dishes including such standard bar fare as chicken wings plus a few more interesting items.
Inside, the main bar and counter area seats around a dozen and smoking is allowed, with another 20 or so seats for non-smoking. Outside, the bar is actually a bit hard to find; look for it below Abbot's Choice, where the manager actually used to work.
Brewdog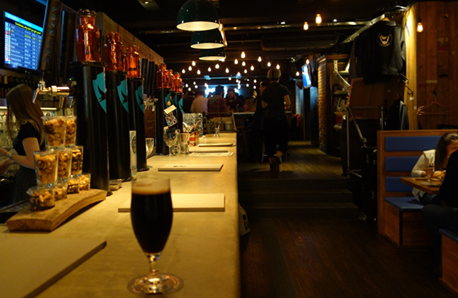 Address : 5-3-2-1F Roppongi, Minato-ku.
Website : http://brewdogbar.jp/
Another bar that is popular with the international crowd is the Roppongi Brewdogbar. Brewdog, originally from Scotland, have captured a lot of attention worldwide and are now making inroads into the Tokyo craft beer scene. The Roppongi location offers almost their entire range plus various guest beers from around the world and a few Japanese craft beers, such as North Island, from Hokkaido. Expect to pay 800yen for a half UK pint. Staff are bilingual and knowledgeable, and the food here is tasty and varied.
BeerBar Fujizakura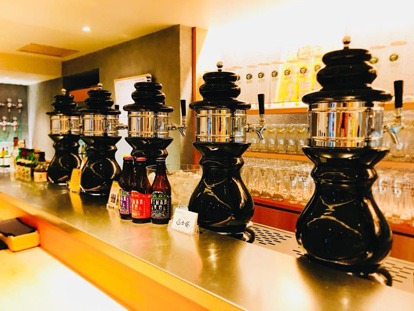 Address: B1F Shimada building, 4-8-7 Roppongi, Minato-ku, Tokyo
Directions: (1min walk from exit 6 Oedo/Hibiya Line Roppongi Station)
At Roppongi station take Exit 6. Once outside walk straight ahead. After crossing the street BeerBar Fujizakura will be on your left between the AU shop and the Docomo shop. The bar is down stairs so it might be easy to walk past the first time.
Website: BeerBar-Fujizakura.jp
For those looking to drink Fujizakura beer in a relaxing atmosphere, BeerBar Fujizakura is the place for you. While the staff only speak Japanese, the menus do have some English on them. While on the expensive side for beer, 1000yen for a large (400ml), they have 10 craft beers on tap. Seven out of ten of the beers on tap are Fujizakura Heights beer while the remaining 3 are international guest beers that occasionally change. The bar is non-smoking and has counter seats, a few tables, and private rooms for large groups.
Gori Gori Taproom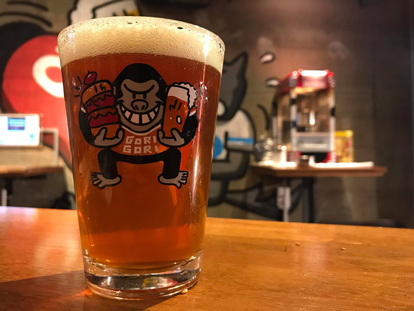 Address: 1-2-3-1F Nishiazabu Minato Tokyo
Directions : The simplest way to get to Gori Gori Taproom is to go to Roppongi station on the Hibiya/Oedo Line. Use exit number 2 and walk straight. After crossing the big intersection, take a right at the next street where there will be a building that says 'Chinese Restaurant' on it. Continue going straight until you see the red sign of Gori Gori Taproom on your left.
Website: GoriGori.Beer
Opened in 2016 Gori Gori Taproom has inexpensive beer, hamburgers, English menus, no table charges and the entire bar is non-smoking. Most beer offered here are domestic and the number of beer on tap varies day to day. Beer is available in either small (240ml) for 490yen or large (470ml) for 790yen. The owner, Tamon Nakamura, was one of the first Japanese to participate in the NFL (NFL Europe). There is seating in the bar for about 35 people and there are no table charges. If a huge burger and a nice cold beer are what you're what you need to make your day, this is where you need to be.
Craft beer options in Roppongi offer fun and variety but there no need to stop our pub crawl there–there are hamburger places and even convenience stores and supermarkets in Hiroo and Azabu-Juban that offer even more ways to satisfy your craving for craft beer in Tokyo. Check them out today–that is, if you don't have to work tomorrow.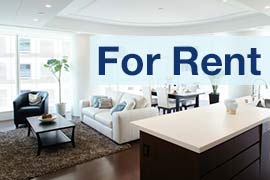 Listings of popular and luxurious rental apartments, condominiums, and houses designed with expats in mind.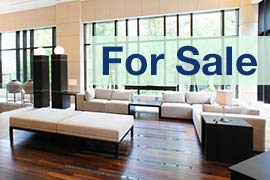 Listings of apartments, condominiums, and houses available for purchase in Tokyo.