Organic Food - Stores & Restaurants in Tokyo
Post date: Wednesday, March 4, 2020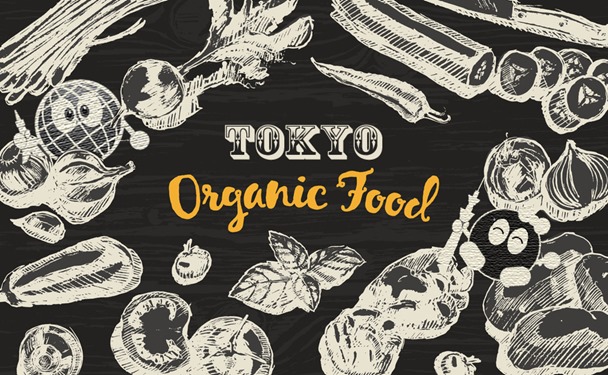 Although there aren't as many organic stores in Japan as there are in the United States and Europe, the number is gradually increasing. People are becoming more sensitive to how food is grown or raised because it can have a major impact on mental and emotional health.
More and more organic supermarkets, farmers markets, restaurants, and cafes are opening in Japan. And young, trendy Tokyoites have found the appeal of going organic during their lunch breaks.
Buying Organic Food in Japanese Supermarkets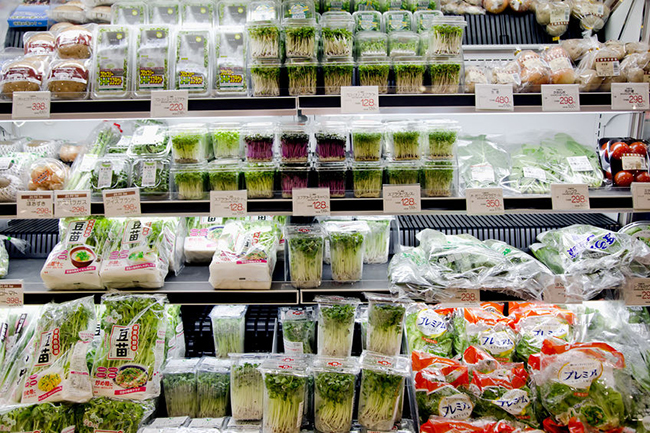 Several supermarkets across Japan, and more specifically Tokyo, have begun stocking organic food. Seijo Ishii, for example, is a chain of premium grocery stores focusing on foreign imports as well as organic products. However, Aeon is the clear winner, with dozens of options for healthy and organic food. They even have a natural and organic section for cosmetics and skincare.
Organic Stores in Tokyo
Natural House

Natural House is one of the most easy to find of the organic and health food store chains. The flagship is in Minato-ku, but there are smaller locations all around central Tokyo. As far as niche markets go, Natural House is likely going to have the best selection around. They do have a small skincare, cosmetics, and perfume section, as well as a hot deli bar serving a rotating mix of sustainable vegetarian and vegan-friendly options.

[Locations in Tokyo]
Atre Kichijoji Store: 1-1-24 Kichijoji Minamicho, Musashino-shi
Atre Meguro Store: 2-16-9 Kamiosaki, Shinagawa-ku,
Ayoama Store: 3-6-18 Kita-Aoyama, Minato-ku
Celeo Hachioji Store: 1-1 Asahi-cho, Hachioji
Itocia Yurakucho Store: 2-7-1 Yurakucho, Chiyoda-ku
Lumine Tachikawa Store: 2-1-1 Akebonocho , Tachikawa-shi
Marui Kita-Senju Store: 3-92 Senju, Adachi-ku
Rise Shopping Center Store: 2-21-1, Tamagawa, Setagaya-ku
Shimokitazawa Store: 2-26-3 Kitazawa, Setagaya-ku
Ueno Frontier Tower Store: 3-24-6 Ueno, Taito-ku

http://www.naturalhouse.co.jp/ (Japanese)

crayonhouse

Crayon House is a funky spot that can turn into an afternoon of fun for the whole family! They have a children's bookstore on the first floor, as well as an entire floor of wooden toys one story up. The third floor is dedicated to organic products for children and parents. In the basement, you'll find a restaurant serving up hot meals. Their lunch buffet is quite affordable, and their small dedicated organic food shop is directly adjacent, so you don't have to shop while you're hungry. Crayon House also has a location in Osaka.

A: 3-8-15 Kita-Aoyama Minato-ku Tokyo

http://www.crayonhouse.co.jp/shop/pages/english_top.aspx (Japanese)

NATURAL MART

Natural Mart is a tiny storefront with a big personality. Serving a wide variety of organic teas, fair-trade chocolates, and fresh vegetables, it's a wonderfully cozy neighborhood supermarket. The fact that its doors have remained open for nearly 20 years in the high-end Hiroo neighborhood should tell you just how much beloved this store is to the local community. Natural Mart focuses mostly on ingredients, though you can also find a small selection of home goods.

A: 5-19-5 Hiroo Shibuya-ku Tokyo

http://naturalmart.jp/ (Japanese)

LIMA Shinjuku

Lima Shinjuku is one of the coolest spots for organic food in Tokyo. The store is dedicated to macrobiotic cuisine and lifestyles, with a dedicated macrobiotic deli. The store also offers cooking classes for patrons wanting to learn how to use delicious ingredients with an expert eye. Not only can you buy organic ingredients, but you'll find an excellent range of gluten-free goods and baking ingredients, suited for home chefs and novices alike.

A: CI Building Higashiyama Store: 3-1-6 Higashiyama, Meguro-ku 
Yoyogi Store: 2-23-1 Yoyogi, Shibuya-ku

http://www.lima.co.jp (Japanese)

Bio c'Bon

Bio c' Bon is a French grocery store chain specializing in French import goods and other specialty foods. They also have one of the best bulk sections in Tokyo, with everything from carob chips to steel-cut oats to dried fruit. Bio c' Bon also has a hot deli and salad bar with a selection of fresh cheeses and breads as well as vegan hot deli options.

[Locations in Tokyo]
A-Flag Akasaka Strore: 4-3-6 Akasaka, Minato-ku
Aeon Style Himonya Store: 5-6-1 Himonya, Meguro-ku
Atlas Ikejiri Store: 3-21-16 Ikejiri, Setagaya-ku
Atlas Tower Naka-Meguro Store: 1-26-2 Kameguro, Meguro-ku
Jingumae Store: 3-42-2 Jingumae, Shibuya-ku
Meiji-Jingumae Station Store: 1-18-22 Jingumae, Shibuya-ku
Tobu Ikebukuro Store: 1-25 Nishi-Ikebukuro, Toshima-ku
Tokyu Twins Machida Store: 6-4-1 Hara-Machida, Machida-shi
Tomingaya Store: 1-49-21 Tomigaya, Shibuya-ku
Yotsuya Store: 3-5 Yotsuya, Shinjuku-ku, Tokyo

https://www.bio-c-bon.jp/ (Japanese)

F&F

F&F has exploded over the last few years, quickly becoming the most easily reachable store on the list. While they don't have a full-service hot deli like some others mentioned above, they do have an impressive selection of bento meals as well as breads, pastries, and rice balls. Their locations extend into Saitama and Kanagawa as well, so those living outside Tokyo can still access their delicious natural and vegan-friendly options.

[Locations in Tokyo]
Asagaminami Store: 1-36-12 Asagaminami, Suginami-ku
Funabashi Store: 1-9-1 Funabashi, Setagaya-ku
Gopongi Store: 1-31-8 Gopongi, Meguro-ku
Jiyugaoka Store: 1-9-8 Jiyugaoka, Meguro-ku
Kichijoji Store: 1-11-5 Kichijoji Honcho, Musashino City
Minami-Azabu Store: 5-15-20 Minami-Azabu, Minato-ku
Nishi-Shinjuku Store: 1-1-4 Nishi-Shinjuku, Shinjuku-ku
Palm Kadoya Koyama Store: 3-23-7 Koyama, Shinagawa-ku
Purarito Keio Fuchu Store: 1-2-1, Fuchu-cho, Fuchu-shi
Sakura-Shimachi Store:1-13-3 Sakura-Shinmachi, Setagaya-ku
Takaban Store: 3-3-17 Takaban, Meguro-ku
Takashimaya Tamagawa Store: 3-7-18 Tamagawa, Setagaya-ku
Todoroki Store: 3-5-11 Todoroki, Setagaya-ku
Umegaoka Store: 1-20-9 Umegaoka, Setagaya-ku

http://www.shizensyoku-ff.com (Japanese)

Gaia

Tucked away in the quiet yet enviable neighborhood of Yoyogi-Uehara, this sweet neighborhood favorite has been serving health-conscious Tokyoites for years. They have an excellent organic produce section, and they focus primarily on patrons looking for macrobiotic food options. Gaia2 is also located across the street and contains a variety of non-food items like clothing, housewares, and skincare.

A: Ochanomizu Shop: 3-3-13, Kanda Surugadai, Chiyoda-ku

http://www.gaia-ochanomizu.co.jp (Japanese)

Organic Store
Description
Farmers Markets in Tokyo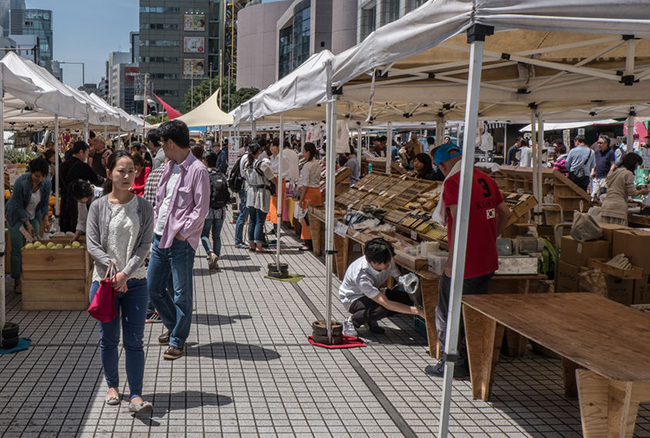 Hills marche




Hills Marche is held in the trendy business district of Akasaka, in the heart of Tokyo. Located in the Ark Hills complex, it runs every Saturday from 10 a.m., offering everything from organic, fresh produce to kids cooking classes. While a little out of the way for those not located inside the Ark Hills complex, it's a wonderful, old fashioned market with lots to do — take the kids and make a day of it.

A: 1-12-32 Akasaka Minato-ku Tokyo

Saturdays: 10:00 - 14:00

http://www.arkhills.com/en/hillsmarche/

UNU Farmers market




This farmers market is probably the most famous of the bunch in Tokyo. Located in front of the United Nations University campus, it's a wonderful way to spend a sunny spring morning. Open both Saturdays and Sundays, the UNU Farmers Market is excellent for those who may not get a full weekend off but still need to do a full week's shopping. It's also open two hours later than the Akasaka farmers market and is quite a bit larger (though selection always depends on the week and season).

A: 5-53-70 Jingumae Shibuya-ku Tokyo

Saturdays & Sunday: 10:00 - 16:00

Yebisu Marche




Yebisu Marche is small but mighty, and by far the most conveniently located of the markets on our list — right on the platform outside of Ebisu Station. Organized by the Marche Japan organization (which organizes farmers markets all over the country), its focus is on fresh produce grown in and around Tokyo.

A: Yebisu Garden Place  1-13-1, Mita, Meguro-ku, Tokyo

Sundays: 11:00 - 17:00

Marche
Description
Shopping Online for Organic Food in Japan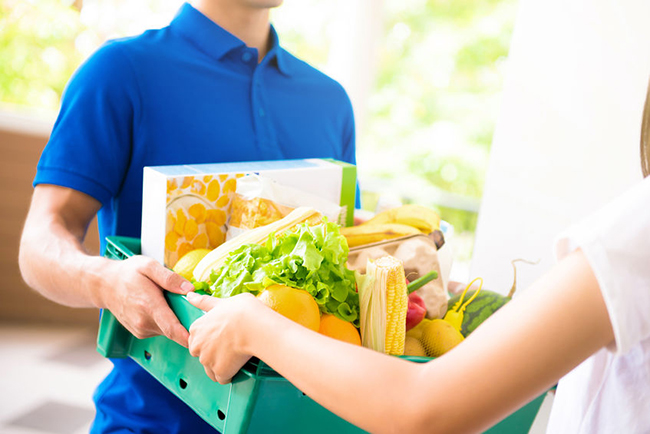 Sometimes, your busy Japan life doesn't allow you the time to go out and enjoy a leisurely farmers market stroll, or you may be located too far away for it to be worth the trip. The wide distribution capabilities of cold shipping have made it possible for organic veggies and other products to be distributed throughout the country. Below are a few online shops that cater to organic-minded clientele.
Read More: Online Grocery Shopping in Japan
Bio Marche




Bio Marche comes from the French shorthand for organic, and is one of the biggest distributors of organic and natural foods in Japan. The service runs on a regular schedule, where you receive a delivery once a week on a set date, similar to a CSA.

SuperORganic Foods




All of the vegetables and fruits that SuperOrganic sells are certified by the Japan Agricultural Society as 100-percent organic and non-GMO. Even more specific, SuperOrganic is unique in its care taken toward possible radiation contamination, growing produce only in specific areas of Japan and checking each shipment to ensure no radiation over the legal limit is present.

Radish Boya




Radish Boya covers organic produce and other food products as well as home goods and appliances, all delivered to your door. Their blog is also full of healthy and interesting recipes as an incentive to help you put its products to good use.

 http://www.radishbo-ya.co.jp/shop/ (Japanese)

Organic Onion Stores
Description
Organic Restaurants in Tokyo
Tamana Shokudo

Tamana Shokudo, also known as Natural Food Studio, opened in 2011 to increase food and health awareness. This organic restaurant attracts not just vegetarians but many food lovers in Japan.

A: 3-8-27 Minami Aoyama Minato-ku Tokyo

aloha table natural

Aloha Table has opened its "natural" restaurant in Hiroo and serves organic food. A combination of laid-back atmosphere with healthy organic Hawaiian Food.

A: Arisugawa Mansion 2F 5-15-14 Minami Azabu Minato-ku Tokyo

http://hiroo.alohatable.com/ (Japanese)

Sky High

Opening its first store in Aoyama (2012), Sky High promotes becoming healthy from within with juices and salads. Using nutrient rich organic produce, they make juices and salads for those wanting to enjoy a healthy snack. Sky High also offers juice sets for those wishing to do juice cleanses.

A: Aoyama TN Building 2-3-4 Shibuya Shibuya-ku

http://skyhigh-tokyo.jp (Japanese)

ORGANIC TABLE BY LAPAZ

Located in Gaienmae Shibuya. The words "Vegan"and "Organic" are not as important our connection with our growers and guests. Rest assured, we provide "powerful organic food" that is both tasty and safe with sensibility and style.

No chemical condiments are used. We only use organic produce that is grown by the most reliable sources.

A: 3-38-11 Jingumae Shibuya-ku Tokyo

Organic Restaurant
Description
Suggested Reading: Best Vegetarian Restaurants in Tokyo from Casual to Classy
Organic Restaurants in Tokyo
For anyone wanting to eat healthy, we recommend including organic Japanese ingredients in your diet. Lucky for expats, the country has really begun to focus on natural farming methods, with a new push for wider availability.
For more helpful information on food in Japan, check out our comprehensive guides that cover everything from catering options, to etiquette and important vocabulary to keep you and your loved ones safe.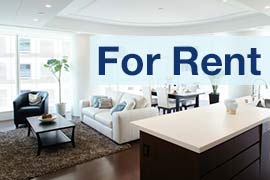 Listings of popular and luxurious rental apartments, condominiums, and houses designed with expats in mind.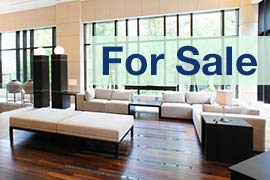 Listings of apartments, condominiums, and houses available for purchase in Tokyo.