Toranomon Hills - The New Central Tokyo Landmark
Poste date: Friday, April 11, 2014
Toranomon Hills is a re-development project that Tokyo Metropolitan Government initiated with its goal to improve urban function and to promote tourism as well as international exchanges in Tokyo. Tokyo Metropolitan Government designated MORI Building Co., Ltd., as a designated developer. It is constructed by Obayashi Corporation and designed by Nihon Sekkei, Inc. 
The building is a 52-story ultra high-rise with 5 levels underground – a multi complex commercial building that houses offices, shops, a hotel, conference halls and residences. It is scheduled to be completed at the same time as the commencement of the Loop Road No. 2, commonly known as "General MacArthur Road" connecting Toranomon and Shinbashi. It will be the second tallest building in Tokyo, after Tokyo Midtown.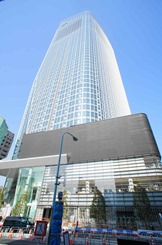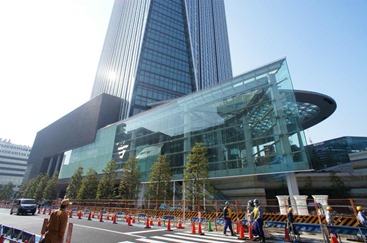 It is one of the biggest projects developed by MORI building following the Roppongi Hills, Omotesando Hills, Atago Green Hills and Arkhills Sengokuyama. 
Toranomon Hills is scheduled to open as a new landmark of Tokyo in June 2014. 
 
 47th through

 52nd floors

Hotel Andaz Tokyo

A high-end lifestyle hotel developed by Hyatt group known for their luxurious hotels. Standard rooms average around 50 sqm. space, which in Tokyo would be considered one of the larger ones.



 37th through

 46th floors

Residences: Toranomon Hills Residence

Luxurious residences where you can receive hotel services from Andaz Tokyo while being at your own home. In addition, you can have catering and access to a spa and restaurants. Exceptional views of Tokyo are a big plus.



 6th through

 36th floors

Office: Toranomon Hills MORI Tower

In addition to being more earthquake-resistant, this large-scale office building also has emergency power generators in order to maintain business operations in case of emergency. It offers the world's top class office features.



 1st through

 5th floors

Shop & Restaurant

In the open Atrium space a garden is incorporated with a variety of around 25 restaurants, cafés and shops.



Conference hall

An ideal space to organize a variety of events such as international conferences, symposiums, etc. Three event halls can accommodate up to 2,000 people in total.
Access
Six train stations for eleven different lines provide excellent access to Toranomon Hills. Toranomon Sta. on the Ginza line is a 5 min. walk. Kasumigaseki Sta. on Marunouchi, Hibiya and Chiyoda lines are 8 min. walk away. Kamiyacho Sta. on Hibiya line is in an 8 min. walk. Uchisaiwaicho Sta. on Toei Mita line is a 10 min. walk. Lastly, Shinbashi Sta. on JR Yamanote line is 12 min. walk away.   
The Loop Road No. 2 ("Shintora Dori Road" commonly known as "General MacArthur Road") runs underground of the building. It is planned to connect to the Bay Shore area in the future, which will improve access to Haneda Airport.
Earthquake Resistance
The building is highly earthquake resistant and is capable of maintaining its operations without causing any major constructional damages from any intense earthquakes equivalent to the Great East Japan Earthquake. Three types of damping devices and the Concrete Filed Tube (CFT) poles assure higher earthquake resistance and the building is graded "S" in Structural Performance Evaluation.
Emergency Preparation
An emergency well enables the use of the toilet when power or water supply is interrupted. In addition, emergency stock storage is in place, which keeps emergency food and drink supplies. It can serve as a temporary emergency evacuation site for those who have difficulty to get home in emergency situations.
Emergency Power Supply
If power supply from TEPCO is interrupted, the private emergency power generator activates by using city gas. In situations where both TEPCO and city gas supplies fail, the generator can be activated with a private stock of fuel oil. This double backup system assures power supplies in case of emergency.
Ecological Approach
There are plenty of open spaces such as an over 6,000 sqm. green grass field, Atrium, Step Garden, etc. within the premise.