Real Estate Purchase by Foreigners – Our Service was Introduced by a TV News Program
Poste date: Wednesday, April 15, 2015
Our real estate service was introduced by a Japanese national TV news program, "Super News(スーパーニュース)" on Fuji TV, February 26th and "Tokudane (特ダネ ) " on Fuji TV, March 11th.
The contents covered by both programs were about the recent increase of real estate purchases in Tokyo by foreigners.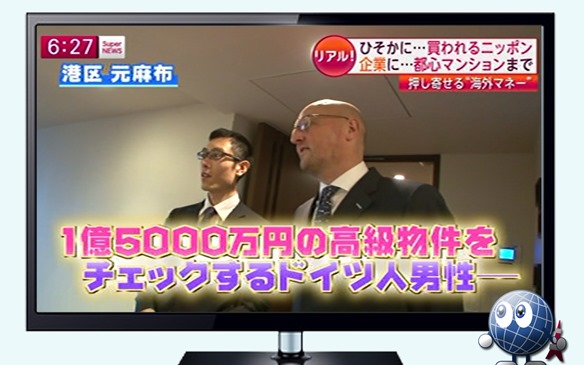 Relative to a global standard, real estate properties in Japan are high quality with a solid structure. The prices are stable and there are many attractive properties to invest and manage for lease.
Since 2014 property sales in Tokyo have been on an increasing trend, and in effect we are receiving many inquiries from non-Japanese clients.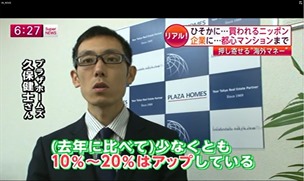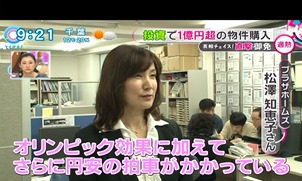 The reason why real estate investment from foreign countries have increased in Japan. 
●

Expectation of the effects of the Tokyo Olympics which will be held in 2020
Historically, real estate properties in cities where the Olympics were held have been seen to increase. In Tokyo, various infrastructure improvements are currently under way toward the 2020 Olympics such as the enhancement and redevelopment of the central and bay areas. There is an expectation that Tokyo will be reborn into an even more attractive international city. In addition, labor expenses are also on the rise as infrastructure works are increasing, and this may also be reflected onto higher asking prices of properties. 

 

●

Effect of Weak yen




Since last year the weaker yen has been making the property in Japan undervalued in the view of overseas investors when it is converted into their home currency, making investors think it is a good time to buy now. Also, buying at the perceived bottom price gives an expectation for an upcoming rising trend, and is good for leasing out their properties for a higher rental income.

It is prominently visible that the weak yen is encouraging not only an increase in the real estate sales by foreigners but also an increase of foreign travelers and the amount of shopping they do in Japan.

 

●

Real estate prices in Tokyo in comparison to other major world cities




The real estate price in Tokyo is less expensive than that in other major cities such as London, New York, Hong Kong, Singapore, and Beijing.

The price and yields are both stable in Tokyo, and investors and investment funds of many countries worldwide are paying attention to real estate investment in Tokyo because a stable yield may be possible with a relatively lower investment.

 

Recent prominent trends are an increase of Asian investors. Especially the purchase of condominiums in Tokyo by Chinese independent investors has increased and continue to do so.
In terms of their evaluation, the real estate price in Tokyo is less expensive than that in the big cities in China such as Beijing and Shanghai. Chinese speaking real estate agencies which were not seen before have also increased recently.
The range of property aimed for investment varies greatly from older studio types to the luxurious brand new high-rise condominiums.
We at PLAZA HOMES showcase Japanese real estate properties in English and have a lot of inquiries from European and American customers. 


In the TV news program coverage, our sales staff Mr. Kubo and Ms. Matsuzawa guided a German and French customer to viewings of luxurious condominiums in Hiroo and Azabu area.

These areas have been one of the most popular residential areas attracting European and American expats of international companies for a long time, because there are many supermarkets available with English, international schools, embassies and other facilities related to an international community. Therefore the demand for lease residences for families of international corporations is high, and a stable yield can be expected in this area indefinitely.

In our leasing section, there is also an increasing trend for lease mediating services for condominiums and single-family homes which were purchased by non-Japanese owners.

We at PLAZA HOMES provide all services including buying and selling intermediation, property management, seeking tenants, lease management, and so on in English.

About our real estate services, please feel free to contact our buying and selling section at 03-3588-0131.