Extended Redevelopment Project of "TORANOMON HILLS" and the Plan for a New International Urban Center
Poste date: Thursday, April 28, 2016
Mori Building, a leading urban landscape developer, announced on April 13 an extended plan for large-scale redevelopment projects around the existing Toranomon Hills. The unveiled plans include the construction of two high-rise towers adjacent to Toranomon Hills and one multi-complex high-rise tower involving office and hotel floors right above the scheduled new Hibiya Line subway station. All of the three developments will be completed in the year 2020 and the total project cost will be about 400 billion yen.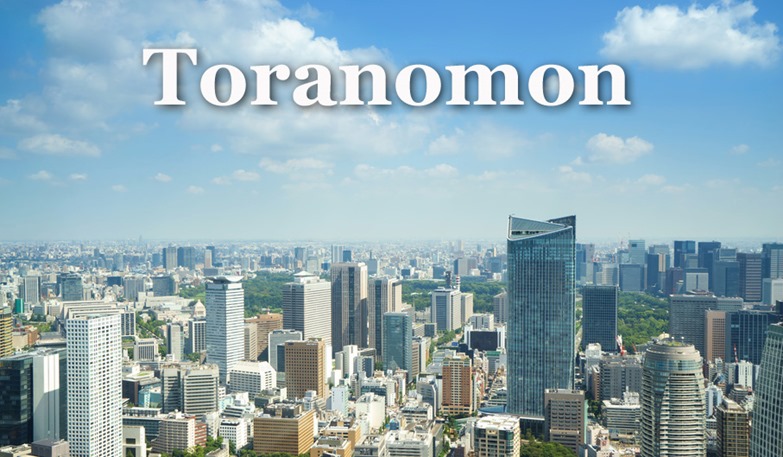 Since the inauguration of the Toranomon Hills in June 2014, the revitalization of the area has started off on a large scale, and Mori's plans will further accelerate the evolution of the area into a New International Urban Center and as a Global Business Hub. A big part of the plan is to develop three new mixed-use towers tentatively called Toranomon Hills Business Tower, Toranomon Hills Residential Tower and Toranomon Hills Station Tower. Both the Business and Residential Towers are scheduled to be built next to the existing Toranomon Hills on each side and aimed for completion in the year 2019 before the Olympic Games in 2020. The Station Tower which is scheduled for completion in 2022 will incorporate the new Hibiya Line subway station scheduled to begin partial service in 2020.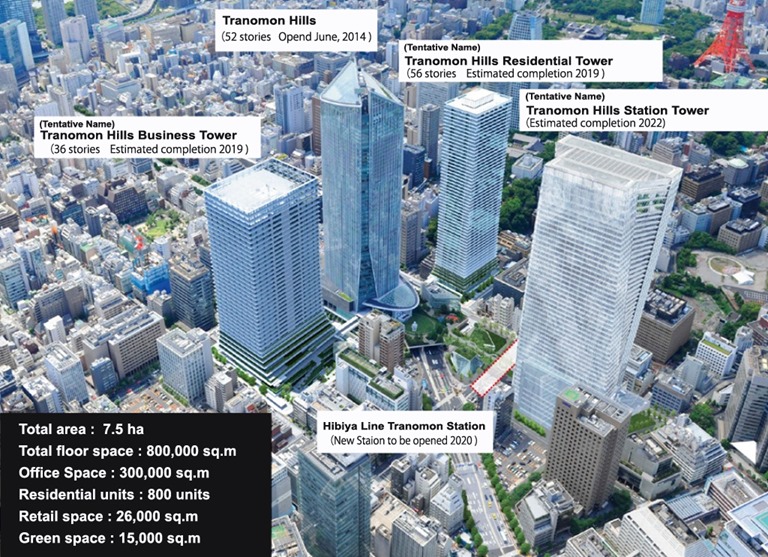 Upon completion, the total area of the Toranomon Hills complex will reach about 7.5ha, including the four Toranomon Hills towers, new public transport stations, roads and green space. There will be about 800,000m2 of total floor space, including about 300,000m2 of office space, about 800 residential units, 26,000m2 of retail space, about 350 hotel rooms, and about 15,000m2 of greenery. The plans will transform the area into a series of multiple
structures which integrate all transportation options and their infrastructures forming a global business hub.  These redevelopment projects are also linked to the National Strategic Special Zone, a government-led initiative. Mori envisions this project will accelerate to transform the Toranomon area at unprecedented speed.

Toranomon Redevelopments 

Meanwhile, multiple other projects for redevelopment and reconstruction by Mori and other developers in the larger Toranomon area are under way.  Newly added transportation infrastructure such as the Loop Road No.2, which will be completed for connecting with the bay-side areas in 2016, the new subway station, and BRT (Bus Rapid Transit) are expected to improve the convenience of the area drastically. Responding alongside these projects, the community in the area is also becoming active along the "Shin Tora Dori" (Shinbashi - Toranomon Road above Loop Road No.2).  For promoting the Road as a new international promenade within Tokyo, various advertisements and events will be planned and scheduled promoting the exchange of domestic and foreign culture and information.

Mori advocates the concept of the "New International Urban Center – Toranomon Hills" which symbolizes "Tokyo's Accelerating Transformation for the Future". It is expected that Mori's plans will create the space and opportunity to attract more global business people and to bring about new business and innovation from this area and hence will further evolve Toranomon and enliven and strengthen Tokyo's attractiveness as a global business hub.


Tokyo's New Central Road: General MacArthur Road  
A new subway station of Hibiya Line for Toranomon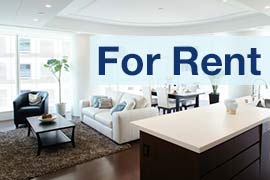 Listings of popular and luxurious rental apartments, condominiums, and houses designed with expats in mind.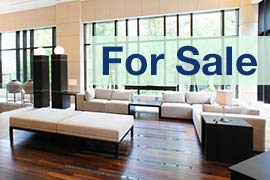 Listings of apartments, condominiums, and houses available for purchase in Tokyo.