Christmas in Roppongi: Six Christmas Illuminations in the Roppongi Hills Area
Poste date: Thursday, February 22, 2018
While not a traditional Japanese cultural festival, the country has adopted Christmas with much enthusiasm with its own unique take on the holiday. One of the most notable traditions that has appeared over the years is that of Christmas illuminations, which takes the essential concept of Christmas lights to a new level you may not have encountered in your home country. They begin appearing around Tokyo's streets and landmarks in late fall, and it seems like every year's displays are bigger, brighter, and more festive than the year before.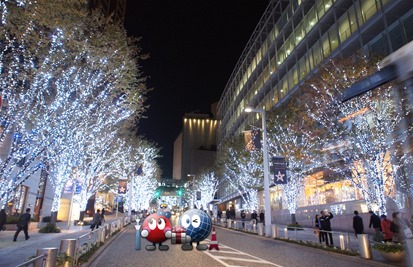 There are so many options when it comes to illuminations around Tokyo, but you may not know that every year within Roppongi Hills you can find a whole host of Christmas lights. The title of this year's Roppongi Hills annual event is "Roppongi Hills Artelligent Christmas 2014" and it is definitely worth taking in as part of a leisurely winter evening.
Keyakizaka Galaxy Illumination & Hidden Heart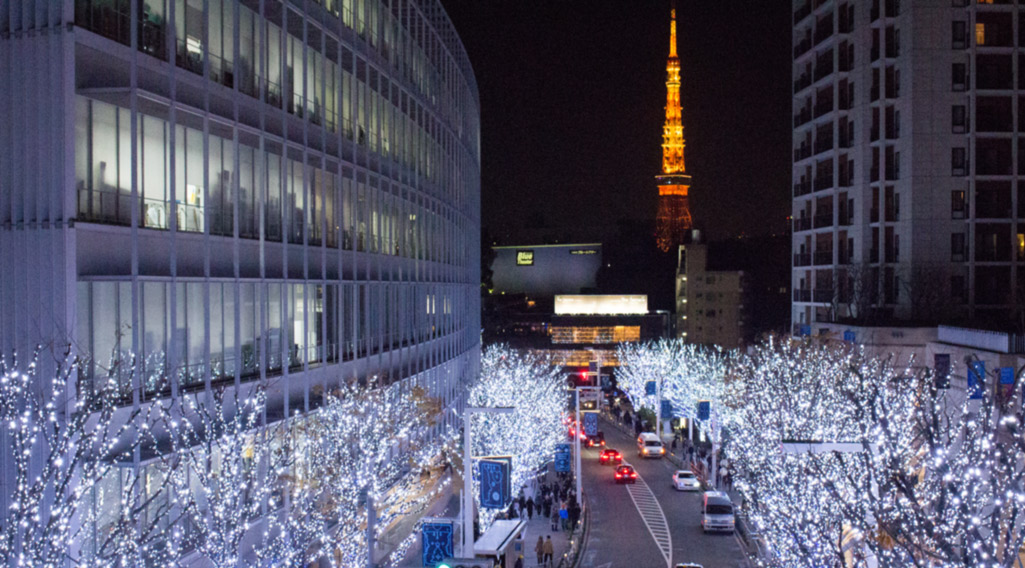 This very popular illumination is a takeoff from last year's "Candle & Red". Like the title of the illumination suggestions, visitors may find themselves imagining a walk through the stars toward the centerpiece of Keyakizaka Dori–Tokyo Tower. There are over 1,100,000 LEDs strung along this 400-meter stretch, so bring your walking shoes and enjoy a stroll under the beautiful lights.
Within the Keyakizaka Galaxy illumination, two "hidden hearts" have been placed that light up for 5 minutes every hour. If you've been influenced by the romantic overtones that are often found in Japanese Christmas celebrations, this is a great opportunity to spend some time with someone special hunting for these symbols of love.
Roku-Roku Plaza Illumination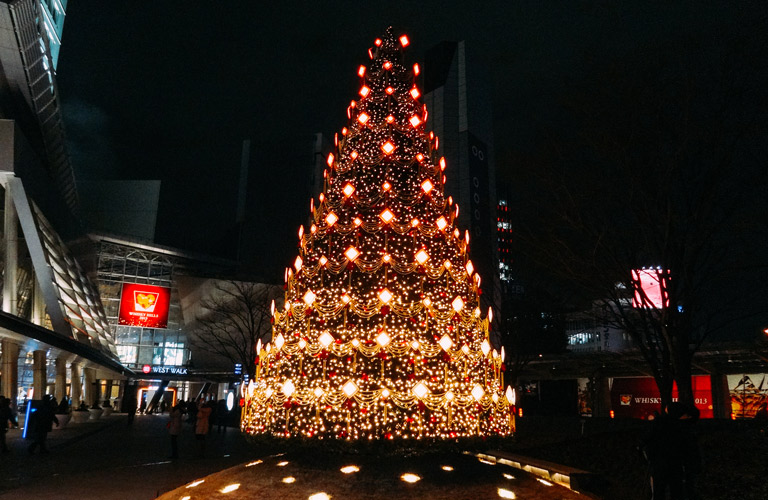 This illumination is set up in 66 Plaza at the entrance to Roppongi Hills and features an 8-meter tall modern Christmas tree sculpture that is lit from its interior and changes colors from red to white to amber to symbolize the many emotions and states of the season. The surrounding foliage are lit with organic "LED candles" to create a beautiful atmosphere that is sure to please young and old.
Source : www.roppongihills.com
Mori Garden Illumination
The plants of the Mori Garden that surround the Mori Pond are illuminated with a variety of Christmas lights as well as the park's featured work of art called "Kin no Kokoro" ("Heart of Gold" in Japanese) by Jean-Michel Othoniel, which was created to commemorate the 10th anniversary of Roppongi Hills and the Mori Art Museum.
West Walk Christmas Decoration
Within Roppongi Hills's West Walk, you can find a beautifully delicate, yet massive decoration hanging overhead called the "Snowy Air Chandelier" designed by Kosei Komatsu. The work was inspired by the idea of feathers and endlessly sparkles as it slowly rotates. It is not to be missed.
Christmas 2014 in the Sky
Enjoy "Christmas in the Sky" with a Tokyo city view on the 52nd floor of Mori Tower. This illumination features an exhibit entitled "The World of Tim Burton" in front of the cityscape backdrop. If you're familiar with the work of this highly stylized director, you will be pleased to know that this exhibit carries on the feel of his charming yet spooky work. Also, depending on the day's schedule, there are live performances hosted by the radio station, J-WAVE 81.3 FM.
Note that the hours for this exhibit are 10 a.m. - 11 p.m. daily, rather than the standard evening hours scheduled at the other illuminations around the area.
The Gift of Giving in Roppongi Hills: Christmas Market & Circle of Love
If you're looking forward to shopping at the Christmas Market, then you will be pleased to know that it is open once again this year. This annual tradition builds on past years of letting shoppers browse for Christmas ornaments and other holiday goods from Germany. Also, there is a variety of German-themed food available, including sausages, schnitzel, German beer and wine, and also baked goods–many options to suit any palate. Because it 'tis the season to give, note that if you pay for goods at the Christmas Market with MasterCard, a portion of your purchase will be donated to the Kids Door charity.
The Grand Hyatt Tokyo is also holding a charity program called the "Circle of Love" in the lobby of the hotel. The program focuses on bringing the happiness of Christmas to children in the Tohoku region, which is the area of Japan that was struck by the devastating earthquake and tsunami in 2011. To this end, the corks used in wine and champagne bottles are being recycled and used and sold in original products as well as special lodging plans where the proceeds go to support the children of Tohoku along with job creation and independence for those with disabilities.
Don't Miss Out on Christmas in Tokyo
Words and pictures can only provide a glimpse of the beauty that is Japan's Christmas illumination, so we definitely suggest seeing the many on display that are highlighted in this article before the lights officially shut down after the 25th of December. Just remember that the hours of operation for the most part are between 5 - 11 p.m. These illuminations are as spectacular as they have ever been and this being Roppongi Hills, there is plenty more to do and see. If you want some more ideas for attractions around Roppongi Hills, here are some of our other articles that can help guide you on your way.