10 Top Tokyo Festivals to Satisfy Your Cultural Craving
Poste date: Wednesday, January 31, 2018
One of the most enjoyable aspects of life in Japan is the many festivals that take place throughout the year, often distinct to an area or region. Tokyo is no exception, with a number of unique festivals ranging from religious parades where people carry shrines, to the enormous dance festivals of summer, and even anime and manga fairs that are huge fun for observers and fans alike. We've collected ten of the best Tokyo festivals, whether historical, modern or pop cultural–and we highly recommend you put them in your diary.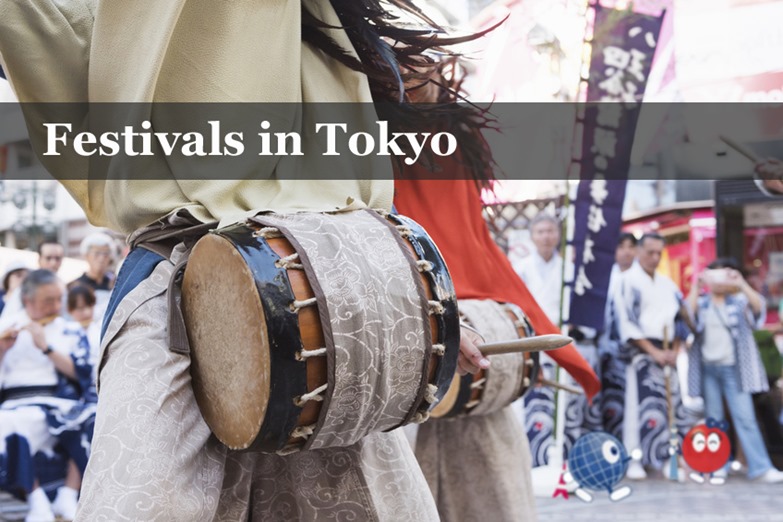 Historical and Religious Festivals in Tokyo
Kanda Matsuri
One of the most famous Tokyo festivals, this parade of more than 200 o-mikoshi (portable shrines), plus floats, dancers and musicians, starts at Kanda Myojin Shrine in the morning and winds its way through Kanda, Nihombashi and Akihabara before returning to the shrine in the evening. This festival began as a commemoration of Tokugawa Ieyasu's 17th century victory at the battle of Sekigahara, and the continuing prosperity of the Tokugawa shogunate. It takes place on the weekend closest to May 15th in odd-numbered years and draws about a thousand people.
Sanno Matsuri
Taking place from 6-17 June in even-numbered years–opposite to the Kanda Matsuri–the Sanno Matsuri continues a long tradition of festivals in Tokyo that also began in the 17th century under the Tokugawa shogunate. Originally it was an opportunity for people to enter the grounds of Edo Castle, which no longer exists. A line of about 300 people in ancient jinkosai costumes parade through central Tokyo, ending at Hie Shrine.
Fukagawa Hachiman Matsuri
Just like the Kanda and Sanno, this is one of the Tokyo festivals that began in the 17th century, and together they form the three biggest Shinto festivals in Tokyo. The crowds throw water on the people carrying o-mikoshi shrines with all their might, their refreshing gesture giving it the epithet of "water-throwing festival". Held in mid-August at the Tomioka Hachimangu Shrine in Koto Ward, every three years it expands into a hon-matsuri, featuring the Hachiman imperial carriage along with some 120 large and small o-mikoshi in the parade.
Modern Cultural Tokyo Festivals
Dezome-shiki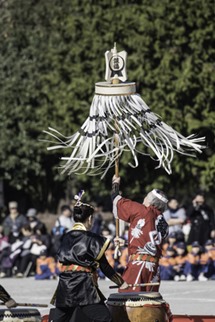 An annual event put on by the Tokyo Fire Department sounds a little unlikely, but it has actually become a highlight among the many Tokyo festivals. Taking place on January 6th at Tokyo Big Sight, you can see acrobats dressed as firefighters from the 17th to 19th centuries performing ladder-top stunts, ride in a fire engine, and see helicopters and fire drill demonstrations. There are also performances of traditional kiyari songs. This festival aims to raise awareness of disaster and fire prevention for the coming year.
Asakusa Samba Carnival
Established in 1981, the samba carnival reflects Japan's close ties with Brazil and has become a major summer festival in Tokyo. Half a million people turn out to see this vibrant display of Brazil's traditional dance, with many dance teams coming all the way from Brazil. The dancers parade through Asakusa, putting on their best show around the Kaminarimon gate as this is where the judges are seated.
Harajuku Omotesando Genki Matsuri Super Yosakoi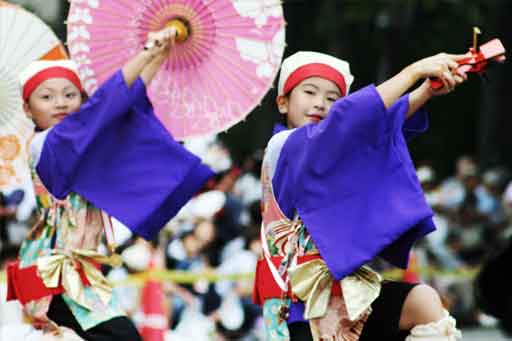 Yosakoi dancing fuses the traditional Awa summer dance with modern music and choreography and was born in Kochi Prefecture. This 2-day dance event at Yoyogi Park is one of the biggest and best festivals in Tokyo, marking the dedication of Meiji-jingu shrine in the park. Brightly costumed dancers use naruko - small wooden clappers held in each hand - but also blend modern music and clothing into the traditional. Among the great Tokyo festivals of summer, this one happens at the end of August with about 100 dance teams, plus an estimated 800,000 spectators.
Koenji Awa-Odori
The Koenji festival began in 1957 as a way to revitalise the shopping streets in the town. The awa-odori is the traditional dance of Tokushima, but has spread throughout Japan and often sees dancers creating their own unique performances. Koenji is one of the larger Tokyo festivals, with about 10,000 dancers and draws roughly a million people to the streets. Held in the last weekend of August, it is a brilliant example of preserving tradition in a modern context.
Gaming, Anime, and Manga Fairs in Tokyo
Next Generation World Hobby Fair
This 2-day event is great for kids (or kids at heart) as famous cartoon and video game characters appear, toy companies show off their wares, and brand new games and hobbies are tried out - there is even limited distribution of new games, movies and manga, sometimes free and often exclusive. Major companies like Nintendo, Tomy and Bandai have exhibits. Beloved characters like Mario and Pokemon make stage appearances too, so it's worth a visit. World Hobby Fair happens in June at the Makuhari Messe in Chiba.
Jump Festa
This annual manga and anime exhibition is sponsored by the major publisher Shueisha, which publishes the weekly manga magazine Shonen Jump. At this huge event, also held at Makuhari Messe, new anime, manga and games are introduced to fans, and some incredibly high quality cosplayers turn up as their favorite characters. Manga artists do panel sessions and limited edition merchandise is on sale.
Comiket
Short for "Comic Market", Comiket is the biggest manga market in the world. Held at Tokyo Big Sight for three days in both August and December, there are plenty of commercial booths exhibiting their wares, and lots of amazing cosplayers. But the heart of Comiket is its representation of all things fan-made. The main event is the "doujinshi", or self-published fan-made manga; people come along to browse and buy stacks of manga, from both amateurs and professionals.
Other Festivals in Tokyo
Of course, this list is just a taster. There are many, many more festivals in Tokyo, not to mention and fairs of all kinds throughout the year. Whether your preference is dancing, history, culture or games, there's an event for you. Below is a more comprehensive list of Tokyo festivals, and even some in the general area, which you can find details about by searching online.
Date,Name
Description
Location

January 2nd

Kokyo Ippan Sanga

A New Years' visit to the Imperial Palace. The Imperial Palace is accessible via the Nijubashi Bridge and the Imperial Family makes appearances to wave to the crowds.
Imperial Palace, Chiyoda Ward

February 3rd

Setsubun

This "bean throwing" festival to ward off demons is celebrated all over Japan.
Asakusa, Taito Ward

Spring

Takigi Noh

Nezu Shrine, Bunkyo Ward
Zojoji Temple, Minato Ward

April-May

Bunkyo Tsutsu

Azalea festival
Nezu Shrine, Bunkyo Ward

April-May

Fuji Matsuri

Wisteria festival

Kameido Tenjin

Shirine, Koto Ward

April-May

Meiji Shrine Spring Festival

A festival celebrating spring at Meiji Shrine and featuring various traditional Japanese performing arts.
Meiji Shrine, Shibuya Ward

3rd weekend in May

Sanja Matsuri

A festival honoring the three men that found a statue of Kannon, which led to the founding of Senso-ji in the Asakusa district. It's notable for its extravagant parade of o-mikoshi, musicians and dancers.
Asakusa, Taito Ward

June

Torikoe Matsuri

A big shrine festival held in June where the supposedly heaviest o-mikoshi are on display
Asakusa, Taito Ward

July

Tanabata

The star festival where people write their wishes on paper attached to decorative bamboo.
Asakusa, Taito Ward

July

Iriya Asagao Matsuri

Held from July 6-8 every year around the Iriya Kishimojin temple. The festival is dedicated to morning glories. Around 400,000 people join to celebrate every year.
Shitaya, Taito Ward

July

Hozuki-ichi at Senso-ji Temple

Senso-ji Temple was built in 628 and is known as the oldest temple in Tokyo. You will see many stalls selling Ground Cherry Pods, hear the breezy sound of wind bells (furin) and see many people wearing colorful yukatas, experiencing the "shitamachi" atmosphere.
Asakusa, Taito Ward

July

Mitama Matsuri

Mitama matsuri started in 1947. You can witness the beautiful 30,000 chochin (lanterns) decorated every year for this festival. The lanterns will light up from 6 pm.

Yasukuni Shrine, Chiyoda Ward

July

Kagurazaka Matsuri

Kagurazaka Festival lets you experience the old Tokyo atmosphere. The highlight of this festival is the Awa-odori dance

Kagurazaka, Shinjuku Ward

August

Azabujuban Noryo-matsuri

The Azabujuban shopping district has been hosting the Azabujuban Noryo-matsuri festival for more than 40 years. You must experience this local matsuri organized by the shop owners.
Azabujuban, Minato Ward

September

Tokyo Jazz Festival

Just what it sounds like, jazz in Tokyo. Enjoy!
Tokyo International Forum

November 3

Tokyo Jidai Matsuri

This festival celebrates the history of Tokyo and was first held in 1999.
Asakusa, Taito Ward
Costumes for Japanese Summer Festivals
You can enjoy Japanese summer festivals with traditional costumes like Happi, Jinbe or Yukata.
Click the image to purchase online.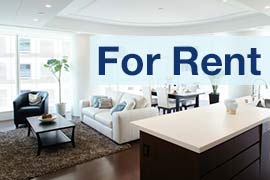 Listings of popular and luxurious rental apartments, condominiums, and houses designed with expats in mind.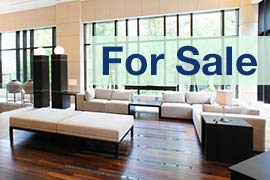 Listings of apartments, condominiums, and houses available for purchase in Tokyo.