Personalize Your Home: A Tokyo Furniture Buying Guide
Poste date: Friday, June 12, 2020
If you've arrived in Tokyo without any furniture, no need to worry. Not only is it easy to find what you need, you'll also be surprised by some of the design solutions available here. Whether you want purely functional items at a low price, or you're hoping to discover something uniquely Japanese, Tokyo furniture stores have plenty to offer. Keep reading to find out the latest trends and best places to furnish your new place.
Where to Buy Furniture in Tokyo
If you know what you want, but don't know where to start, here is a list of the 9 best places to buy furniture in Tokyo. Many offer free delivery, repair services, and some will even set up your new furniture for you.
Tokyo Lease Corporation has a wide selection of new and used furniture to choose from. The styles of furniture they carry are designed with foreign customers in mind. Their selections include European styles, large-sized, modern, and traditional Japanese furniture. If you would like to try the furniture or see it in person before you make a decision, they have a showroom near Tokyo Tower.
For those not ready to commit to buying a house's worth of furniture, those staying here short-term, or those who just want a more convenient option, leasing furniture may be just what you're looking for. Tokyo Lease Corporation leases stylish furniture for the bedroom, living room, home office, kitchen, and dining room. In addition to their delivery and set-up services, they also have bilingual staff who can help decorate your home. They also offer a variety of packages from survival packages, to long-term leases.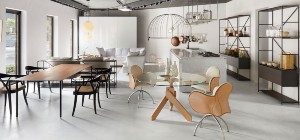 Interiors Inc. was launched in 2011 and offers high-quality luxurious furniture. They provide their furniture to large companies, hospitals, theaters, libraries, commercial buildings, universities, residences etc. You can visit their showroom in Minami-Aoyama, Tokyo.
Showroom in Tokyo
4-22-5 Minamiaoyama, Minato-ku, Tokyo
Open 10:30 - 19:00 
Closed: Wednesdays&Sundays
Globally popular, this is a good starting point if you want something familiar and a place to buy all of your basics in one place. IKEA is not as popular in Japan as in many other countries, and Tokyo only has a handful of stores. However, the size, range and services are the same. Home delivery is available, as is an assembly service and even trade-ins for when you've finished using the furniture.
It's possible to think of this as the "Japanese IKEA" but there's more to Nitori than that. As Japan's biggest furniture chain, it's a good place for affordable quality basic furniture and soft furnishings to kit out your whole home, and also a good place to buy more locally relevant products, like futons and low, lightweight sofa seats for the floor. They offer delivery services and online ordering (in Japanese), and have both big and small stores dotted around the city.
An export that is now being found in cities around the world, Muji is a brand characterised by no-brand items. Minimalism in both packaging and furniture design, and an emphasis on recycling, the Muji stores are a good place to go if you want to embrace a contemporary Japanese design aesthetic of simplicity for mid-range pricing. They offer free shipping on larger orders, and there are plenty of stores around the city.
Italian-born, Japan-raised furniture design is Arflex's philosophy. This firm brought modern European furniture to Japan in 1969 and aims to continue that tradition by offering long-lasting pieces with the guarantee of Japanese craftsmanship. There are a few showrooms around Tokyo that offer a range of support services, and they'll also maintain and repair products.
Scandinavian-inspired modern design using techniques passed down in a traditional furniture-making area of Japan makes Nissin furniture something a little bit different. They avoid the use of toxic paints and adhesives in simple designs that bring some class to family life. Although based in Gifu Prefecture, they have a showroom in Tokyo.
Using five types of wood only, Wood You Like offers furniture that brings warmth to your home. Besides their ready-to-buy products, they can also customise furniture for your needs. Their designs are simplicity itself, so they combine well with other furniture too. Their showrooms allow you to interact with the furniture and consult with staff.
A classy all-arounder, at Rigna you can find locally made furniture, European furniture, high-end pieces, vintage pieces lamps and rugs, and even at its Rigna Terrace Tokyo a café, plant shop and gallery. Prices vary, although they tend upwards, but there is lots of variety and unique pieces to fall in love with. They also offer delivery service and a repair service.
As the name implies, MegaMax is a chain of enormous warehouse-style outlets. Because they are furniture outlets, you can find items for a bargain. This is very convenient if you want to see and interact with a huge number of affordable items in one place. Delivery charges vary depending on your location.
Popular Furniture Styles in Japan
Japan's increasing diversity is reflected in the varying styles of dress and home décor. To keep up with the changing trends, here are some furniture styles you can find in Tokyo's stores.
Contemporary
Meaning "following the latest ideas", contemporary changes with the times. In furniture, contemporary design (which began in the 1950s) not only means it is current, but also follows certain principles: Form should follow function, prioritizing ease of use ahead of visual appeal. Contemporary designs lack decorative elements and tend to have flat surfaces and sharp edges, making use of neutral colours and easily sourced materials. Mass production is embraced, as it makes furniture cost-effective and therefore affordable for all. Japanese contemporary furniture is a subset of this category and you'll find plenty of it in Tokyo.
Modern
Modern has a similar aesthetic to contemporary design, but follows different principles. Modern styles make use of materials like metal tubing and vinyl, for sleek, edgy designs, and avoided patterns or curves that would interrupt the flow of its smooth lines.
Classic
Classic furniture covers a number of historical periods, such as Georgian, French Provincial and Victorian, and it is characterised by comfort, luxury and ornate decoration. Using rich fabrics like velvets and satins, ornate wood carvings and heavy curtains, this style may be less popular now but can definitely be found in Japan in both formal settings and homes.
Rustic
Furniture design that is classified as rustic is typified by handcrafted wood pieces that retain much of their original form. Even after being made into a functioning piece of furniture, you can see the bumps and whorls of the original tree, and the surfaces often appear weathered or distressed. The designs themselves are fairly simple, following the natural lines and shapes of the material.
Endless Options for Your Home
No matter your style or budget, Tokyo offers such a variety of furniture shops, that you're bound to find plenty to like. Whether you need a few basics to start out or you're hunting for something extraordinary, this list is a good starting point for setting up your new home in Tokyo.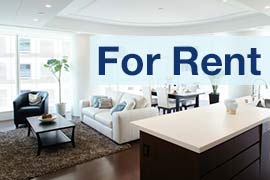 Listings of popular and luxurious rental apartments, condominiums, and houses designed with expats in mind.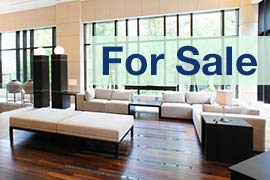 Listings of apartments, condominiums, and houses available for purchase in Tokyo.