Long-term repair plan for Japanese Apartment (Large-scale repair & Reserve fund for repairs)
Poste date: Thursday, January 25, 2018
Proper maintenance is crucial for maintaining the safety, comfort, and value of an apartment building. Conducting appropriate renovations with consideration to the age and deterioration of a building in a timely manner makes a great difference in the ability of an apartment building to maintain its value as well as making day to day maintenance easier.
Here is some information regarding a Japanese apartment's long-term repair plan, large-scale repairs, and the reserve fund for repairs.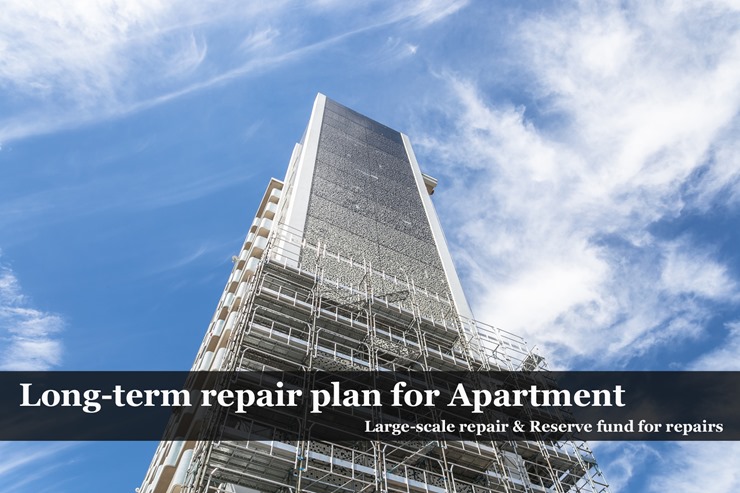 An apartment building is divided into spaces exclusive to an apartment owner (sectional ownership) and spaces for communal use. The communal spaces' maintenance is taken care of by the building's management association.


Long-term repair plan

A long-term repair plan put in place is usually followed for a duration of 20-30 years. When making a long-term repair plan an estimate, the durability of the materials used in the building of the apartment and its built-in facilities are calculated. The estimate will determine the repair cycle of the building and the approximate costs for renovations for the building's facilities and equipment. The management association usually consists of a third party management company or design company who will be in charge of making the plan.


Reserve fund for repairs

Large-scale renovations cost a great deal of money. As such, it is necessary for the apartment owners to continually pay into the reserve fund for repairs starting from the date of the building's completion. The amount paid into the reserve fun for repairs is based off the calculations of the long-term repair plan.
The following is an extract from the guidelines for long-term repair plans by the Ministry of Land, Infrastructure and Transport.
| Repair cycle | Description of repair work |
| --- | --- |
| 4~6 years | Iron part painting, etc. |
| 12 years | Exterior painting, etc., Roof top & floor waterproofing, Communal spaces(Elevator hall, Stairways, Management room, etc.), Fitting adjustment, Replacing metal fittings |
| 15 years | Replacing air conditioning and/or ventilation equipment, Replacing lighting fixtures, Replacing information and communication equipment |
| 20 years | Replacing Firefighting equipment |
| 24 years | Repairing or Replacing outdoor and/or attached facilities (Parking space, Fence, Garbage collection space) |
| 30 years | Replacing elevator equipment |
Long-term repair plans should be reviewed

A long-term repair plan is not just a plan for the buildings renovations. It should include descriptions of necessary renovations along with time lines for each renovation with consideration to the building's condition, age, amount of deterioration, and the maintenance already conducted. There should also be periodical inspections and diagnostics that take place. Furthermore, extra renovations may be necessary depending on the building's age, condition, deterioration, and unexpected costs caused by fluctuation in the cost of renovations due to Japan's economy at the time.
Due to many unforeseen occurrences that may increase the costs of the renovations, the long-term repair plan should be reviewed and revised every 3-5 years as well recalculating the reserve fund to make sure there is a sufficient amount of resources to cover future renovations. Performing a proper large-scale renovation according to the long-term repair plan can help to maintain the value and durability of an apartment building.


Resolution on a change of communal space

Under the "Act on Building Unit Ownership, ect." all large-scale renovations shall be classified as a "Change of communal space," and shall commence when the management association has reached a decision.
A typical large-scale renovation is conducted for communal spaces and exterior walls that have "not undergone remarkable changes in shape or use", and shall be categorized as an Ordinary resolution. An Ordinary resolution is approved when the majority of apartment owners, or those with voting rights, vote for it. In the case of renovations to communal spaces or of building premises which have had a "remarkable change in its use or shape", shall be categorized as a Special resolution. Special resolutions have to be approved by more than 3/4 of apartment owners or those with voting rights.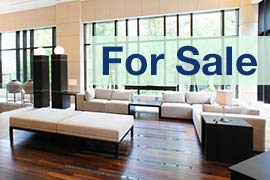 Listings of apartments, condominiums, and houses available for purchase in Tokyo.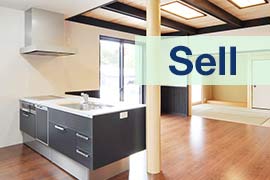 PLAZA HOMES's bilingual real estate experts offer a wealth of local knowledge on how to effectively sell your property in Japan.