Our Expat Housing Service was introduced on TV Program
Poste date: Wednesday, February 18, 2015
In the TV program named "Cream Stew's Nippon no Veteran (くりぃむしちゅーのニッポンのベテラン)" that was broadcasted on Jan.25 (Sun), the service of PLAZA HOMES was introduced. 


In the special feature about the real estate industry in the program, our real estate agency service for foreigners on luxurious residences was introduced, together with an agent from Daito Trust Construction Co., Ltd. which ranks No.1 as a real estate company and a licensed real estate appraiser who specializes in traditional old houses for sale. 

During the program our leasing division staff Mr. Takai explained our services, while driving around showing properties to a foreign customer who has just arrived in Japan.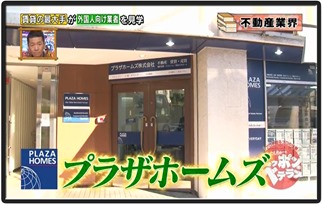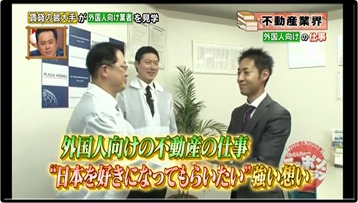 We list all our real estate information in English to foreign customers, and our floor plan description includes the number of bathrooms so that customers easily find their desirable properties which meet Euro American lifestyle. Our agents are bilingual and they send the residence property information as well as Tokyo living information prior to the customers' arrival in Japan.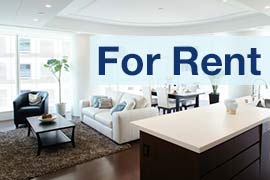 Listings of popular and luxurious rental apartments, condominiums, and houses designed with expats in mind.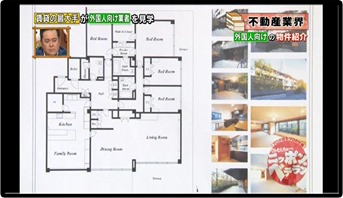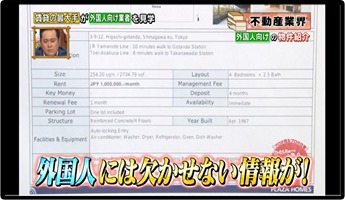 To customers who have come to Japan for the first time, we send not only information about the neighborhood around the residences but also information to help them settle-in – such as English speaking hospitals, International schools, and English speaking supermarkets. For families, selecting the school is a very important pre-condition for searching for the most desirable area for housing. Therefore, our agents are equipped with the knowledge about the characteristic of the schools in every area and their locations as well as the knowledge about the surrounding real estate itself.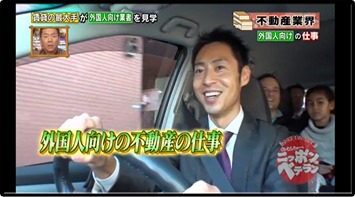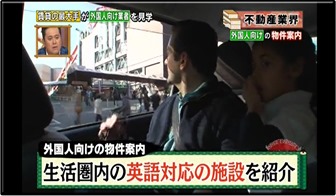 The property we introduced in the program is Castle Motoazabu, which is a luxurious condominium with English speaking concierge service. The floor plan is spacious with 2 bathrooms meeting foreign family needs. It is equipped with appliances (such as refrigerator, washing machine, dryer, and oven), and you can start life immediately if you just move-in your furniture.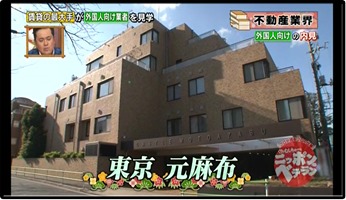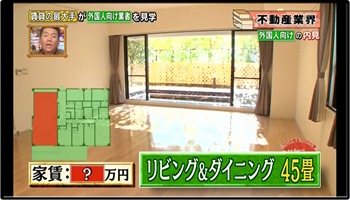 Our service is not only as a real estate agency but also as a consultant and adviser in regards to living in Tokyo. We cater to our customers various inquiries. Some of the examples are housing related inquiries such as "Where can I buy furniture?"; "Can I lease furniture?", and other examples are various ones such as "How do I proceed for renewal of my driver's license?"; "Where should I go for leaving my pet during my trip?"; "Where is the recommended shopping mall to go to from central Tokyo?"

We also hold an importance in building closer relationships with our customers - not just ending with introducing properties. We try to be more than a realtor to our customers. As a result of keeping relationships after our customer's move in to a property, sometimes we share dinner time with a family of the customer. As their life stage changes, they may move twice and three times by our service, and we may even eventually support their purchase of a property in Japan. 
When a customer's move out of the country is decided, some customers show tears on the farewell greeting.

We think that an increasing number of customers who say that "they want to go back to Japan again" is one of our greatest treasures.