Separation and Disposal of Garbage and Recyclables in Tokyo
Poste date: Friday, December 24, 2021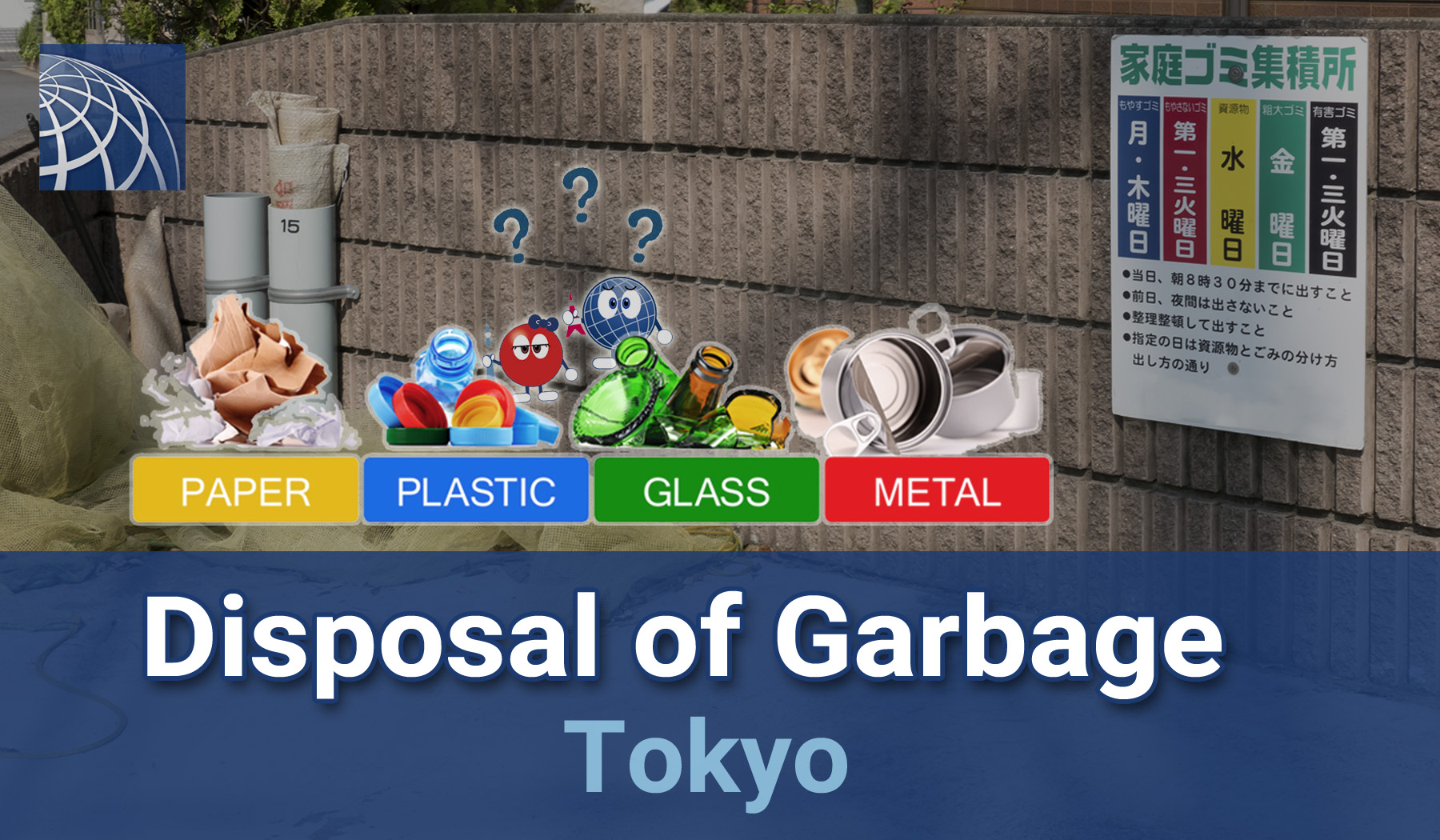 Getting your garbage collected in Japan may be very different from your home country. Below are the common ways to sort garbage, prepare it for collection, and the collection schedules in Tokyo's 23 wards.
It may seem complicated at first, but most apartment buildings have large communal bins and other accommodations to make it easier for you. We recommend you also check with your real estate agent, landlord, apartment staff, neighbors or local ward office for more details.
Sorting Garbage
Typically, there are five garbage types that will need to be separated. We recommend you pick up or print out the charts for your ward that lists all the different groups and how to package them. In most wards, the groups are:
Combustibles: food waste, old clothes, small quantities of yard waste, etc.
Noncombustibles: plastic wrappers, Styrofoam, metal containers, ceramic, etc.
Recyclables: plastic/glass bottles, metal cans, magazines, newspaper, corrugated cardboard, etc.
PET Bottles
Large items: TVs, air conditioners, other old appliances, furniture, etc.
(Generally speaking, anything that is more than 30 x 30 x 30 cm is considered a "large item")
Preparing Garbage for Collection
1. Bags
When preparing your garbage for collection, you should check with your local neighborhood/ward/district to determine which garbage bags must be used. You can probably also find these bags at your nearest convenience store or supermarket.
2. Packing rules
There are lots of specific rules about how to package the different categories of garbage and these can vary by ward/district, but below are some basic rules of thumb.
Combustibles
Put all of these together in a bag for combustibles. You should drain any kind of excess liquid.
Noncombustibles
Put all of these together in a garbage bag specifically for noncombustibles. Items like a Styrofoam food container that have food residue on it should be rinsed or cleaned off before being put in the garbage bag.
Recyclables
・Bottles/Cans - These should be rinsed out before putting them out.
・Paper - Paper should be sorted by type and bundled with a string before being put out.
・PET Bottles - You should check your ward's garbage collection guide to confirm if your district collects PET bottles separately from other recyclables.
Large items
Check below for more information.
Automatic Sensor Trash Can
You do not have to touch the lid to open the trash can. This is suitable for 30 - 45 Liters. It comes with 2 years warranty. Click the image for details.
To Separate Trash
A set of 3 trash cans which are convenient for separating trash. 20 Liters x 3. Click the image for details.
Getting Garbage Collected
Each ward will have a garbage collection schedule that you can find posted in ward offices, where you purchase garbage bags, and online on the ward websites.
For combustibles, noncombustibles, recyclables, and PET bottles, follow the packing guidelines above and then place your garbage at the nearest garbage collection point on the day that it is collected. While the ward guides do give some guidance on where collection points are, you should ask your landlord, apartment staff, or neighbors where it is to be sure you're putting your garbage in the right place.
Also, you should confirm by referring to your ward's garbage collection schedule but you should generally put your garbage out at the collection point by 8 am on the day it is to be collected.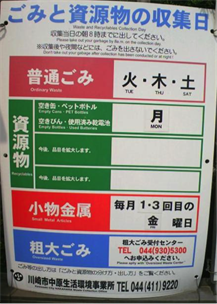 Electric Appliances and Large-Sized Articles
Electrical appliances and large-sized articles must be disposed of properly. There are several ways to dispose them.
1) Ask the electric shop where you purchased the electric appliances
If you purchased the appliances at a retail shop, ask the shop clerk and they will take care of it. Recycling and delivery fee will be charged. The fees vary in articles, mostly around ¥3,000-¥9,000.
If you didn't purchase the appliances at a retail shop, you will need to call the Waste Electric Appliances Collection Service Center at 03-5296-7200 (8:00 - 17:00) to request that it be picked up.
Here are some rough estimates for the "delivery fees + recycling fees" for appliances:
TVs : ¥5,000 - ¥9,000
Refrigerators : ¥8,000 - ¥9,000
Washing machines : ¥6,000 - ¥7,000
ACs : ¥7,000 - ¥8,000
Computers : ¥3,000 - ¥4,000
Other items : You will need to call the Large Item Collection Center at 03-5296-7200 (8:00 - 17:00) or else go to 粗大ごみ受付センター to apply. The specific ward garbage collection guides give more details on the process.
2) Call the city
You (or someone who speaks Japanese) can call the "Waste electric appliances collection service center" in your city to collect electric appliances and large-sized articles. Ask the city center for details. Some fees are necessary to dispose of them.
3) Sell to a recycle shop
If your appliances or large-sized articles are still usable (and not too old for electric appliances), some recycle shops will come to pick them up and sell them for you. You can search recycle shops in your area online (mostly in Japanese).
4) Sell them via Sayonara Sale
You can sell them directly on classifies like Craigslist or GaijinPot.
Craiglist (choose your region)
https://geo.craigslist.org/iso/jp
GaijinPot Sayonara Sale
https://classifieds.gaijinpot.com/
Garbage Collection Guides - Tokyo's 23 Wards
You must use trash bags provided by the local authorities to dispose of your garbage. On the morning of the appointed collection day, take your garbage to a specified pickup place. Garbage that is placed in the incorrect bag may not be collected.
Trash (gomi) in Tokyo must be separated into three types for proper disposal (combustible trash, noncombustible trash, and recyclable trash). On a specific day, each category is gathered independently.
Combustible trash: Kitchen garbage, paper, wood
Non-combustible trash: Glass, chinaware, metals
Recyclable trash: Bottles, cans, PET bottles, newspaper
https://tabunka.tokyo-tsunagari.or.jp/guide_eng/info/01.html
Trash separation standards and how to dispose of trash differ by municipality; for more information on local trash rules, contact your local authority.
Another useful link is the Tokyo 23 Clean Association, which provides links to the garbage disposal pages for each of Tokyo's 23 wards. Note that the various links are to the Japanese sites for each ward.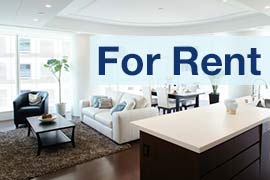 Listings of popular and luxurious rental apartments, condominiums, and houses designed with expats in mind.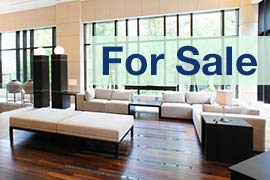 Listings of apartments, condominiums, and houses available for purchase in Tokyo.