Buying, Leasing, and Renting a Car in Japan
Poste date: Friday, December 2, 2022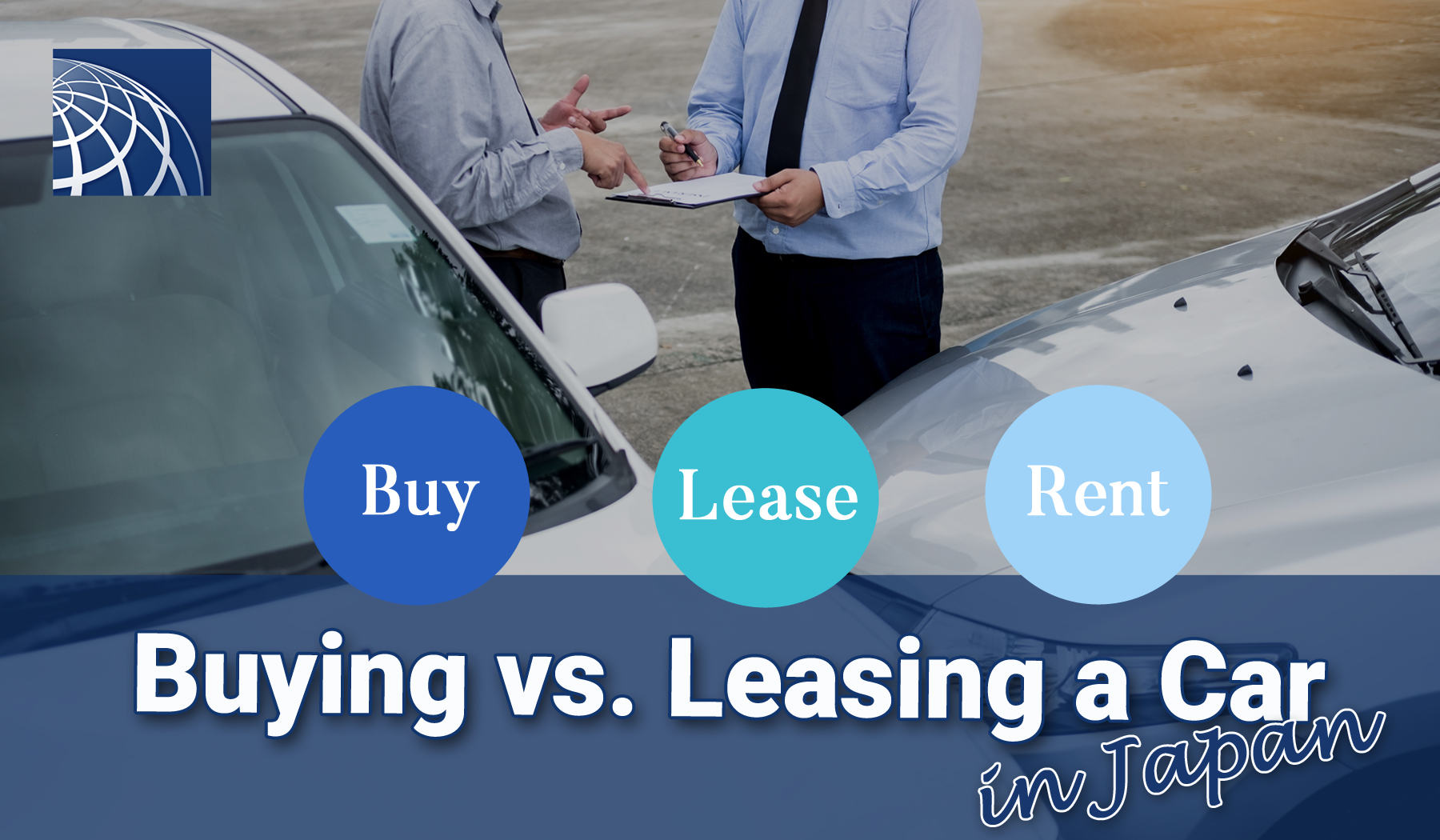 Getting around Japan, let alone Tokyo, can be a daunting task for the unprepared. Trains are wonderfully efficient and timely in Japan, but there are some things that Japan's public transportation system simply cannot accomplish. Have you ever tried to help a friend move their fantastic armoire by loading it on the Yamanote line train? A bicycle can get you from point to point cheaply and quickly, but cumbersome to fit groceries in. Having a car can be quite helpful in these situations.
But although the luxury of having a car has its practical benefits, owning a car has its price. Renting a car has its own merits as well, but can be costly in the long term. And while it may be possible to import your current vehicle from your home country, it's a lengthy, high-cost process. With an informed decision, you can be rewarded with plenty of convenience, even style. There are many options to get you behind the wheel, but there are a few things to consider first.
Leasing vs. buying a car in Japan
Buying a car requires a lot of paperwork, but if you're savvy or have a Japanese-speaking acquaintance, it can be much easier. Dealerships will take care of the paperwork for you, but private purchases are a different story. There are companies that can handle the paperwork for a fee if you're not up to the task. At the very least, you should have the following:
・Alien registration card
・Valid driver's license
・Personal seal
・Personal seal certificate
・Parking space certificate
If you buy privately, you will also need the following:
・Vehicle transfer certificate
・Resident's card or alien registration card of the previous owner
・Shaken inspection certificate
・Proof of insurance certificate
・Proof of tax payment
Buying privately has its own set of advantages, mainly leeway in haggling and typically lower prices. However, the reliability of the vehicle and hidden repairs are always a concern.
Leasing a car has many attractive options. For those who will be living in Japan for a short time, leasing a car ensures more freedom to pay for only what you need. If your stay is finite, then owning a car and dealing with the difficulties of finding a new home for your unneeded car can be circumvented. Leasing a car is a great way to avoid taking out a loan or making a large payment upfront. The two common types of leases are open-ended and closed-ended. Your monthly payments and responsibilities will vary according to which lease is signed. Another feature to consider is that there is typically no down payment and fees are paid monthly. Maintenance and insurance are also included, so you only have to worry about gas. When your lease term is finished or canceled, the leasing company takes care of the paperwork for you. But be aware—an early cancellation carries a fee penalty and minimum lease terms average three years. Sometimes, a Japanese guarantor is required, so shop accordingly.
Regardless of your choice, you must have a Japanese driver's license appropriate to the vehicle you will buy or lease (which you can learn more about here). In other words, a manual driver's license allows you to operate manual and automatic transmission cars. An automatic transmission driver's license limits you to automatic transmission cars only. Additionally, a parking certificate must be obtained from a police station in the jurisdiction of your residence. Then, an inspection of the parking space will be conducted. The space must be at your residence or within 2 kilometers of your residence.
New vs. used cars in Tokyo
One of the challenges of buying used or privately is that vehicle taxes increase after the age of the vehicle is more than 10 years old. Also, the maintenance of the car is almost always your responsibility unless a manufacturer's warranty is in effect. It would be wise to research cars you are interested in to prepare for future or immediate repairs. Dealerships have the advantage of ensuring some level of quality with respect to reliability and maintenance. Again, they will take care of the paperwork process for you, but you will likely pay a higher price than a private purchase. Buying new at a dealership sometimes includes free maintenance service with certain brands and models as well as limited warranty coverage. Be sure to inquire before purchase.
Renting a Car
For short term trips, renting a car is the way to go. Hourly, daily, weekly, and monthly rates typically exist, though check with your rental agency. Renting a car always requires at least an international driver's license (IDL) and a passport or a Japanese driver's license. A credit card is usually needed for deposit and damages purposes, though some rental agencies allow for large cash deposits or accept bank account information in lieu. Insurance is included with the rental feel and sometimes unlimited mileage is part of the package. As with the concept of demand, expect rates to fluctuate during peak seasons and weekends.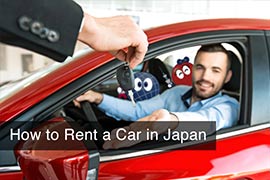 While renting a car is becoming much easier in Japan, there are a few specific rules and regulations you need to follow.
Importing Cars into Japan
If you're bold as well as have the time and financial capability, then importing your car might be for you. All imported cars must first pass through customs. An import agent usually handles the import process, but it's a good idea to prepare beforehand. Expect to be levied a tax rate of five percent according to the car's depreciated value. Afterwards, the vehicle is transported to the Ministry of Land, Infrastructure, Transport and Tourism testing center for inspection. You can expect to wait at least one to several weeks. Parts on the vehicle that do not conform to Japanese standards will be repaired or replaced. Then, the vehicle must undergo registration at the Land Transport Bureau Office. There you will need:
・Registration form and appropriate fees
・Customs clearance certificate
・Emissions test certificate
・Inspection certificate
・Proof of insurance certificate
・Parking space certificate
From this point, the vehicle must have a national number plate. A temporary license plate must be obtained prior to driving on the road, and it can be obtained from a local land transport office. The following documents are necessary to apply for a national number plate:
・Personal seal or signature
・Proof of insurance
・Fiscal stamp
・Customs clearance certificate
・Shaken inspection clearance
・Proof of parking space certificate
If you made it past this point, congratulations are in order! If you haven't, but would like to find an international moving company that can help you relocate your vehicle, check out our article on English-speaking movers in Tokyo.
English speaking car dealers in Tokyo
Have you decided that a private purchase or importing wasn't for you? Is your Japanese not up to snuff or you don't know anyone who speaks Japanese to help you? No worries, the following dealerships can help you on your road to buying a car.
---
ASAHI MOTORS
Asahi Motors sells new and used cars, leases and provides long term car rental services in English. You can do all the paperwork and procedures in English without worrying about the language as they interpret and translate everything for you.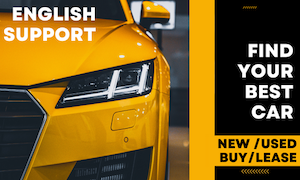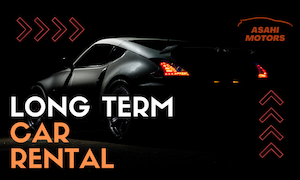 ---
Mick Lay Motors
Take advantage of MickLay.com's ability to source and supply almost any car in the Japanese new and used car dealer market and then match it with a lease contract that meets your circumstances and requirements.
---
Auto Direct
Auto Direct deals with both new and used cars, even rentals. Take a look at their current posh inventory. To boot, they offer consignment services, can sell your vehicle for cash or process trade-ins, provide insurance assistance, and offer repair work and detailing—all with English assistance.
---
Nissan
Since 1933, Nissan has been producing quality cars for the weekend warrior, grocery runner, business person, and family-oriented. If the R35 Skyline caught your eye, head over to the Nissan dealership in Minato-ku or Chiyoda-ku where English speaking staff is ready to help.
http://www.nissan.co.jp/EN/index.html
---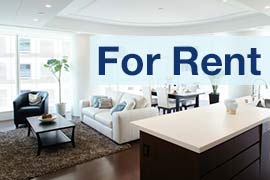 Listings of popular and luxurious rental apartments, condominiums, and houses designed with expats in mind.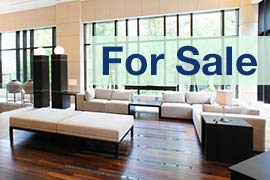 Listings of apartments, condominiums, and houses available for purchase in Tokyo.