Expat Housing in Tokyo - Renting Expat Standard Apartments
Poste date: Friday, October 27, 2023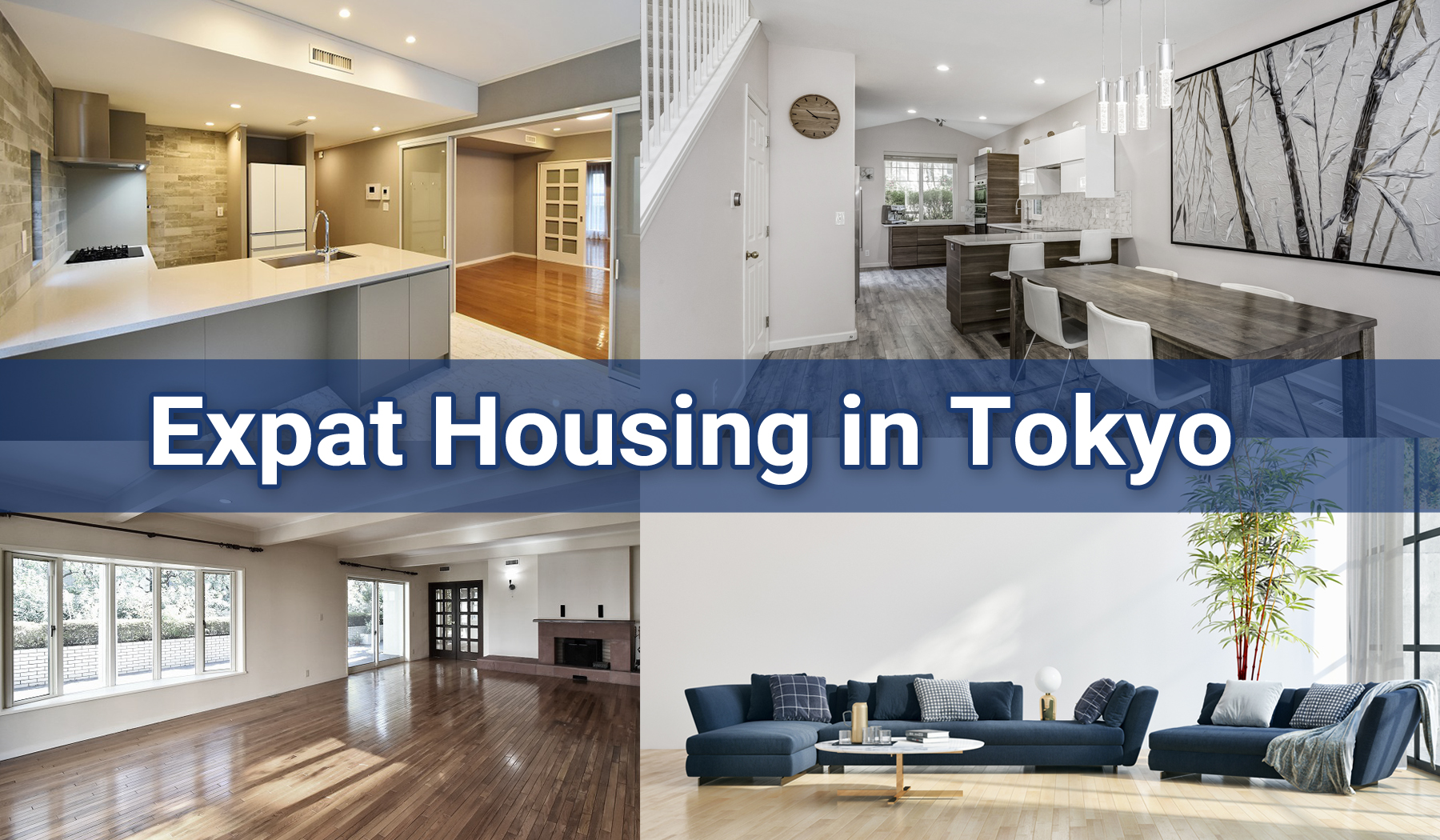 Moving to Tokyo as a foreign expat takes a lot of work to find a house and get settled. Navigating the process of securing long-term rental housing in Tokyo involves a series of tasks, from property selection and area orientation to coordinating with movers, completing registrations, and managing various administrative changes. Additionally, if you have children, you'll need to identify a suitable school and handle the enrollment process.
These tasks can be quite time-consuming. When your stay in Japan extends beyond one year or becomes a long-term arrangement, it's advisable to engage the services of a seasoned real estate agent. They should possess a deep understanding of the expat lifestyle and carry extensive experience in managing a diverse range of properties, all geared towards meeting your unique requirements and locating the most suitable housing option for you.
PLAZA HOMES helps through such processes with those who are new to Tokyo, guiding you to different areas in Tokyo, showing different types of properties, selecting appropriate properties depending on the length of your stay, explaining Japanese business customs, etc. on "Guide to Renting Property" page of our website.
What are Expat Apartments (Houses) in Japan?
It describes real estate that provides foreign expatriates with a certain standard of living without any hassles. Westerners prefer to live in homes that allow them to comfortably live in the same style as in their home countries because they have different physiques and lifestyles than Japanese people. Hiroo and Azabu are home to numerous rental apartments and homes that meet international standards. Tokyo has long had properties built for foreigners and embassy staff from Europe and the United States.
Below is a guide to the criteria for a typical western-style rental property.
Example of Apartments for Foreign Residents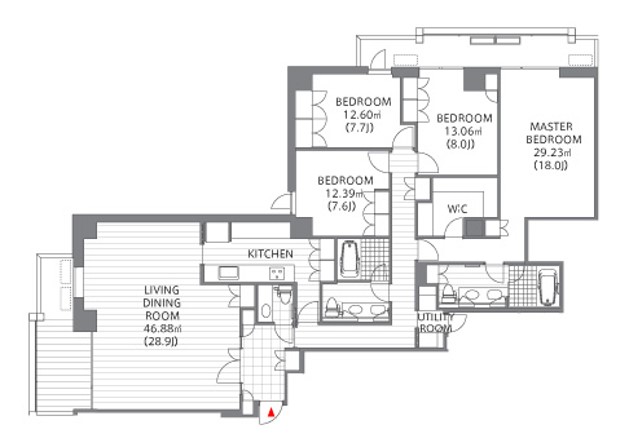 Floor Plan that Meets the Western Lifestyle
The living room, dining room, and bedrooms are more spacious than in a typical Japanese apartment/house, and the ceilings are built high to avoid a sense of oppression. Family rooms are also favored as spaces where families can relax.
It is also common for them to invite guests, so it would be ideal to have guest bathrooms.
Apartments with 2 or More Than 2 Bathrooms
In Western lifestyles, multiple bathrooms (bath, washroom, and toilet) are required for rooms of 3 bedrooms and more, as they do not share bathrooms with children or guests. In Europe and the United States, the number of bedrooms and bathrooms are clearly indicated on the floor plan. Apartments/houses for foreign residents in Japan also have multiple bathrooms.
>> Rental Properties with 2 or more than 2 bathrooms
Height of the Kitchen and Washbasin
For tall Western people, the low kitchen counters and washbasins found in older properties in Japan could be too difficult to use.
Facilities (Air conditioning, Hot water supply, etc.)
Old and difficult-to-use air-conditioning and hot water supply systems may be a problem for Western people who cannot read Japanese manuals.
Standard Equipped Appliances
If you are renting an apartment, you will need to have a large refrigerator, washing machine, dryer, dishwasher, microwave, etc., because you cannot bring in appliances from your home country due to voltage differences. Western-style properties usually have large, foreign-made appliances that are familiar to people from Europe and the United States. 
English-Speaking Concierge or Management
It is essential to have English-speaking staff at the reception and English-speaking management company in order to make inquiries about problems in the property and to be informed of room inspections.
Luxury Apartments for Japanese
In the past, the majority of properties for expats were luxury properties for Western people, however recently luxury properties that do not distinguish between those for Japanese and those for foreigners, but rather combine the best parts of both, and meet the needs to both wealthy Japanese and foreign expats, have been developed.
Foreign expatriates can reside in these apartments without difficulty, and they can take advantage of the high-tech amenities that only Japanese luxury properties can provide.
For example, Japanese-style bathrooms have a bathroom heater/dryer, an automatic bath function, and a mist sauna, toilets with tankless water supply, heated toilet seats and washlets.
In some cases, English instructions on how to use the facilities and how to dispose of garbage are not available however, if the real estate agent speaks English, they may be able to explain when they move in.
Expats usually start looking for an apartment/house about 6 weeks before they plan to move in, and usually visit 10 to 15 properties on average before deciding which one to sign a contract with.
We usually ask them what they are looking for before them arrive in Japan, suggest properties, and take a few days to show them around once they arrive.
Residencial Areas of Foreign Expats
When you find a house, you may decide your residence location considering convenience for living and budget for housing.
You may have to consider multiple elements such as near-by expat-friendly living facilities, easy access to school bus routes, convenience for commuting, public parks in the neighborhood, and so on.
PLAZA HOMES provide easy guidance on popular residence areas for expats.

When your child goes to an international school in Tokyo, you and your child may have problems unless you live close to a school or the school bus is running along near-by streets. Please access here about our recommended residence areas with good access to international schools.
Budget for housing
You may usually have to find your home within the budget for housing predetermined by your company depending on your company post or your family structure.
We here introduce the popular areas in Tokyo and average rent per unit size about expat-friendly housings.
Furniture
Typical rental housings for a long-term contract does not come with furniture and appliances. There are some options such as bringing them from your home country, leasing them in Japan during the period of your stay, asking a lessor of a rental housing to lease them, and living in a rental house with furniture.
Appliances
Bringing appliances from your home country is not recommended due to the difference of voltage. Hence there are also some options such as leasing them in Japan and living in a rental house with appliances.
Please feel free to contact us for our full range of service.