Family Restaurants in Japan
Poste date: Tuesday, December 1, 2020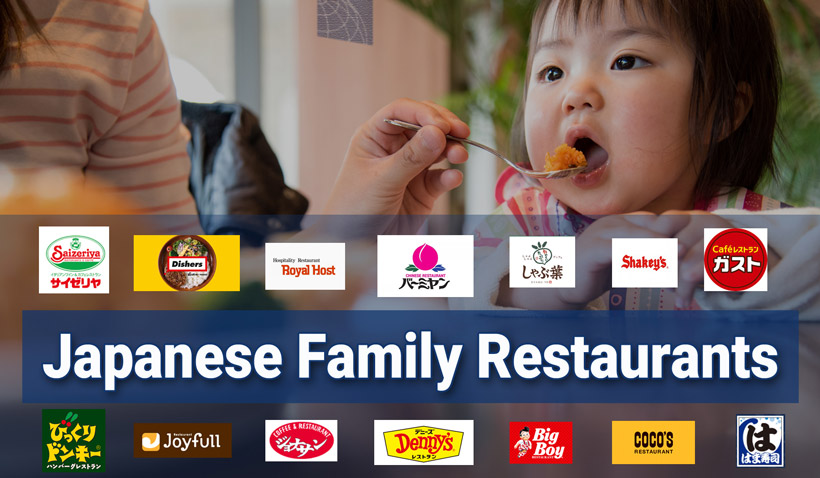 It could be difficult for new residents in Japan to decide where to go to eat especially when they are accompanied by small children. Moreover, if you are not familiar with the local language, locations, and food, it can be very hard to chose a place to dine. When you come to the occasion, to chose a Family Restaurant can be a great deal.
In this article you can find Japan's most popular "Family Restaurants" (Famiresu) and also learn what Family Restaurant means.
What is a "Family Restaurant"?
Family Restaurant is a general word use for casual chain restaurants that target customers of all ages. Many family restaurants are open from early morning to late at night—some are even open 24/7—and serve many different cuisines. Depending on the restaurant, at a single location you can enjoy Japanese food, Chinese food, Italian food, American food, and more.
Japanese people shorten the phrase Family Restaurant to "Famiresu" to express their familiarity.
What attracts people to Family Restaurants?
Below are some of the most common reasons why Family Restaurants are recommended to both Japanese and non-Japanese people.
With your family, friends, by yourself, suitable for any occasion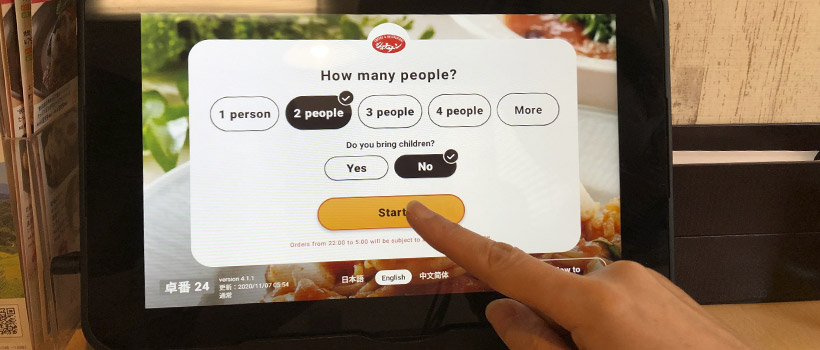 While growing up in Japan, some of my most memorable and favorite meals were with my family at Family Restaurants. For many people who grew up in Japan, it is guaranteed that lots of their most memorable meals with their family was at a Family Restaurant. While a home cooked meal is always enjoyable however, "eating out" always feels a bit special. Many family restaurants offer a small toy when ordering from the children's menu, making the Family Restaurant experience all the more pleasant for children. Some families may even celebrate their children's birthday at their favorite Family Restaurants.
Even when children have grown up, they will continue to frequent Family Restaurants. When they get older they start to go for lunch, a tea break, or dinner with their friends and to chit chat/study/date there.
Once children become adults and start working, they go to Family Restaurants before/during/after work, and they even might have business meeting there. When they start a family and have children, they take their family to their favorite one.
As Family Restaurants can be found everywhere, there's no need to waste time looking for a place to eat. With a wide selection of food, everyone can find something to eat even if they're in the mood for something different.
Pictures and samples are incredible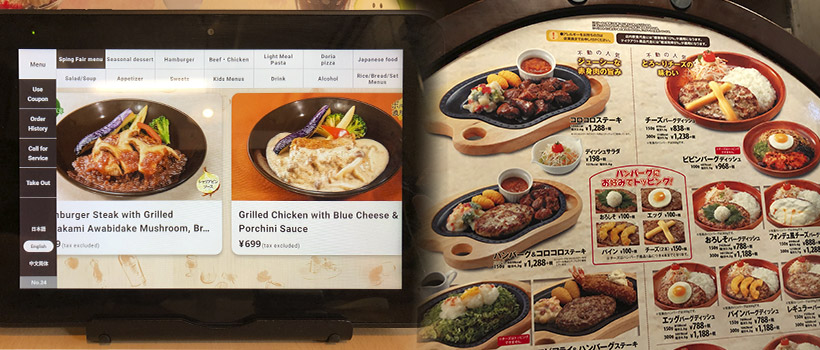 At Family Restaurants, the menus have pictures of each dish. Some of them even provide touch panels and multilingual menus. This is great for small children or people who are not able to read/speak Japanese as they will be able to choose exactly what they want regardless of any language barriers. This helps reduces any anxiety about making a choice, especially for those who can't read Japanese.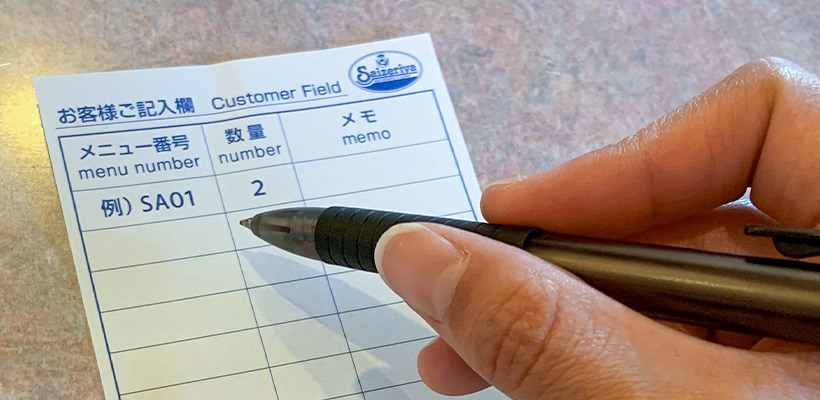 Some restaurants have food samples which look so incredibly real that sometimes you cannot tell if it is real or not. The samples are usually found in the window displays of some Family Restaurants so customers can see an accurate representation of what they will be getting when they choose each menu item.
Different menus at different times of day
As most of the Family Restaurants are open from early in the morning to late at night year-round, they have separate menus for each meal of the day. The different types of menus that are common are the "Breakfast menu (Morning menu)", "Lunch menu", "Grand menu", and "Seasonal menu". This makes eating at each establishment more interesting for repeat visitors as they always have something new to try. On the breakfast menu, most of the places offer Japanese and American style cuisine and some also provide a buffet style option.
On the lunch/grand menu, they offer a greater variety of food (Japanese, Chinese, American, Italian, Thai, Mexican etc…) and you can also enjoy Drink/Soup/Salad bar (Soup bar is only during lunch time at most places) that are all you can drink/eat. Even if you have tried everything on the menu, there are seasonal menus that change frequently, so getting bored of eating the same thing is not something you'll have to worry about.
Kid friendly
One of the main concerns when you go out with children is going to the restroom and whether or not the restaurant has a kids chair. For chairs, most Family Restaurants and restaurants in general provide kids chairs, so children and parents can easily eat/feed. Most of the time, as soon as staff see your children, they will bring you the kids chair. If however, they did not bring you one, please ask for it and they will bring it to your table.
In regards to the restroom—not only at Family Restaurant but throughout Japan—there are changing tables for babies in restrooms. Also, most of the restrooms are barrier free so that children, elderly people, and disabled people will be able to use the restroom safely. You might even find an emergency button in some restrooms in case you need help.
When your children are learning to eat by themselves, there is no need to worry as they will bring children friendly spoons, forks, and small dishes. You can usually find children's utensils nearby the drink bar area or staff will bring them to your table upon request.
No tips required
This is a common part of dining out in Japan as Japan is not a tipping culture. There will be almost no restaurant where you will need to tip your server or the staff. If you see a box near the cash register, that is almost always a donation box (usually the cause will be written on or near the box). With all of the kind attentive services and reasonably priced meals, it is quite surprising that you do not have to tip them.
You do not have to wait for the server until they come to you
In Japan there is a high tech apparatus used to summon a waiter to your table. Commonly known as a button.
Normally, you may have to try to catch a server's eye or shout across the restaurant to have them to come to your table which can sometimes take too long. However, in Japan, all you need to do is to push the button on the table and they will come to you! There is no need to try and catch their eyes or wave your hands which further reduces the any remaining stress associated with dining out.
The 10 Most Popular Family Restaurants in Japan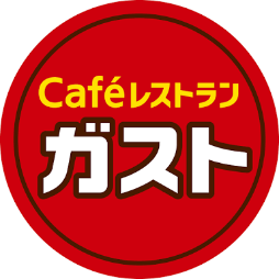 Website : https://www.skylark.co.jp/en/gusto/
If you ask any locals the first Family Restaurant that'll pop up in their head would be Gusto. There are so many Gusto restaurants (over 1,340 locations) in Japan that you will constantly see the red circle logo mark on the street no matter where you are. As they constantly change their seasonal menu and are kid friendly, they are called the savior of parents.
Approximate cost is 1,000yen for adults and 800yen for children.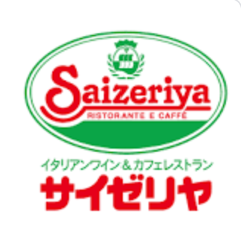 Website : https://www.saizeriya.co.jp/
There are over 1,090 locations across the country and it is also one of the first that would come to mind when asking a local for Family Restaurant recommendations. Saizeriya is a very popular Italian Family Restaurant where you can enjoy delicious food at a reasonable price. Their 500yen lunch menu has a side salad and soup bar, a kid's menu that children can choose main and side dish from two options, and a grand menu which includes pasta, pizza, rice, and variety of other sides. At Saizeriya all family members can find something they like.
The most popular and well-known menu item is their "Milano Fuu Doria" (Doria with cream and meat sauce) which is only 300yen (350yen with a half boiled egg)! It is a must try dish as many have become repeat customers just for this.
Currently, Saizeriya uses an ordering form to reduce the need for conversation and to keep social distance, but the button on the table still works if you prefer to talk.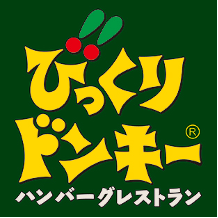 Website : https://www.bikkuri-donkey.com/m17n/en/
They serve one plate meal that Salisbury steak, salad and rice are dished up. They offer a variety of Salisbury Steak flavor profile options such as Japanese, Korean, Hawaiian and American. There also have 9 different options on the kid's menu, giving your children plenty to choose from. There are a lot of fans of Bikkuri Donkey as the atmosphere is very welcoming and kid friendly.
Recently they opened a sister restaurant called "Dishers". The concept of Dishers is to serve healthy and delicious food in casual atmosphere. At Dishers, there is 1 touch panel menu per a chair, making it so you do not have to order face to face. As their target demographic is customers eating alone, especially women, the interior is decorated similar to a fashionable café. For those who care about carbs, they also have a low-carb diet menu.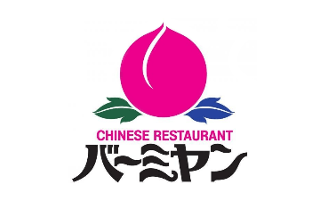 Website : https://www.skylark.co.jp/bamiyan/
One of the most well-known casual and family friendly Chinese restaurants in Japan would be Bamiyan. There are roughly 340 locations in Japan. Even though there are fewer locations than other Family Restaurants, it is still a very popular choice. A Lunch menu that changes every day, a variety of kid's menu options, and Ramen for 499yen (tax excluded) are very reasonable yet delicious reasons Bamiyan is popular. Unlike other Family Restaurants, they provide not only regular drinks but also variety of tea (as China is famous for tea). Because of this fact, lots of people who prefer tea to sweet beverages gather at Bamiyan.
Their most popular dessert, "Ogyo Chi", a jiggly fruits jelly with the flavor of fresh lemon—from Taiwan—is a must try dish that you do not want to miss.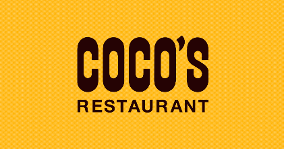 Website : https://www.cocos-jpn.co.jp/index.html
A Family Restaurant which was inspired by American restaurants and founded in 1980. There are roughly 580 locations across the country. Their Salisbury steak covered by foil on a hot iron plate (990yen, tax excluded), is the most popular menu and a must try. They also have a variety of pasta, Japanese dishes, and other items that are very tasty. As COCO'S was inspired by "good old American" Restaurants, most of the locations have woody interior and a relaxing atmosphere. Another reason could be attributed to their choice of location. Many of COCO'S are in locations facing main/large streets such as national highways or close to schools, which is convenient for parents and those who drive to stop by and have a meal.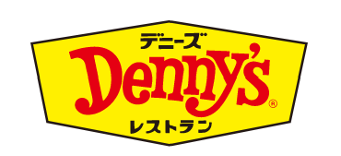 Website : https://www.dennys.jp/
There are roughly 370 locations across the country. They make authentic Ramen, Pasta, Hot sandwiches, Gaprao rice, Curry rice, and many more options making it difficult for repeat customers to get bored. There's no need to get lost in all the choices, their must have fluffy omlet rice "Omu Raisu" (784yen, tax excluded) will make your decision easy. Their lunch menu—which changes daily—and kid's menu are favorites of both single and family customers.
They also have take-out menus and delivery menus so you can enjoy their meals at home.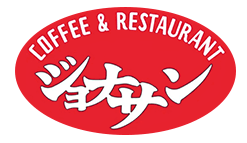 Website : https://www.skylark.co.jp/jonathan/index.html
There are roughly 284 locations across the country. They provide Japanese, American, Italian, and other type of meals. One thing that separates Jonathan's from other Family Restaurants is that they offer a wide selections of wine. If you would like to enjoy your meal with alcoholic beverages, especially wine, Jonathan's is highly recommended. If they do not have your favorite wine, you can bring a bottle or two with you for 1,000yen/per bottle (*wine only).
They also have an all vegetable salad (not as common as you might think), so this Family Restaurant is vegetarian friendly as well.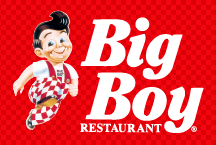 Website : https://www.bigboyjapan.co.jp/
Big Boy was originally founded in the United States. Now, there are roughly 300 locations across Japan along with Big Boy Dining and Victoria Station restaurants as sister companies.
Their "Otawara Hamburg", the best seller at Big Boy, uses 100% ground beef and comes served on a hot iron plate. When brought to the table, the meat on the iron skillet is halfway through cooking, allowing finish grilling the way you like. Also, their buffet (fresh salad/soup/rice/curry and dessert bar are included) and salad bar option are very popular among teenagers and salary men who have bigger appetites. They do not offer a take-out or delivery menu as most of their dishes are served on hot iron plates.

Website : https://www.joyfull.co.jp/
Joyfull was founded in the Kyushu area in 1976 and began spreading their shops into the Kanto area over the past few years. Now, there are more than 700 shops across the country. Their lunch menu that changes every day, their "Teishoku" menu, and other variety of meals including Japanese, Chinese, and American, are the reasons they have grown in popularity. As they have a vegetable menu and a kid's menu, it is a great place to visit as a family.
Also, unlike other Family Restaurants, Joyfull serves breakfast menu all day long similar to IHOP and the US version of Denny's. That's a huge plus for those who like breakfast foods.

Website : https://www.royalhost.jp/
Royal Holdings is the group behind Royal Host and Shakey's in Japan. Shakey's is regarded as pioneer Pizza restaurant originating in California. At lunch time Shakey's has an all you can eat pizza buffet where you can try all kinds of combinations of pizza you may have never imagined.
Royal Host has roughly 200 shops across the country and is abbreviated to "Roiho". Royal Host is considered as more of a high-end family restaurant, as they hire educated chefs, the atmosphere is relaxing and quiet, and their parent company provides in-flight meals to over 30 airlines all over the world. If you visit Royal Host, one way or another you will end up ordering their "Onion Gratin Soup". During her visit to Japan on her honeymoon, Marilyn Monroe had and enjoyed the very same soup.
The price range is a little higher than other family restaurants, but if you would like to enjoy your meals in quieter and more mature atmosphere, this is the place to go. They also have baby (from 7months) /kid's and take out menus that you can use to order by phone making it easy to pick them up quickly.
Other Family Restaurants Worth Mentioning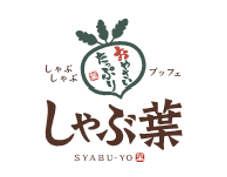 Website : https://www.skylark.co.jp/syabuyo/index.html
Shabu-Yo is part of the Skylark group which includes Gusto, Bamiyan, Jonathan and other popular family restaurants as group companies. One thing that separates Shabu-Yo from other family restaurants is that it specializes in Shabu Shabu. You can enjoy their all you can eat Shabu Shabu (including vegetables, curry, and other items) from 1,000yen level~. As they have ramen/udon noodles, rice, and toppings to add, there are countless ways you can mix and match to create your favorite meal.
To help with social distancing, the Skylark group has been using a tablet menus.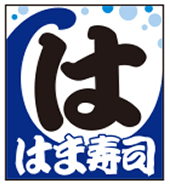 Website : https://www.hamazushi.com/hamazushi/index.html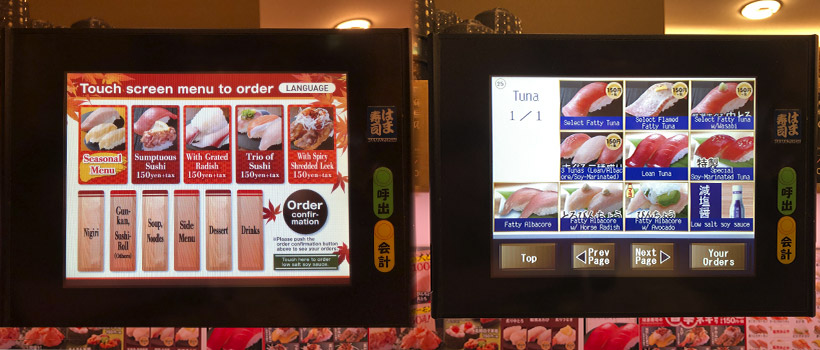 Hama Zushi is one of the most popular conveyor belt sushi Family Restaurants with more than 500 shops across the country. Locals shorten its name to "Hama". At most of the locations you will see "Pepper-kun", a robot that speaks and welcomes you at the reception. You can make a reservation via their website so you can avoid waiting in line or if you are concerned about social distancing. You will also be able to receive a text message informing you that you will be seated soon.
Their freshly caught fish of the day, 100% Japanese rice, and a variety of menu options make Hama Zushi feel like more than a sushi restaurant. Not just their sushi, but their Ramen, Udon/soba noodles, Pasta, Fried chicken, Takoyaki, and more will keep you coming back to Hama sushi again and again. Though there are some exceptions depending on the shop, you can enjoy sushi for as little as 99yen/dish~ on weekdays, which is a huge plus for families as well. You can choose what you want to eat dish by dish, making it a pleasant meal for all members of your members.
Some locations also have drive-throughs, so you can pick up your sushi without going inside.
Enjoying a delicious but reasonably priced meal with your loved ones, friends, or even by yourself, is easy at a Japanese Family Restaurants (Fa-mi-Re-su) with their special and unique offerings that suit many occasions.
Give them a try, you may find your new favorite place in Japan to enjoy dining out.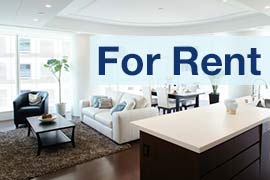 Listings of popular and luxurious rental apartments, condominiums, and houses designed with expats in mind.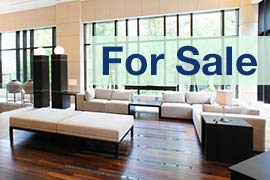 Listings of apartments, condominiums, and houses available for purchase in Tokyo.