Property Investment For Foreigners: Technological Innovation in Japan's Real-Estate Property Market
Poste date: Thursday, November 21, 2019
The following is an excerpt from "Japan Real Estate Property Investment For Foreigners Part 2" by Ziv Nakajima-Magen – Partner & Executive Manager, Asia-Pacific Nippon Tradings International (NTI)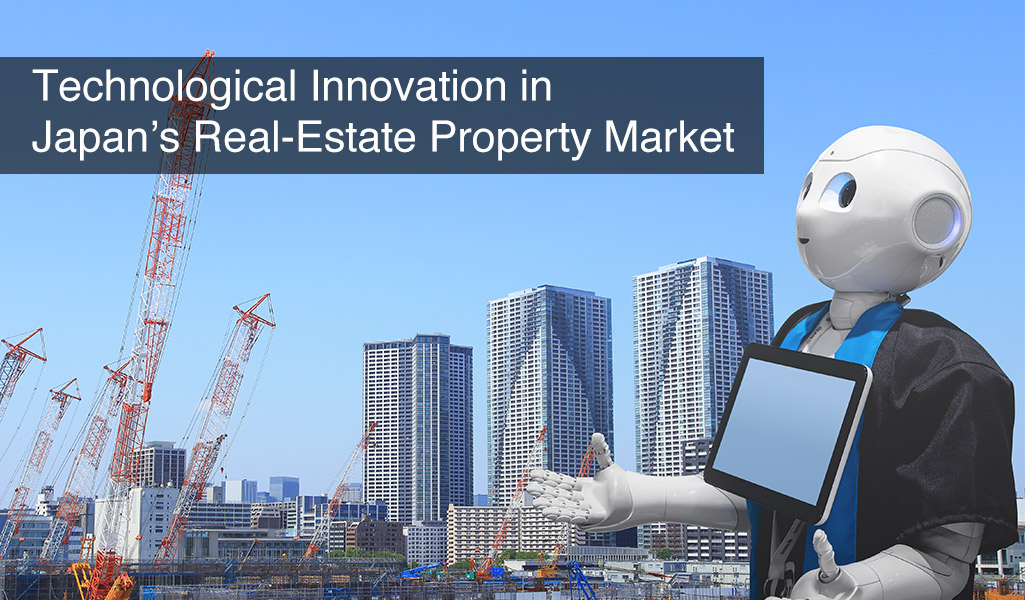 While Japan is considered by many to be a techno-geek's paradise, those of us living here know all too well that, maid robots, vending machinery & entertainment gadgetry aside - in reality, tradition and long-entrenched old-skool practices often trump innovation, at least as far as business is concerned.
As mentioned in the first guide in this series, Japan is a highly paper-oriented and manners-conscious society, which often sacrifices efficiency for "the proper" way to do things, in many aspects. The Japanese will, in most cases, forego deals and money making opportunities, simply because the "other side" of the deal didn't comply with cultural expectations and norms. And, as far as technology goes, any disruption to "the way things are/have been" is very difficult to implement, regardless of any actual dollar or yen benefits to the procedures being undertaken.
And so, much to the frustration of foreigners, who are often far more comfortable with the "move fast and break things" mantra of Silicone valley, they will often find that things that have been taken for granted in other parts of the world, have yet to be embraced in the land of the rising sun. Some examples of these technologies include such mundane things as web-based payment systems, electronic signatures (and in some cases even electronic remittance of funds), 24/7 ATMs and internet banking systems, and even email correspondence.
In recent years, however, some particular innovations have finally wormed their way into the Japanese business environment and, as is always the case - once the Japanese do make the decision to embrace change, they do so with extreme gusto and speed – often far more so than in other parts of the world, where decisions are made quicker, but implementation can take many years and trials.
Below are several such examples of technological innovations which are, for all practical purposes, revolutionizing the real-estate industry, from the ground up – starting with construction techniques, expanding into individual buildings and homes energy consumption and utilization, and all the way up to city and town planning levels –
Robot Construction Workers, Drone Surveyors

The thorny crown of "world's fastest ageing society" has led to some unique challenges in Japan, which in turn have given a huge boost to the Robotics industry – in which Japan has already been a global leader for many decades. From household, medical and care industry robots, and all the way to customer service & office administration - such as Softbank's super-popular robotic assistant, "Pepper". Innovations in automated labor and drone technology have now found their way to the construction industry. The government's highly publicised "i-Construction" campaign, pushed and backed by the Japanese ministry of infrastructures, will financially support public works projects that plan to use drones and other technology for streamlining works – and these projects are already well under way in many of Japan's cities and rural areas.
Drones, which almost instantly provide aerial information, such as bird's eye views of construction sites, are being regularly used for surveying purposes. Robotic arms do the heavy lifting, reducing the number of people required to carry heavy loads by half, with human workers guiding and coordinating the machinery instead of physically carrying and lugging around huge 200 kg reinforcing rods, which previously required six or seven pairs of human arms – highly reducing physical accidental damage risk in the process as well. A single operator with a tablet device can now guide up to five automated dump trucks, bulldozers and vibrating rollers with GPS systems around building sites, providing task lists to these semi-autonomous vehicles, which roll around the grounds, going about their respective businesses.
This automation, aside from increasing production and efficiency and providing a partial solution to the decreasing worker numbers issue, also serves the additional purpose of re-igniting interest in the construction industry by Japan's younger generation, who have been shunning construction work due to the long hours, intense physical labour and low pay associated with it in the past – an astounding 30% of construction site labourers are over 55, as the latest survey suggests, with only 10% of them under the age of 30 – a stigma which may change as the construction industry's environment becomes more "white collar" with automation implementation.
The Zen of ZEHs

The Zero Energy House (ZEH), while far from being the prevalent construction standard in Japan or anywhere else in the world, is gaining traction fast, with several prominent companies such as Daiwa House Group, Sekisui House and MUJI - all internationally renown Japanese home builders – well into the process of rolling out their own ZEH initiatives. These companies utilize various technologies in the quest to build homes which produce as much energy as they consume, resulting in a neutral or negligible energy footprint.
These technologies include familiar aspects such as solar panels and better insulation technologies, as well as newer, even more innovative practices such as Argon Gas-Filled, Triple-Pane, Low emmisivity-Glass ("e-Glass"), aluminum- resin composite shades and "double-skin" insulated walls. Other innovations are Home Energy Management Systems (HEMS) , which allow residents to control their air conditioning and energy use through an iPad app, as well as to monitor and visualize their energy consumption and savings. Another uniquely Japanese commercial application aptly named the "Ene-farm" (Energy Farm) is a refrigerator sized hydrogen based generator, which uses natural gas and oxygen to produce house-hold use electricity, and further utilizes the heat generated by the machine itself for domestic water heating purposes.
Green, Smart & Well-Connected Cities
ZEHs are one of the key components in the "Green City" initiative, of which Japan is a member, with its capital, Tokyo, leading the way nationally, having cut its power consumption by 20% since first implementing the metropolitan government's environmental guidelines. Under the Green Building Program, building plans for structures with more than 5,000 square meters of floor area must meet a comprehensive set of standards for sustainable, eco-friendly building practices before receiving a building permit.
To take their green building practices global, in 2006 Tokyo joined C40 Cities, a global climate leadership initiative in which cities around the world share best practices for sustainability. The government's Green Building Program is presented by C40 Cities as a case study in sustainable urbanization. As C40 Cities' global initiatives expand, Tokyo unites with the organization in its efforts to promote more environmentally friendly urban growth models.
Being environmentally aware, however, is only one building block of our current era's "Smart City" movement – a concentrated effort towards building future cities which promote a new industrial concept brought about by the internet, and to take steps toward improving the efficiency of the workforce and energy sector.
A notable feature of smart cities is that they are built around information and communications technology (ICT) — from Wi-Fi and the Internet of Things (IoT) to big data, artificial intelligence (AI) and cloud computing. According to IHS Technology, a global business intelligence service provider, "smart cities encompass a broad range of different aspects to describe cities that have deployed — or are currently piloting —[ICT] solutions across three or more different functional areas of a city." In Japan, smart cities are largely funded via government subsidies. The smart cities market here, which stood at around ¥1.12 trillion in 2011, is expected to grow to ¥3.8 trillion by 2020.
Aside from energy production and consumption "green" practices, some of which have been discussed above, and others of which include features such as smart energy meters which can point out areas in which each and every building can further reduce its energy footprint, local municipalities are also experimenting with a variety of new intelligent transportation systems — including park-and-ride systems, on-demand bus services, light rail transit services, and two-wheeled, battery-powered vehicles — to optimize and reduce energy consumption, as well as ease pollution and congestion issues. Vehicle automation and the sharing economy may further change the transportation climate in big cities in way which we can hardly even predict yet.
The Future
In the more distant future, however, although perhaps sooner than we believe, some experts think and hope that focus, while always derivative from IT innovations, will shift from the technology of smart cities to more social and cultural considerations.
Dr. Andreadis, a molecular biologist, shares her vision of a smart city with readers of "Japan Today" as being one that's as self-sufficient as possible, organic (rather than created by top- down planning), responsive to the needs of all its inhabitants (not just the human ones) and reliant on robust, low-impact, non-intrusive technology –
"We already know we need well-coordinated traffic lights, subways and bike lanes; hospitals with reliable back-up generators; small parks, grocery shops, and schools that are down the block from our house. We will also need heavy- duty recycling, composting, and efficient heating/cooling systems; mixed-use zoning, which results in much better safety and maintenance of shared spaces than CCTV cameras; as many street trees as street lights and as many solar panels as gas-driven boilers; community and roof gardens (growing vegetables, not just flowers); and even a rational admixture of wildlife — not just pigeons and rats, but also peregrine falcons and coyotes."