Property Investment For Foreigners: Deal Analysis 1 - Kawasaki City Studio Apartment
Poste date: Friday, November 8, 2019
The following is an excerpt from "Japan Real Estate Property Investment For Foreigners Part 2" by Ziv Nakajima-Magen – Partner & Executive Manager, Asia-Pacific Nippon Tradings International (NTI)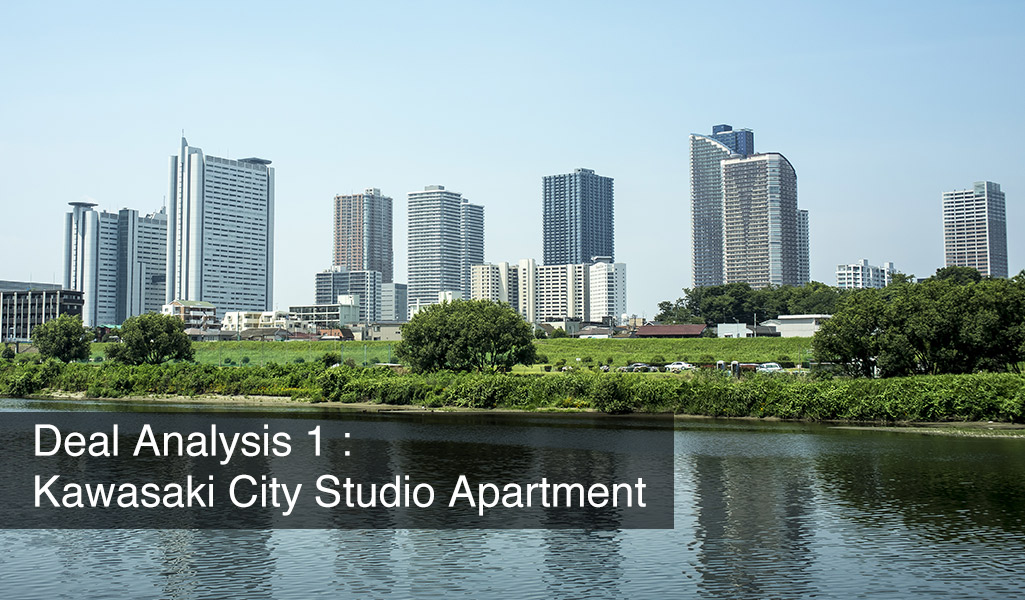 Kawasaki city, aside from its immediate proximity to central Tokyo – 15-20 minutes by train – is also a growing Japanese city, with a current population of just under 1.5 million, and growth of around 0.75% yearly.
The city's economy is predominantly white collar in nature, mainly heavy industries, electronics and high-tech development. Considered one of the most attractive residential areas nation-wide. And, while it still offers slightly higher yield than Tokyo itself, this is changing rapidly –attractive deals are extremely rare and far between.
Studio unit + Kitchen & balcony
5.2 mil JPY (app. 46,700 USD)

Advantages -
・ Exceptional yield for this location – just under 10% net pre-tax annually!
・ Small unit (studio, 16.73 sqm + balcony) – minimised repair and maintenance fees, and a discounted property tax bill, reserved for units under 200 sqm
・ In spite of its small size, the unit features a separate, walled off kitchen area, which is rare for units of this size
・ Current tenant – single male in his 50's, technical staff at a local college, in residence 15 years (!!!). This may seem unusual in many countries, but quite common in Japan, and points to a potentially even longer tenancy. No late payments or other issues over this entire period of time. Solid gold
・ Security deposit paid by the tenant is non-refundable, and can be used for cleaning or repairs upon vacating – saving a good few hundred dollars in the future
・ Dedicated laundry machine area set-up in the unit – alcove, tap, drain, etc. This, as well, is unusual for such a small property – and a necessity for most modern residences. Saving of $800-900 for installation of this amentity when the unit becomes vacant
・ Building is very well maintained, and quite small (only 20 units) – major renovations, including re-water proofing of the roof and exterior done within the last six years, thereby minimizing the risk of any significant out of pocket expenses or raising of building monthly fees in the near future
・ Built in 1991, up to the latest earthquake resistant building standards, introduced in 1981
Disadvantages -
・ The tiny unit size means typical tenants would be exclusively singles. Generally speaking, this means shorter tenancies when compared with larger sized units, which tend to attract longer-staying tenants such as families – as singles may more frequently change their status via marriage, work dynamics such as relocation to a different company branch or, at some point, moving in with their elderly parents, as is often the case in traditional Japan
・ The building's reserve funds pool, used for renovations and repairs, has a relatively low amount in it, compared to the number of units in the building and their approximate cost
・ Building located a 15 minute walk from the nearest train station – not a disaster, but out of the ideal 10 minutes comfort zone which would guarantee a large tenant base
Deal Analysis
Weighing the advantages and disadvantages one against the other, the client has decided to approve this particular deal, due to the following reasons –
1. The high return, aside from obvious profitability, also means more potential manoeuvring room in future, due to increased building maintenance/repair/renovation fees. Kawasaki properties very rarely yield anything over 7% net pre-tax annually – so 10% yields are a spectacular bonus, considering these central properties usually also tend to gain in value over time.
2. Building profile is excellent –coupled with its' location, all but guarantees a steady stream of potential future tenants – this fact, along with the current tenant's security deposit, more than covers for any potential vacancy expense risk.
3. The fact that the unit is small isn't really an issue, considering location – Kawasaki city is one of the most sought after residential areas in Japan, as mentioned, and its proximity to Tokyo adds value as a potential "bedroom community" for company employees working in Tokyo and far from home. The walking distance to the train station, considering all of the above, is more than surmountable.
4. The low reserve funds pool status is more than accounted for by the excellent renovation history – funds seem to be well managed, and risk of sudden large renovations, as mentioned, quite low.
5. The small size of the building makes it easier for developers to purchase the land and compensate existing owners, in case of re-development or total-loss damages sustained by natural disaster – providing compensation to 20 unit owners is a relative "walk in the park" for any serious developer considering a new building or commercial project on this land.
Summary
As mentioned above, the very existence of a Kawasaki property generating such high yields is extremely rare, so the scales in this particular case were tipped towards green-lighting the deal in any case – it would have taken a very red risk flag for us to pass on it.
Considering the above, slight disadvantages - all of which were more than manageable and accounted for by other, positive mitigating factors - it was indeed an easy decision to make, and a worthwhile addition to any portfolio, large or small.
Without a doubt, had we not acted upon this listing almost immediately upon receiving it, it would have been gone in a matter of days, if not hours – we were fortunate and responsive enough to get our foot in the door ASAP, netting an excellent deal for our clients, a young professional couple from Australia, in the process.