The Latest Modern Japanese Bathrooms
Poste date: Friday, November 18, 2022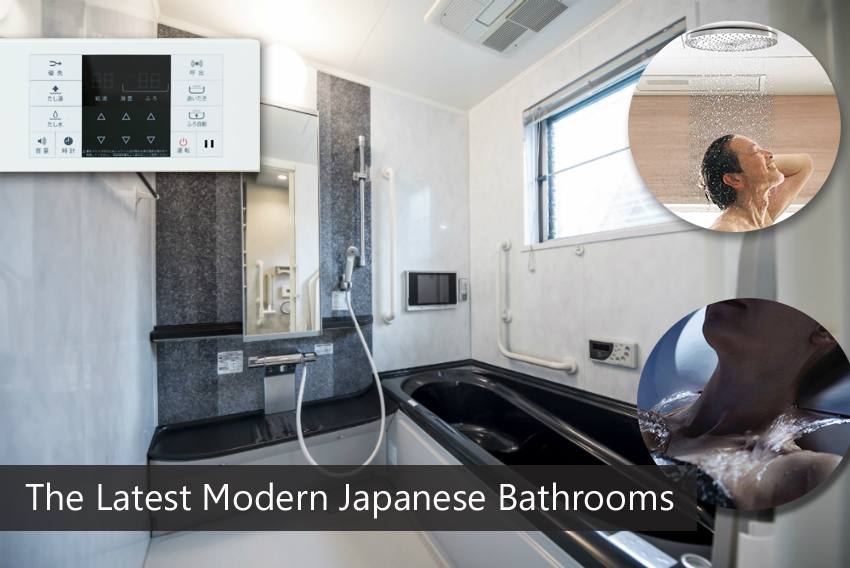 As you may have guessed from Japan's Hot Spring culture, Japanese people love taking baths. Japanese bathrooms are structured not only for taking a shower but also for soaking in a bath. In contrast to some western cultures where people shower in the morning as a way to wake up and start the day, most Japanese bathe in the evening as a way to relax and heal their fatigue. As you may have guessed, with such a love for bathing, Japanese bathrooms are way more advanced than what you can find in other countries. Here are some of the latest modern Japanese bathrooms and their advanced technologies.
Japanese bathroom layout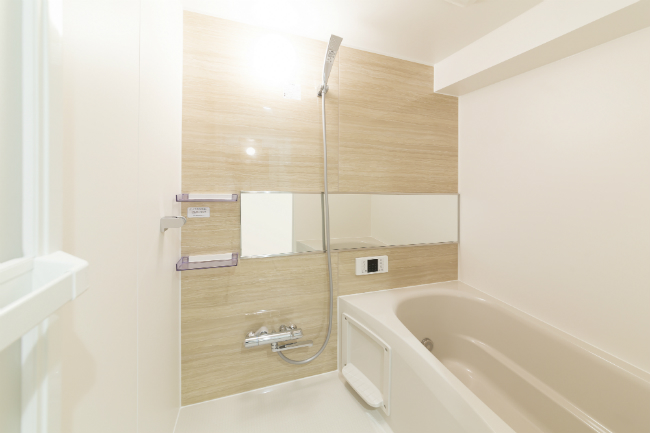 In the bathing/showering part of a Japanese bathroom, you will find two separated areas, the showering/washing area and the bathing area. As baths in Japan are for soaking, not washing, you must first wash yourself in the shower area before you can take soak in the bath. For families with multiple people, the water is not drained after each person takes a bath which means everyone will use the same water for one evening (which is why it is very important to wash before you take a bath). Many modern bathtubs have features that allow the bath water to be kept at a certain temperature allowing everyone to enjoy a warm bath.
Japanese Automated Bathroom High-Tech Water Controller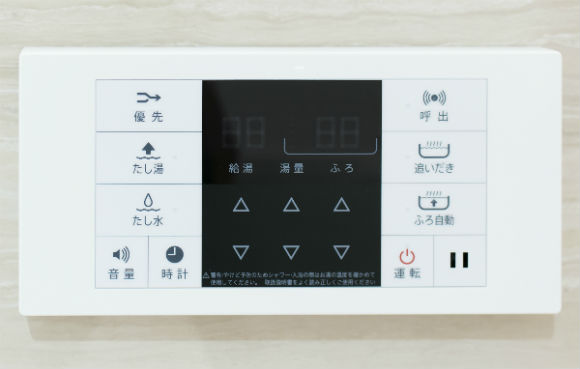 In relatively new properties and recently renovated properties in Japan, bathrooms have many high-tech automated features that are controlled with a wall mounted controller. There are many features available that allow you to take a convenient and comfortable bath. Some of the things you can do with a touch of the control panel include setting the time you would like your bath to be ready, setting the temperature, reheating the water, or making the water cooler etc. This type of control panel alerts you–in Japanese–when the bath is ready, when someone is calling you from the bath, when you change the water temperature, or when any other settings have been changed.
Heating and Drying Function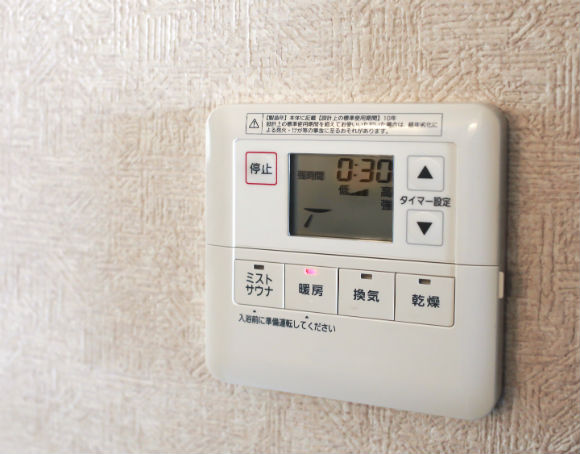 The bathroom heating function works by using hot air from the ceiling vent to warm up the bathroom so that you don't feel cold when removing clothing during the cold winters. You can also dry the entire bathroom by with the drying function. The drying function also allows you to dry clothes in the bathroom (as in the photo below), which is great for days when you can't hang our clothes outside (rainy days, hay fever season, windy days ect..).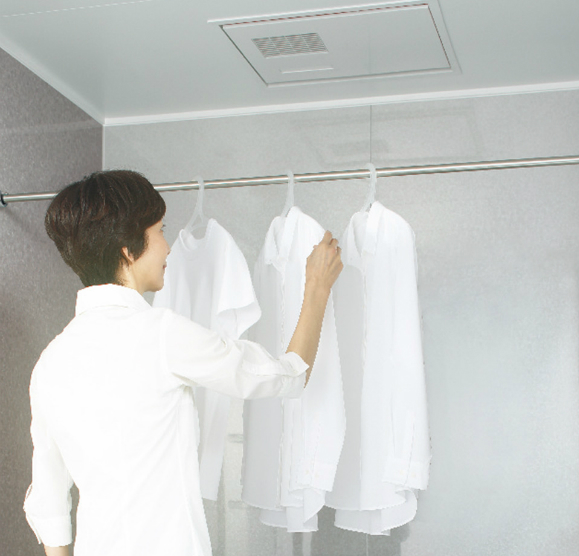 Bathroom TV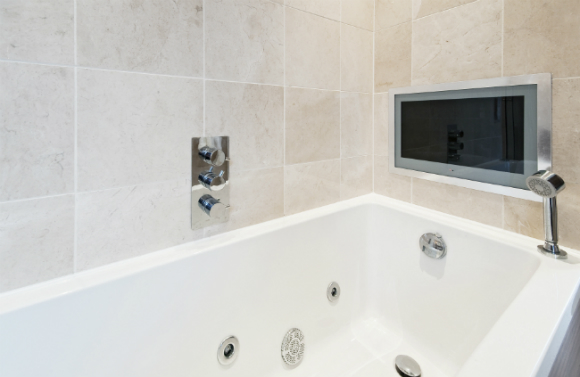 In some properties there is a TV installed in the bathroom. Many of these TVs allow you to watch TV programs, connect to the internet, and enjoy a wide range of movies and programs. Rinnai is a company that offers bathroom TVs from ranging from 5inches to 24inches.
Neck and Shoulder Bath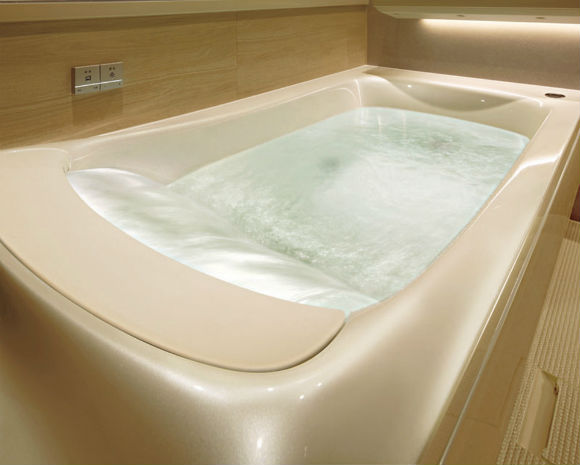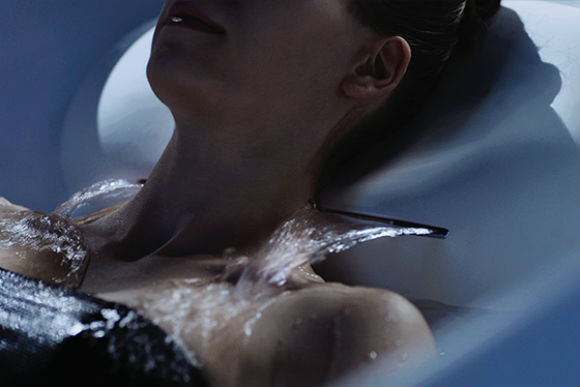 With a neck and shoulder bath, you can enjoy having warm bathing water gently caressing your shoulders and neck. In this a special bath tub from TOTO you can achieve total relaxation. A Jacuzzi function is also included with this style of bath.
LIXIL also offers a shoulder and neck bath called Katayu (肩湯).
Micro Bubble Bath
A Micro Bubble Bath system uses a pump to saturate water with millions of tiny oxygen bubbles, making the water soft and white. Even without using bath salts, its bubbles will warm up your body. The bubbles are so small that they can enter your skin's pores and gently cleansing and softening your skin. The amount of time your skin will remain hydrated and smooth after taking a micro bubble bath is much longer than a normal bath. This system from Panasonic is called "Sanso Bihoyu (酸素美泡湯)".
Overhead Shower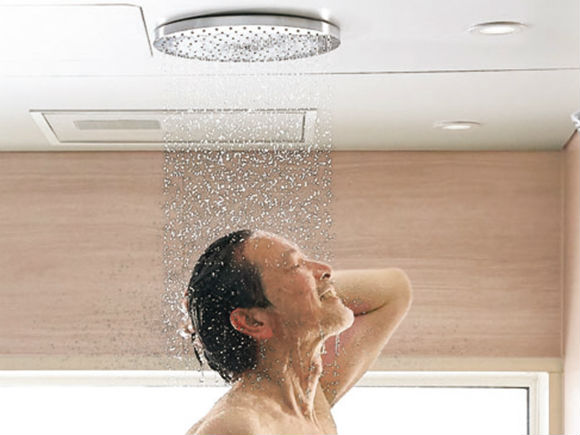 This large shower mixes the water with air and in turn uses less water. Not only can you enjoy the soft texture of water raining down on you but you can also save a lot of water. Japanese shower heads are also highly functional.
Mist Sauna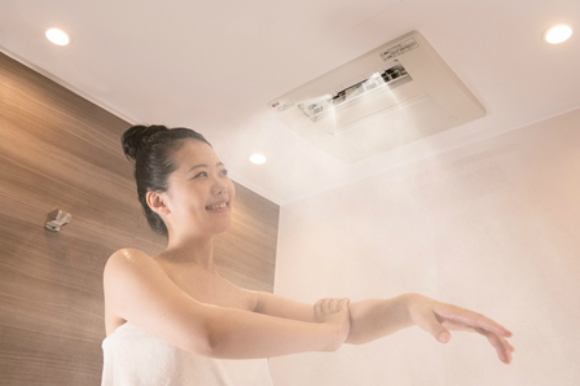 The Mist Sauna has various benefits such as perspiration, improving blood circulation, body temperature-keeping effect, and moisturizing effects. It's just like having a Sauna at home.
Thermo Tiles (non cold tiles)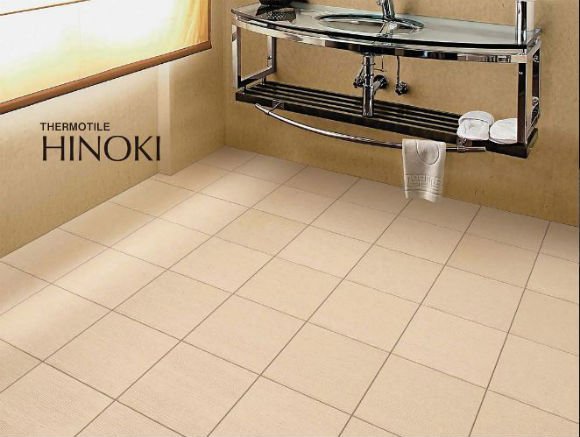 With LIXIL Thermo Tiles, your feet will feel less cold on the tiles because they have special structures.
TOTO offers another system called ほっカラリ床(Hokkarari Yuka) which also prevents from making your feet feel cold and also the tiles have soft texture.
Automatic Bathtub Cleaner
Noritz Automatic Bathtub Cleaner (おそうじ浴槽) cleans the bath tub automatically, you can operate it before preparing the bath or after using the bath.
Automated Bathroom Floor Cleaner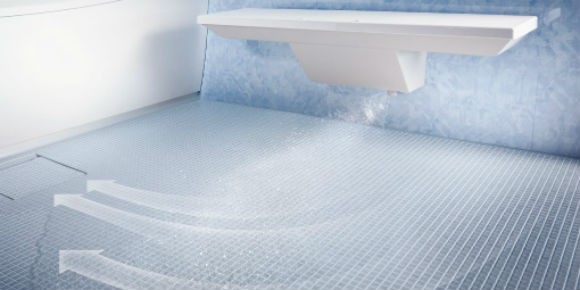 TOTO's floor cleaner washes and disinfects the bathroom floor. Simply press the button to operate it and it automatically cleans the floor.
Japanese Bathrooms Continue to Evolve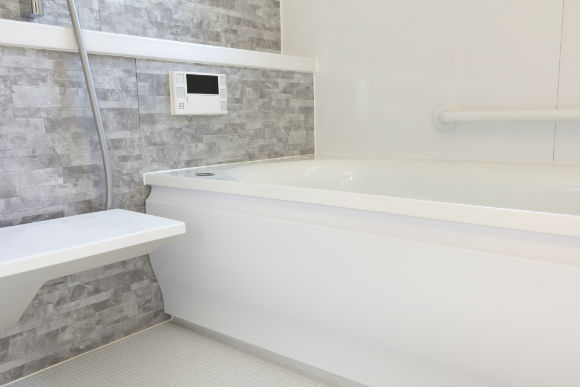 Japan has a bathing culture as a result of the Japanese being very fond of taking baths. For that reason, bathroom related technologies evolve by leaps and bounds every year in Japan. You will be amazed by the functions, designs, and technologies of a modern Japanese bathroom. Wouldn't it be great to have modern Japanese bathroom features in your next apartment or house in Japan?
You may also be interested in this article: How to use Japanese High-Tech Toilets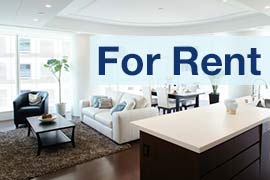 Listings of popular and luxurious rental apartments, condominiums, and houses
designed with expats in mind.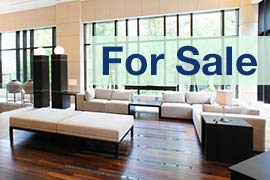 Listings of apartments, condominiums, and houses available for purchase in Tokyo.