Property Investment For Foreigners: Commercial and Retail
Poste date: Monday, October 21, 2019
The following is an excerpt from "Japan Real Estate Property Investment For Foreigners Part 2" by Ziv Nakajima-Magen – Partner & Executive Manager, Asia-Pacific Nippon Tradings International (NTI)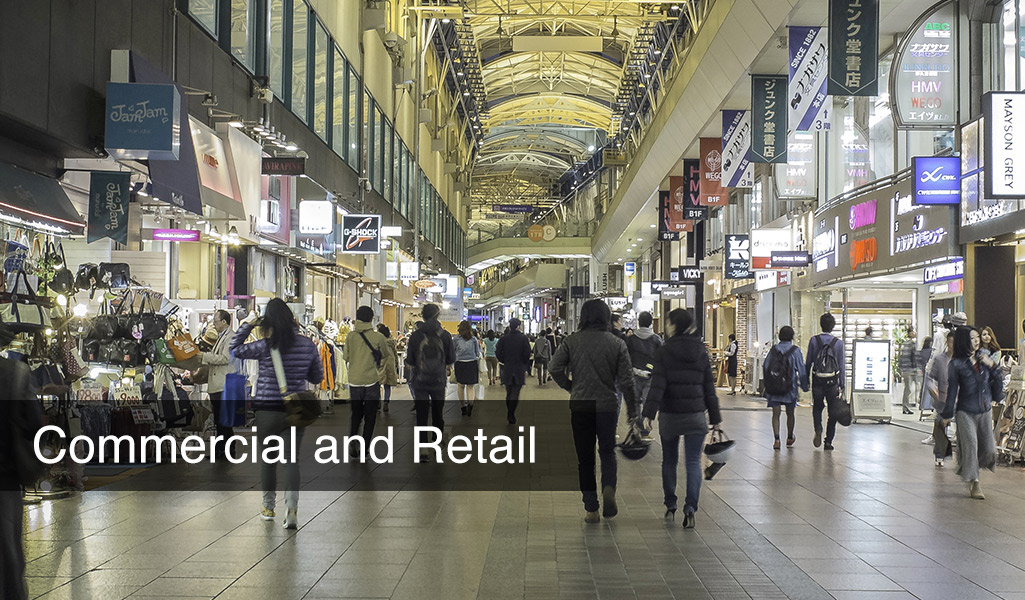 According to JETRO (Japan's governmental external trade agency), Japan boasts the world's second largest retail market, with a sales value exceeding US $1.3 trillion (150 trillion yen). Being a mature, quality and luxury oriented consumer market, the country has been a natural destination for any and all global brands seeking to establish their presence in Asia for many years, with spectacular results. 35% of Asian tourists from countries such as China, Taiwan, Hong-Kong and South Korea, who are traveling to Japan, cite their main reason for visiting as "shopping". Local Japanese shoppers are also a force to be reckoned with – often labelled as "obsessed with consumerism culture", for better and worse.
Key sectors in the country's retail market are high-end specialty stores, apparel specialty stores, and lifestyle/environmental products – all of which are readily available not only in shopping hot spots such as Tokyo's Ginza, Omotesando, Shibuya and Shinjuku, but all over the country, in other large metropolitan centres such as Osaka, Nagoya, Fukuoka and Sapporo, to mention only a few.
Shopping malls, supermarkets and street shops are bustling with activity during all hours, fashion is a major driving force for men and women alike, and even the two "lost decades" of deflation, which the country has only recently broken out of, did not seem to diminish the Japanese passion for shopping – as a walk down the street down any of these major shopping districts would have demonstrated at any point in time during those years.
Current Retail Status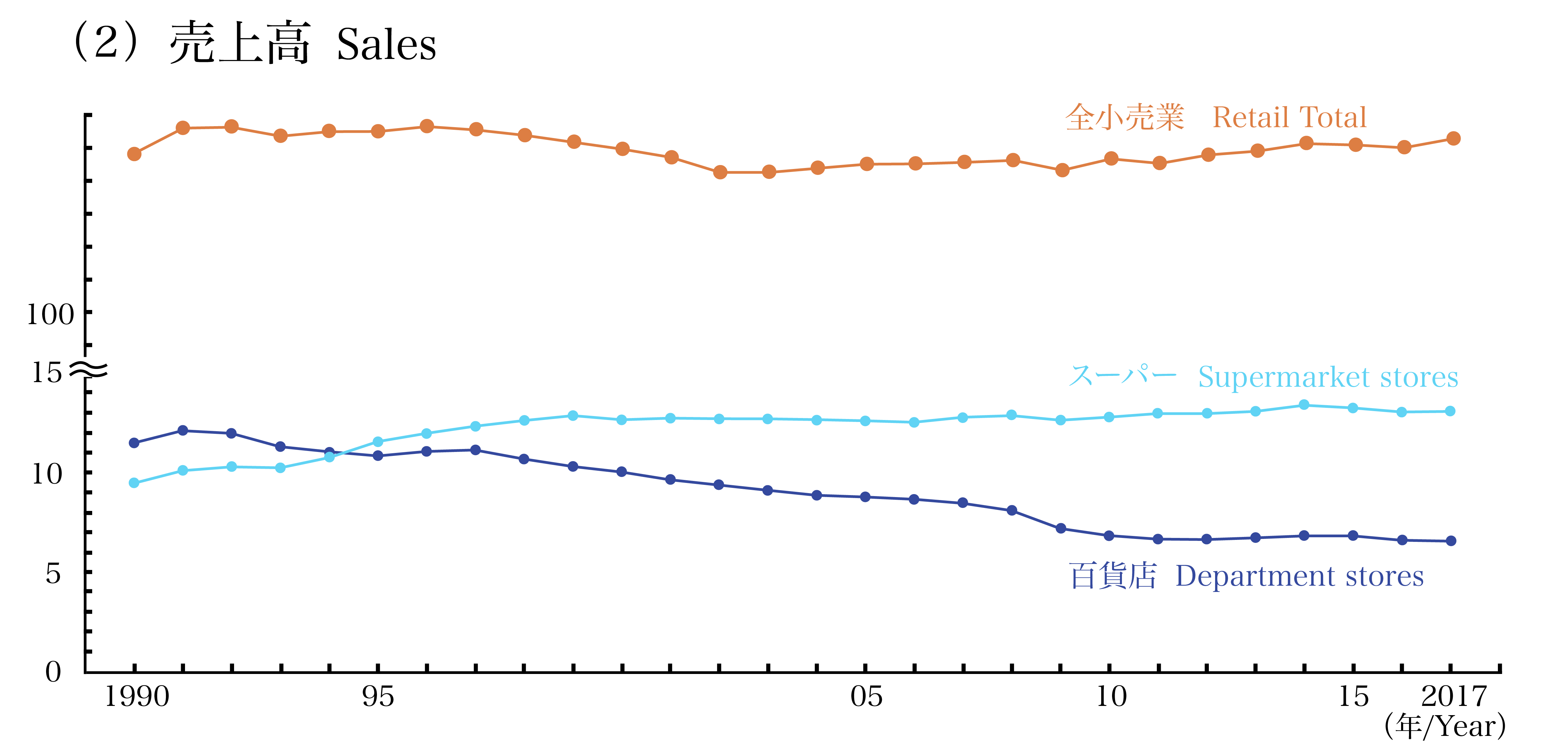 As in the graph above, taken from Mitsui Fudosan's 2018 statistics publication clearly shows, total retail in Japan is generally on the rise, aside from a small slump, due mainly to a sharp drop in Chinese tourist numbers between 2014-2016, as a result of increased import duties in the mainland.
However, it is worth noting that, as the e-commerce trend continues to take the world over by storm, brick and mortar shops are feeling the pain - which translates into stagnant rents in all but the top high street shopping areas. And, while retail sales are likely to improve with the 2019 Rugby World Cup, 2020 Olympics and 2025 World Expo, all major global events which are going to be hosted in Japan, and are expected to continue and increase tourist numbers – one should keep their fingers on the pulse as far as the years beyond that time frame are concerned.
Regardless, two interesting main trends evident from that same graph, are the following –
1. Supermarket shopping has long surpassed department stores, as far as total retail sales numbers are concerned. This trend has further intensified in 2017, as more and more clothing, goods and apparel are now sold online - while Supermarkets, selling consumable goods such as foods and beverages, aren't as vulnerable to online competition.
2. The by far large majority of retail sales in the country, however, aren't in either department stores (or "Depaato" as they're known here), or supermarkets – but rather in "other retail" – namely, street shops, train and subway station shops, outlet malls, and other small businesses (as well, again, as online).
How to Profit from These Trends?
While ownership of a shopping center or mall can be an attractive investment, buying and managing such a property is an expensive exercise, and requires a Japanese presence for the purpose of running the business, and all it entails. Furthermore, should rents continue to remain stagnant or decrease, it may be far more feasible for foreign, remote investors to put their funds into smaller, "street level" commercial retail properties, which can be easily managed via standard rental leases (straightforward rental- yields oriented investments, as opposed to ongoing, hands-on business management). These shops are also far cheaper, which provides investors with far better diversity, and also enables them to hedge their investments, as opposed to investing in a single, high priced shopping centre.
The huge boom in internet shopping, and its expansion to the inclusion of same or next day service, has led to huge growth in the logistics real estate market (factories, packing houses, warehouses & shipping/delivery hubs) in the suburbs of most of the country's large metropolitan centers, as well as specific purpose smaller facilities within the cities themselves. This is another sector well worth looking into. And, since this particular market is currently red-hot, with demand far outstripping supply, creative approaches such as acquisition of existing older properties erected on medium to large land-plots, with a view to demolishing and re- construction, is a highly profitable strategy.
Investing in Shopping Centres
If you do, however, want to consider purchasing entire shopping centres, just be aware that there's a big difference between commercial units in otherwise residential of mixed purpose apartment blocks (street shops) - as opposed to wholly commercial buildings or shopping centers (malls and department stores).
While ground floor shops or offices in a mixed purpose building can be purchased by anyone, similar to a residential property, and then leased out to business owners - the situation is quite different with wholly commercial blocks, which are normally entirely owned by a single, licensed operator. That operator runs the entire complex, and provides utilities and services to its entire renter community. This means business operators would be required to apply to the building or centre management when they wish to lease shop or office space – and those spaces would normally only be available for renting, and not for purchase individually.
The operator, on their part, would be required to provide certain services such as infrastructure, in-house advertising space, floor and building maps references to the business, daily or weekly rubbish disposal, cleaning of all common spaces, security, fire safety provisions, etc.
While it is definitely possible for foreign investors to purchase and run an entire commercial space structure, and while there are management companies who will be able to then operate the center on your behalf - this of course adds an entirely new layer of complexity to the investment, which becomes more than a simple real estate and rental management transaction.
In effect, you will now be running a fully pledged business operation, which would often require hiring, providing for and training of staff, out-sourcing of advertising, stock management, etc. The closest equivalent is probably purchasing and running a hotel or other guest or short term stay accommodation business, as opposed to a straightforward real estate property investment.