Step 4

Move-out, balance settlement, and delivery of the property

The property will be delivered once the remaining balance is settled. The seller needs to make sure that the property will be ready to be handed over to the buyer by the balance settlement day.
Please make sure to confirm the borders between surrounding properties, to move out, to clear any unnecessary items from the premise, and to settle any utilities fees by then.
The procedure from the balance settlement to delivery of the property:
A final check of the property will be conducted on the premises in the presence of both the seller and the buyer.

A judicial scrivener checks all the necessary documents to apply for the "registration of ownership transfer".

If there is an existing mortgage such as a housing loan, it is necessary to arrange to pay off the mortgage in a lump sum prior to the balance settlement day.

The buyer pays the remaining balance to the seller. Once the payment is complete, applications for ownership transfer and disposition of the mortgage will be conducted. (Generally this responsibility is delegated to a judicial scrivener.)

Settling fixed asset taxes and any property management fees (in case the property is an apartment).
The seller is responsible for payments up to the day of delivery. Starting on the delivery day, the buyer will be responsible for paying the prorated amount for the remainder of the month.

As soon as the remaining balance is settled, the property (and the keys) are delivered. All the keys such as the main entrance, kitchen door, garage remote, etc. must be delivered to the buyer.

Both parties must sign "the delivery confirmation" note and exchange copies, confirming that the process of the closing of the sales contract is complete. At this time, the management regulations of the apartment, a brochure from the developer at the initial sales, instruction manuals for equipment included such as air conditioning, water heater, kitchen stove, etc. will be handed over to the buyer.

The seller pays the real estate agent and the judicial scrivener a commission fee; thus completing the selling process of a property.
Required items when settling the remaining balance
Registration certificate

Jitsuin Officially registered seal(If a foreigner doesn't have one, one can substitute with registered signature.)

Original copy of seal registration certificate (issued within 3 months)

Tax certificate

Agent commission

Registration fee (Registration of change of residence, registration of mortgage disposition if needed)

Keys for the property

Other documents (Management regulations, manuals for the equipment, etc.)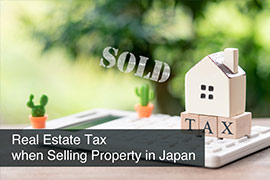 When you have income from selling a real estate property a national and local (inhabitant) income tax may be imposed on it. Here is an introduction to the taxation system and the calculation method of a tax imposed on "transfer income".
Please feel free to contact us
---
PLAZA HOMES
Sales & Purchase Div.
Mon-Sat 9:00am-5:40pm
Sun & Holidays 10:00am-5:00pm(JST)
03-3588-0131