Food Bank Azabu
Social Contribution through Food Provision in Minato-ku, Tokyo
We operate from Azabu-Dai, Minato-ku, Tokyo, where we actively collect food items.
Our mission is to gather surplus food, disaster relief supplies, and non-standard food items from the local community and distribute them to organizations that support individuals and families in need.
If you reside or work in the area, we sincerely request you to consider making a food donation. We also extend a warm welcome to food manufacturers and businesses with disaster relief supplies, encouraging them to reach out to us without any hesitation.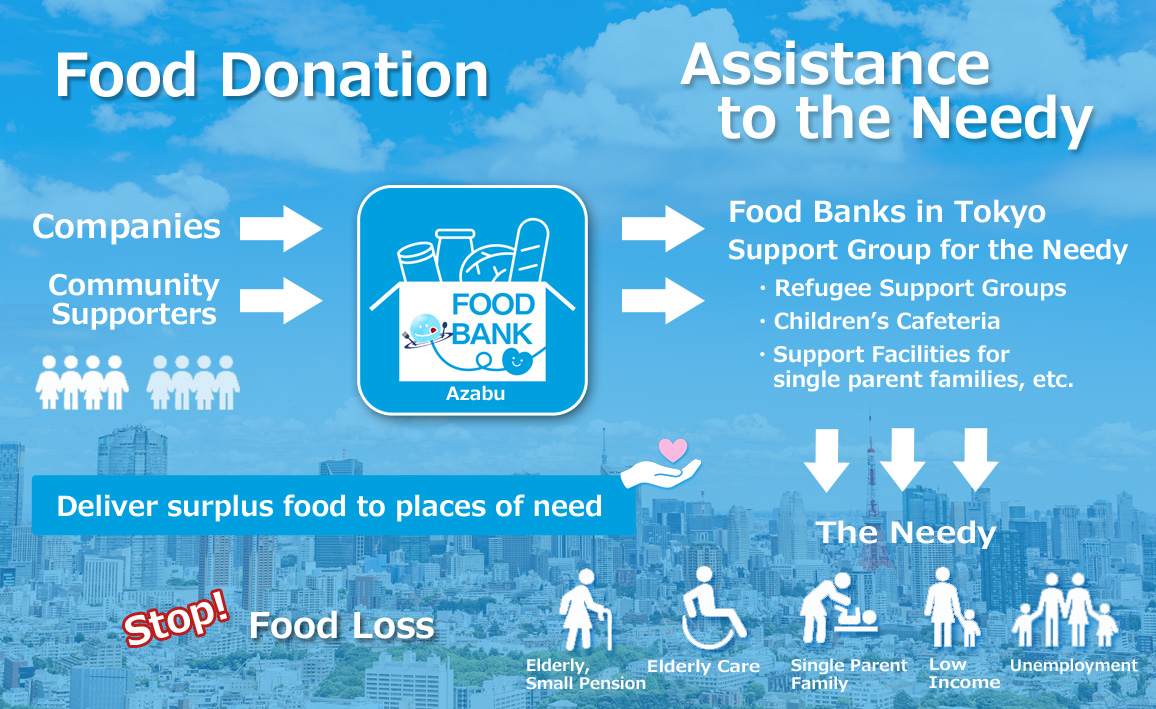 To reduce food loss and to have everyone get to eat enough!
Gathering surplus food in the community and deliver them to people in need. Starting from what each can do.
Collected foods will be delivered to the needy, through organizations such as Tokyo Food Banks.
*Food Bank Azabu does not distribute food to individuals.
Do you know that the number of households in need of food support is increasing?
There are many people in Tokyo who are unable to eat enough food due to various reasons.
In recent years, the number of families who cannot make a living solely on government support is increasing due to the Covid-19 recession and high prices.
On the other hand!
In Japan, approximately 5.23 million tons of food loss is generated annually (based on 2021 guidelines), which is equivalent to about 7,200 two-ton cleaning trucks everyday.
This means that each person throws away the equivalent of a bowl of rice (114g) per day.
Request for Food Donations
---
We are currently accepting donations of surplus or unopened items

*Unopened food items: with a shelf life of at least one month and can be stored at room temperature
*Rice: within 18 months of milling
*Alcoholic beverages: not accepted
Food reception point
Address: 1-9-12 Azabudai, Minato-ku, Tokyo / PLAZA HOMES 1F Reception
Access: 5-minute walk from Kamiyacho Station (Hibiya Line), 8-minute walk from Akabanebashi Station (Toei Oedo Line)
Food donation reception hours: Monday to Saturday, from 9:00 to 16:00