The My Number System in Japan and how it affects non-Japanese
Poste date: Monday, March 28, 2022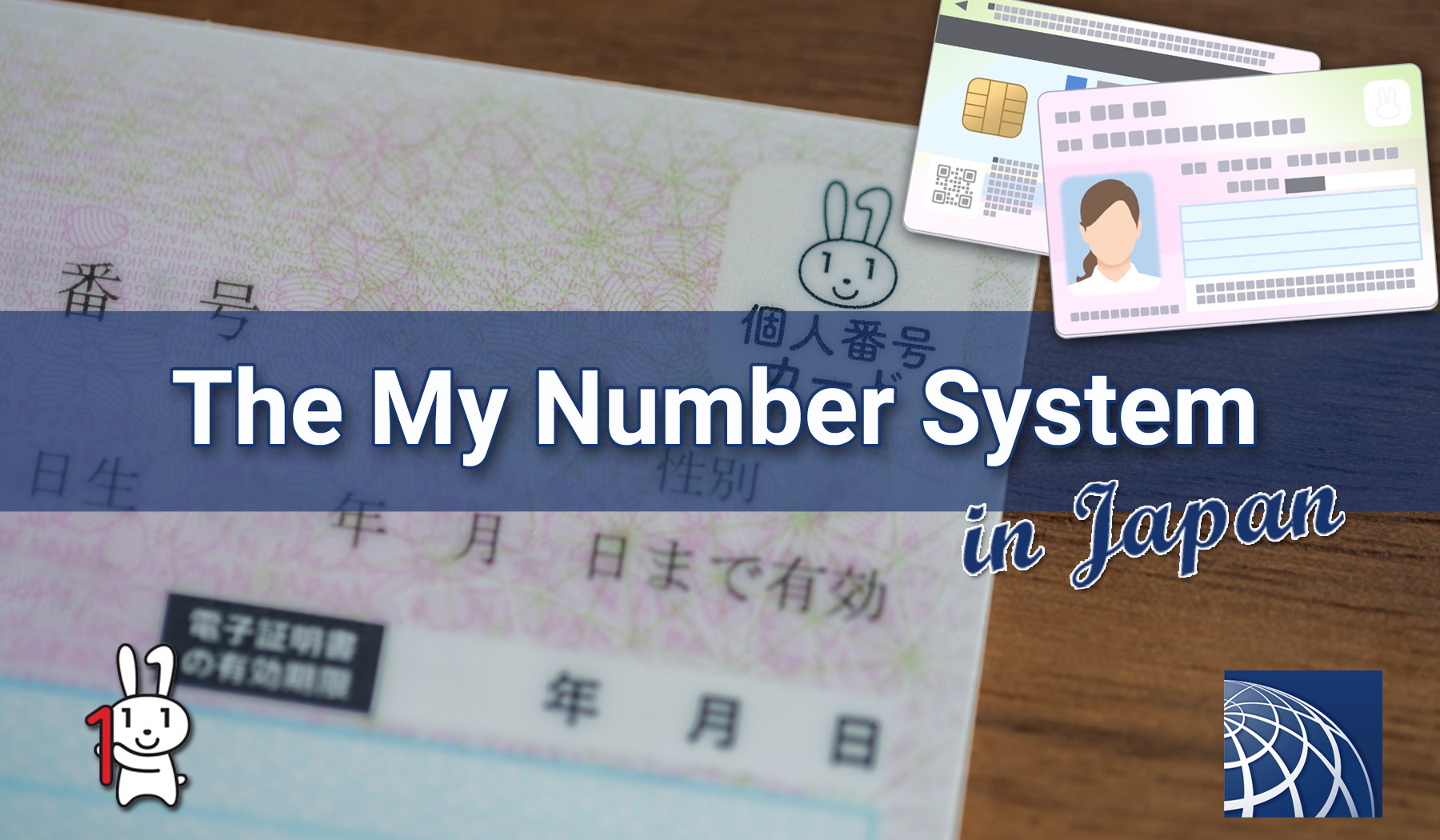 Every citizen in Japan has an Individual Number (called My Number). We would like to provide guidance especially for mid and long term foreign residents in Japan, regarding the "My Number" system.
About Foreign Residents
A "My Number" will be issued to all registered residents who have a residential record at a municipal office. Mid- to long-term foreign residents (foreigners who have the legal status of residing in Japan for more than 3 months under the Immigration Control Act) and Special Permanent Residents are considered registered residents, and as such will also receive their Individual "My Numbers".
> How to register or change your address in Japan
> Japanese Addresses: How to Read, Write, Say & Understand Them
What is the My Number System?
"My Number" System is the nickname for the "Social Security and Tax Number System", which provides one unique number (12 digit numerical number) to all registered residents in Japan. The number is able to link and put together personal information dispersed across different multiple agencies under the name of the person it belongs to. This means the System serves as a social infrastructure to improve the efficiency and transparency of the social security and tax systems. In turn, bringing greater convenience to public services such as on-line applications for personal information and various administrative procedures while aiming to create a fair and just society.
About the notification letter and Individual Number Card
What is a Notification letter?
Once you register as a new resident in Japan, you will receive a notification by mail. The notification letter cannot be used as proof of your My Number. To prove your My Number, you will need a Certificate of Residence with My Number.
This letter comes by a registered letter and if you miss the delivery, the post man will leave you a delivery notice. The post office can normally keep the letter for up to 1 week and if you don't contact them within a week, the letter will be sent back to the municipal office and you will be required to go there to receive it. Therefore, if you find the Delivery Notice, please contact the post office a soon as possible.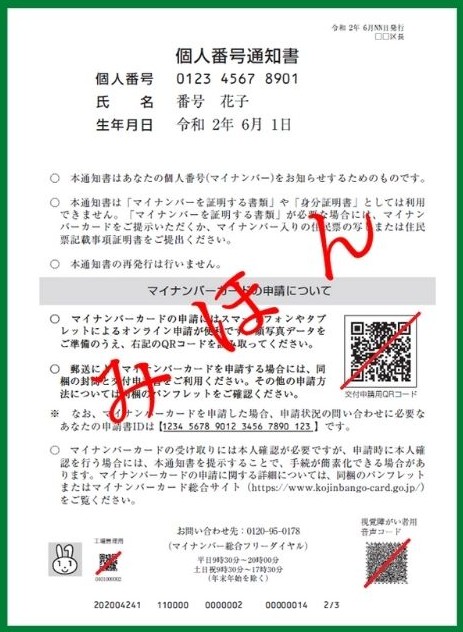 Above is an example image of the Notification Letter you will receive. On the top of the letter you can see your My Number (個人番号), Your Name (氏名), Date of Birth(生年月日). By using the QR code on the letter, you can apply for your My Number Card online (via a smartphone or a tablet). You can also apply via mail by filling the form (example below) which is enclosed together with the notification, and send them back in the envelop which you also will find in the letter.
For further details, please visit the official website (English)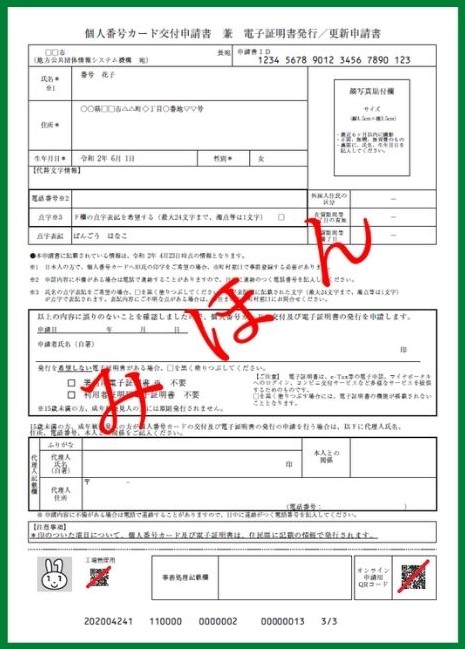 Obtaining a "My Number" Card
After you have gone to your local ward office to register your address, a "My Number" number will be created. If you would like to know the number you can ask the person helping you and they will write it down for you. After some time, a notification card will arrive at your home along with an application and an extra envelope. On the notification card will be your "My Number" information.
The application that came along with the notification card is for your "My Number" card. After you send in your application, you will receive another notification in the mail telling you that your "My Number" card is finished and ready to be picked up. Take a photo I.D. (driver's license, passport, residence card) and your notification card with the "My Number" information on it to the ward office along with the notification postcard telling you that your card is ready.
If you have lost your application for your "My Number" card or are unable to find it, you can apply by mail or online.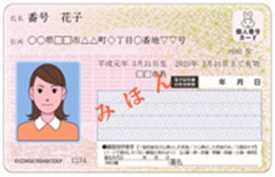 For further details regarding the application method and how to receive the card, please see the web-page below:
https://www.kojinbango-card.go.jp/en/mynumber/index.html
What is a "My Number" Card?
An "My Number" Card is a plastic card which contains an IC chip, and the bearer's name, address, date of birth, sex, My Number (the Individual Number), and your photograph displayed on it. More detail about when to use the card and some of the conveniences it offers are described below. For foreign residents, the card will provide various conveniences because the card can be used as proof of your identity and also used for various on-line applications and public services.
What can a "My Number" Card do?
Act as a document which certifying one's Individual Number
Act as official identification card for identity verification
Act as identification for on-line applications for various administrative procedures
Act as a seal registration card, a library card, a health insurance card, and as a multi-purpose card for a wide range of public services (*)
Used for various private on-line transactions
Used for obtaining various certificates at convenience stores, etc. (*)
*Because the services are different depending on municipality, please contact your local municipal office for more details.
While an Individual Number Card is convenient, careful attention is necessary in its handling and safekeeping. It is your choice whether or not to carry the card with you when you do not need to use it. But many may want to put it in their wallet and carry it all the time as the card acts as a form of personal identification. If by chance, your card happens to have been stolen or lost, please contact the following agency.
※PRECAUTION: Please carefully handle your Individual Number Card.
It is valid throughout your entire lifetime. If you lose it, fill out an application for suspension as soon as possible.
If you think you have lost your card, the first thing that should be done is to call the Individual Number Card call center, and request for temporary suspension of the card.
Call center information:
J-LIS: Japan Agency for Local Authority Information Systems
https://www.kojinbango-card.go.jp/en/otoiawase/index.html
Individual Number Card Call Center
(nation-wide common Navi-Dial Service) 0570-064-738
Weekdays 8:30 am - 20:00 pm
(Saturdays, Sundays and National holidays 9:30 am – 17:30 pm Excluding year-end and New Year days.)
Available languages: English, Chinese, Korean, Spanish and Portuguese.
*You will be charged for calling the Navi-Dial Service.
*Dialing the number above doesn't work from some IP phones, in this case please call 050-3818-1250.
*If you wish to be talk in Japanese, please call 0570-783-578.  The opening hours are same.
About companies employing foreigners
The "My Number" is listed on the withholding slip and various other payment records of salaried employee. As a result, administrative agencies will get to know more about the submission of tax returns and the tax payment situation of foreign employees. When they apply for Permission for Extension of Period of Stay or for permanent residency, but they are not fulfilling their tax obligations, it will be evaluated as a negative factor. Companies need to pay attention to this and instruct employees as necessary.
In addition, the payment situation of social insurance premiums will be confirmed automatically by administrative agencies. So taking this opportunity, it is particularly important for a company to instruct a foreigner hired in Japan about participation in social insurance and the payment of the premium and the (※) lump sum withdrawal payment system of the pension plan.
(About employees transferring from other countries, a company should follow the social security agreement with each country.)
A "My Number" issued to a foreign resident is also valid throughout his or her entire lifetime.
When a foreign resident with the status of mid-to-long term stay makes a simple departure (leaving Japan without obtaining a re-entry permit) to their own country, he or she shall return their notification card or Individual Number Card along with their residence card to each municipal office. Upon the return of your cards to the municipal office, another card listing your "My Number" will be issued to you for your records. If you come to stay in Japan again in the future as a mid- to long term resident, showing the aforementioned card, given to you for your records, will allow you to receive the same Individual Number Card that you previously had.
※What is the Lump-sum Withdrawal Payment System?
It is the system to refund money according to the premiums paid by a foreigner into a Japanese pension plan (such as National Pension Plan, welfare annuity, and mutual aid association pension) when going back to his or her own country after living in Japan for a short term (longer than six months). It is a system to prevent social security insurance premiums from not being refunded.
General matters that require attention in the handling of "My Number" in a company
When making a withholding slip and a payment record, a company is required to acquire the "My Number" of employees regardless of the type of employment or the length of employment, including part-time staff. Since short term employees such as part-time staff may leave a company suddenly, it is necessary to prepare for the paperwork for the procedures required for acquiring their "My Number" at the time of employment.
A company must specify, notify, and announce the purposes for which they intend to use an employee's "My Number" when obtaining them. In addition, the usages of a "My Number" are limited as a general rule.  Companies are only allowed to handle a "My Number" for use in documents designated in the law set forth by the government; such as a withholding slip or a payment record.
In other words, a company cannot use a "My Number" outside the scope of usage that has been designated by law. A company cannot irresponsibly provide Specific Personal Information (personal information that includes an Individual Number) to others or keep storing it. In order to acquire a "My Number" smoothly, a company should notify all the employees of its usage rules and restrictions.
A company also must take necessary measures to ensure the appropriate management of "My Numbers" when handling them. This includes the prevention of leaks, loss, and damage. If a company should have leaked out any "My Number" of its employees, the company will risk 3 of the following in general:
1. Criminal charges
2. Liability for damages
3. Accrual of the cost for responding to the administration 
These repercussions seem to be considerably stricter in terms of laws than the risks associated with conventional handling of personal information. As described here for handling of  a "My Number" in a company, extreme attention and strict management as well as the understanding of the employees are required.
Website Links for English guidance provided by public institutions
J-LIS: Japan Agency for Local Authority Information Systems
Web-page exclusively for My Number System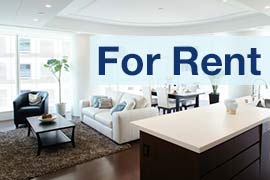 Listings of popular and luxurious rental apartments, condominiums, and houses designed with expats in mind.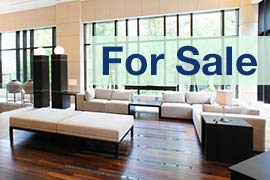 Listings of apartments, condominiums, and houses available for purchase in Tokyo.