30 English-speaking Hair Salons in Tokyo
Poste date: Thursday, January 25, 2018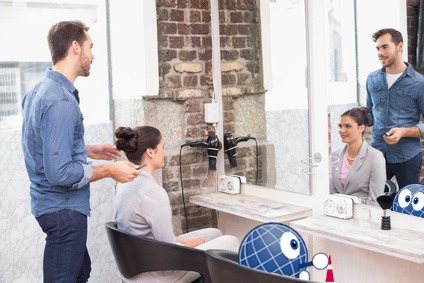 While Tokyo features an abundance of excellent salons, getting the ideal haircut can be a challenge if you don't speak Japanese. Fortunately, there are a select few salons staffed with stylists who have either worked in or completed professional hairdresser training in an English-speaking country, and are fluent in English. Choose from the ward areas listed below to find a Tokyo English Hair Salon near you.


・ Chuo-ku Hair Salons (Ginza)
・ Meguro-ku Hair Salons (Haramachi, Kami-Meguro)
・ Minato-ku Hair Salons (Akasaka, Azabu-Juban, Aoyama, Minami-Azabu, Moto-Azabu, Roppongi)
・ Shibuya-ku Hair Salons (Ebisu-Minami, Jingu-Mae, Sarugaku-Cho)



Basic haircuts at salons generally start at around 6000 yen and most include a shampoo, wash, and sometimes even a shoulder and head massage in the price. Please visit the salon's website for styling menu, reservation information, and access map to find the exact service and style you want.


*Please note that some of these salons can process reservations through email or directly on their websites. Please refer to each salon's site for appointment information.
Chuo-ku Hair Salons
Hairsalon + Artista (Ginza)

The stylist who has arranged many famous actresses in films will sincerely propose the best style that fits you. English speaking staff is waiting for you.
 Ginza Station

Respia (Ginza)

With over 10 years of hairstyling experience, Respia welcomes men and women of all cultures into its eco-conscious salon atmosphere. Using "damageless" styling products and techniques to ensure healthy hair, this salon offers colors, perms, hair sets, and more, including a head spa.

 Higashi-Ginza Station, Kyobashi Station, Shintomicho Station, Takaracho Station, Yurakucho Station
Meguro-ku Hair Salons
L'arte Naka-Meguro (Kami-Meguro)

Staffed by stylists trained in world-famous hairdressing techniques, L'arte Naka-Meguro keeps pace with evolving fashion trends in both Japan and Western countries. Their beauticians also offer makeup, eyebrow, head massage, and nutrient-infusing "hair therapy" services.

 Naka-Meguro Station

Mahro (Haramachi)

Designed as a comfortable "private hair salon" for clients, Mahro's stylists worked as hairdressers in London for several years prior to returning to Japan and speak fluent English. They offer discounts to students.

 Nishi-Koyama Station
Minato-ku Hair Salons
A Cut Above (Minami-Azabu)

A Cut Above prides itself in being an international salon that serves equal numbers of national and international clients. In addition to standard hair fare, this salon also provides aromatherapy treatments, herbal dying solutions, and complimentary coffee. Mention the website to receive 5 percent off your first cut.

 Hiroo Station

Assort International Hair Salon (Kita-Aoyama)

Voted as Japan's #1 hair salon for both men and women, Assort's Tokyo location is a 4-minute walk from Gainemae Station and has three English-speaking stylists who were trained internationally. Cuts are priced according to the rank of the stylist requested.
 Gaienmae Station, Meiji Jingumae Station

Bondz Salon (Azabu-Juban)

Self-described as a "melting pot" for people of all cultures, Bondz Salon is staffed by English-speaking male hairstylists and colorists trained in New York City and Beverly Hills, where they served many clients in the entertainment industry.

 Azabu-Juban Station

Gold Salon Tokyo (Azabu-Juban)

Gold Salon Tokyo is owned by Howard Lee, who has been in the hairstyling business for over 30 years in both Tokyo and Sydney. In addition to its 98-percent foreign clientele base, Gold Salon holds a reputation as Tokyo's leading hair color salon.
 Azaub-Juban Station

Hair Dress Azabu (Azabu-Juban)

Located a short 2-minute walk from Azabu-Juban Station, Hair Dress Azabu is a membership-based, spacious salon that caters to international customers. Its hair, skin, nail, and health products are also available for purchase online.
 Azabu-Juban Station

Hair Siete (Akasaka)

In addition to its English-speaking staff, Hair Siete is renowned for its use of henna to naturally color hair without unpleasant bleaching or decolorizing effects. Their clientele consists of men, women, children, and students, with unique rates for each.
 Akasaka Station

Hayato Salons, Omotesando (Minami-Aoyama)

At Hayato, all stylists pass an extensive training program including two years of experience learning English at Hayato's salon in New York City. Cuts, colors, and perms are priced according to the stylist's rank. A loyalty program provides discounts and cash-back bonuses to repeat customers.
 Omotesando Station

Hayato Salons, Roppongi

At Hayato, all stylists pass an extensive training program including two years of experience learning English at Hayato's salon in New York City. Cuts, colors, and perms are priced according to the stylist's rank. A loyalty program provides discounts and cash-back bonuses to repeat customers.

 Roppongi Station, Roppongi-Itchome Station

Kenji Suzuki @ Bondz Salon (Azabu-Juban)

Trusted by NYC's stylish clientele for over 20 years, Kenji Suzuki is a freelance hairdresser who creates unique styles by combining individuality with current social trends. First-timers receive 20 percent off all services, and every appointment includes a free Shiatsu Massage and 10-percent pre-booking discount.
 Azabu-Juban Station

L'arte Aoyama (Gaien-Mae)

Staffed by stylists trained in world-famous hairdressing techniques, L'arte Aoyama keeps pace with evolving fashion trends in both Japan and Western countries.
 Gaien-Mae Station

One World (Azabu-Juban)

True to its name, One World International Hair Salon has served clients from over 30 countries. Its website, stylists, and even the magazines in its waiting room cater to English speakers. Enjoy a head spa, Olaplex treatments, and more while relaxing to good music.
 Azabu-Juban Station

Shinka (Roppongi) 

In addition to establishing salons in both Sydney and Tokyo, Shinka's owner Ryo has styled the hair and makeup for every cover of Japaralia magazine since 2003. His salon serves complimentary coffee to clients and offers free 10-day after support.
 Roppongi Station, Roppongi-Itchome Station, Azabu-Juban Station

VIP Creative Hair International (Moto-Azabu)

VIP Creative Hair International prioritizes a private setting and personal attention for each client. Its team of expert English-speaking stylists provide a range of beautician services for foreign skin and hair care, including facials, a head spa, waxing, and even kimono dressing.
 Hiroo Station, Roppongi Station

WHO-GA Annex (Akasaka)

More than 40 percent of WHO-GA's customers are from other countries and the stylists are proficient in English, having originally been trained in New York City. They also provide extensive nail services, including treatments, repairs, and a variety of artistic manicures.
 Akasaka-Mitsuke Station

Y.S. Park, Hiroo (Minami-Azabu)

Established in 2000, Y.S. Park serves both Japanese and foreign customers. All of its hair care and styling products are developed in-house from the highest quality materials and ingredients sourced from around the world.
 Hiroo Station

Yumin UK Hair (Azabu-Juban)

A native of Los Angeles, Yumin has been hairdressing in the heartland of Hollywood for most of his 30 years of styling experience. He specializes in coloring blonde hair, offers bamboo charcoal powder treatments, and enjoys trading life stories with his clients.
 Azabu-Juban Station

Zooto Equatorial (Roppongi)

The owner of Zooto Equatorial operated a salon in Sydney for 10 years before returning to Japan, where he has managed a salon in Roppongi since 1998. Offering all essential cutting, coloring, highlighting, and perming services, this salon also accepts student discounts.
 Roppongi Station
Shibuya-ku Hair Salons
Boy (Daikanyama)

Located in Daikanyama, Harajuku and in Bangkok. You can also enjoy a head spa, facial massage or refloxology. English speaking staff is available.
 Daikan-yama Station

Boy (Harajuku)

Located in Daikanyama, Harajuku and in Bangkok. You can also enjoy a head spa, facial massage or refloxology. English speaking staff is available.

 Harajuku Station

Gold Salon Tokyo, Omotesando (Jingu-Mae)

Gold Salon Tokyo is owned by Howard Lee, who has been in the hairstyling business for over 30 years in both Tokyo and Sydney. In addition to its 98-percent foreign clientele base, Gold Salon holds a reputation as Tokyo's leading hair color salon.
 Omotesando Station

Hayato Salons, Harajuku (Jingu-Mae)

At Hayato, all stylists pass an extensive training program including two years of experience learning English at Hayato's salon in New York City. Cuts, colors, and perms are priced according to the stylist's rank. A loyalty program provides discounts and cash-back bonuses to repeat customers.
 Harajuku Station, Meiji-Jingumae Station

Nepenji (Ebisu-Minami)

Named after the Greek word for forgetting one's troubles, Nepenji is Tokyo's residential curly hair specialist salon. The English-speaking staff were originally apprenticed in upscale New York and include beauticians trained in hairdressing, makeup, nails, and therapy.
 Ebisu Station

Sin Den (Jingu-Mae)

Sin Den maintains a co-op with salons in both Los Angeles and New York City, offering extensive hair and nail services. In addition to a history of experience doing hair for celebrities, its stylists are trained by accomplished international hairdressers and are fluent in English, Japanese, and Italian.
 Gaienmae Station, Omotesando Station

SOZO

Launched by two stylists who gained experience in New York and London.
 Jingumae Station, Harajuku Station, Omotesando Station

Watanabe Hair Dressing (Jingu-Mae)

Many of Watanabe Hair Dressing's stylists were trained at Vidal Sassoon in London. Their award-winning work has been featured in various regional and international style magazines and fashion shows in Paris, New York, London, and more. They also provide manicures and nail art.
 Harajuku Station, Meiji-Jingumae Station

Y.S. Park, Shibuya (Sarugaku-Cho)

Established in 2000, Y.S. Park serves both Japanese and foreign customers. All of its hair care and styling products are developed in house from the highest quality materials and ingredients sourced from around the world.
 Daikanyama Station, Shibuya Station
Toshima-ku Hair Salons
Hermitage

Hermitage is proud of over 10,000 types of color recipe, amino acid hair straightening, and treatment techniques.
 Ikebukuro Station
English-speaking Nail Salons in Tokyo