Japan Real Estate Property Market – Annual Report 2019 - 2020
Poste date: Wednesday, January 29, 2020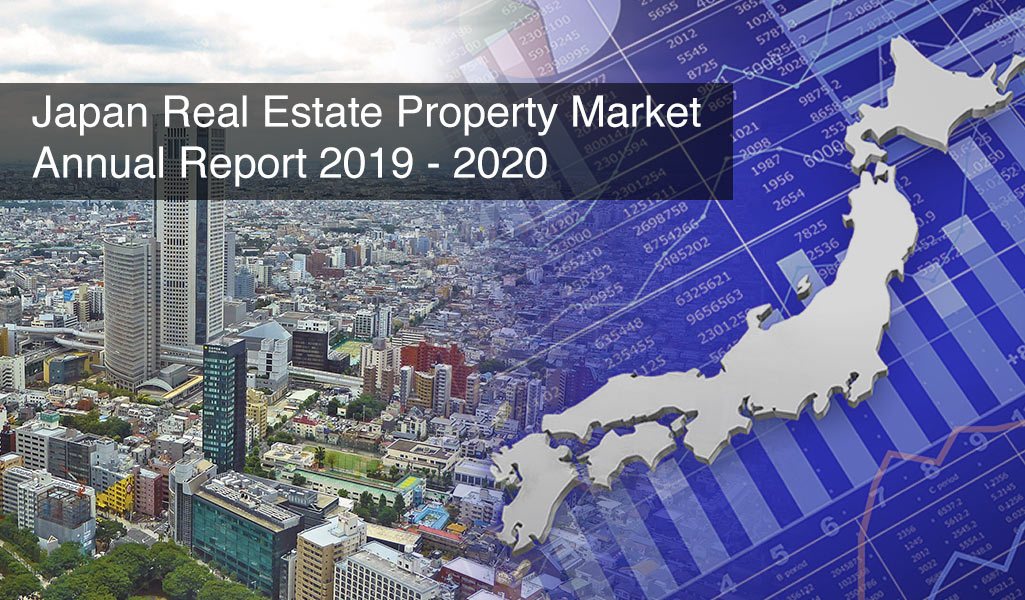 The Bigger Picture
While 2018 was a year of investing outside of one's backyard, 2019 became the year of finding an investment destination to venture to. Considering the fact that of all the countries in the Asia-Pacific region, Japan is the only one with zero restrictions on foreign property ownership – barring a handful of historically protected locations and structures – the country remains the region's largest real-estate property investment market, and its fully documented, legal-recourse entrenched business climate continues to make it the prime choice for non-speculative, high-yield-rental-income-oriented investors worldwide. True, we can't turn a blind eye to the country's prolonged deflation. But, investors are not deterred. Experts say the country will overcome it, perhaps not with returns of the 'bubble' era, but they believe solid returns are realistic.
Japan is also a safe haven with low geopolitical risk, which in this global economic climate, holds a lot of clout. Take, for example, the continued trade and political grandstanding wars between China and the USA. The result has been increased capital inflow from China into Japan, as Chinese companies seek to relocate funds. Plus, in 2019, amidst numerous protests, marches and non-cooperative movements in Hong Kong, developers feared that the government might not be able to roll out enough sites for 2020. We have seen the shortage of land and risky local investments, increase inflow to Japan by citizens from Hong Kong and China mainly into hotels, private lodgings as well as whole buildings or independent houses designed for home-sharing where they can obtain a private lodging license.
Investments in traditional hot spring (Onsen) resorts to capitalize on tourism boom
Japan National Tourism Organization set a goal of attracting 40 million annual inbound arrivals by 2020, and more beyond 2020, as the country hosted the 2019 Rugby World Cup, hosts the 2020 Summer Olympics, and the up and coming 2025 World Expo. Where there are tourists, there is a need for accommodation. It is expected that the number of hotel rooms will rise 38% by 2020 in its top three property markets of Tokyo, Osaka and Kyoto. Tokyo hotel occupancy has been at 80% on average in 2019, with the rest of the country still ripe for the picking at a comfortable 70%. The volume of tourists has also been attracting private equity funds like SoftBank-owned Fortress Investment Group LLC and Hong Kong-based Odyssey Capital Group who have been spending billions to tap into the appeal of traditional inns to capitalize on the tourism boom. Japan has almost 13,000 traditional hot spring (onsen) inns where bathers go unclothed in big communal baths heated by geothermal energy that's bubbled up to the surface. The onsen and ryokan properties are located in natural settings, but undervalued after experiencing recession and mismanagement. They have become hot investment targets, growing in occupancy, but still averaging less than 50%, most likely due to their seasonality and the severe lack of catering capacity to non-Japanese speaking foreigners in the vast majority of sites.
Japan places its bets on a billion dollar casino industry
If boosting tourism is the name of the game, the government has increased tourism threefold from 2013 and intends on generating tourism and convention revenue from hotels and meeting spaces to boost visitors to 60 million annually by 2030. Part of the plan is to invest upward of USD$10 billion in casinos. Investment firm CLSA predicts that Japan's gross gaming revenue could reach USD$20 billion annually, leaving casino operators all over the world salivating at the prospect of opening resorts in Japan, which has the potential to become Asia's second-largest gambling market after Macau. Buyers are also considering an integrated casino resort in Osaka, host of the 2025 World Expo.
Land prices sustain positive growth for the first time in 25 years
Japan's land prices rose for the second straight year with the increase spreading beyond big cities, a government survey showed, paving the way for commercial developments, ski resorts and golf courses. According to the "Chika Koji" land price report, commercial land prices in regional areas (excluding Greater Osaka and Greater Nagoya) posted the first positive growth in 25 years since 1991. The increase in average land prices was driven partly by rising property prices in regional Japan. Commercial land prices in regional Japan, which excludes metropolitan areas surrounding Tokyo, Osaka and Nagoya, were up 0.3 per cent in the year to July 1, turning positive for the first time since Japan's asset-inflated bubble collapsed 28 years ago. A steady increase in inbound tourists and ultra-low interest rates propped up demand for hotel construction and office buildings, the government said in the report. Nationwide commercial land prices rose 1.7 per cent after a 1.1 per cent gain the previous year, helped by strong office building demand in major cities. Prices rose the most in the popular ski resort of Niseko on the northern island of Hokkaido, with a 58.8 percent increase. The second-biggest spike was in a part of Osaka in western Japan, which rose 44.4 percent. Station-front developments are also likely to increase where transportation, commerce, and healthcare concentrate primarily around major train stations. The highest roadside land prices per sqm, according to Mitsui Fudosan, are as a follows – Tokyo 45.6 million, Osaka 16.0 million, Yokohama11.6 million, Nagoya 11.0 million, Fukuoka 7.9 million, Kyoto 5.7 million, and Sapporo 4.9 million.
Resort revenue all year round
As land prices are on the increase, 2019 has seen foreign investors descending upon the northern ski resorts in droves. Returns on investment in Niseko properties can reach 7% in good times, according to a local real estate company — better than the global average of around 5% for ski resorts. In the town of Kutchan, land prices surged 66.7% in 2019, according to prefectural data, the fastest rise in the country for a fourth year running and still remarkably affordable. Ski resorts in Niseko are a bargain by global standards with renowned powder snow. The area ranked only 31st in prime residential land prices in British real estate services company Savills' annual Ski Report, with an average price of 8,139 euros ($9,000) per sq. meter in October, and more than 60% cheaper than Courchevel 1850 in the French Alps, which led the list at 23,030 euros. U.S. resort Aspen placed second, while destinations in Switzerland, Austria and France claimed most of the other top slots.
For those who prefer to hibernate in the winter, Japan's golf courses are making a comeback! Japan is the No. 3 golfing country in the world in terms of facilities, after the United States and Canada, according to The R&A, a governing body for the sport. It has many high-quality courses, including some that rank among the best in the world. In its 2018 list of the world's 100 best courses, Golf Digest included four in Japan: Naruo and Hirono golf clubs in Hyogo Prefecture, Kasumigaseki Country Club's East Course in Saitama Prefecture, and Kawana Hotel's Fuji Course in Shizuoka Prefecture. Olympic golf at the Tokyo Games in 2020 is attracting tourism and investments from golfers from East Asia, Europe and North America. Once upon a time, developers flush with cash built courses throughout Japan in the early 1990s, but about 200 closed over the past couple of decades, with some converted to solar energy farms. Golf in Japan can also be relatively inexpensive: a round of 18 holes, lunch and a cart can often cost less than $94. A few new courses have opened over the last 15 years. In December 2016, the private Tokyo Classic Golf, an 18-hole, 7,200-yard course designed by Jack Nicklaus, was inaugurated in Chiba City east of Tokyo. With the revival of golf, course operators can ride the wave of ski revenue in the winter and forward swing to golf revenue in the summer.
Fukuoka and Nagoya markets to watch
Economic volatility usually impacts office and commercial markets first. Japan's commercial property market started to decline in 2017. By 2019, difficulty placing capital in Tokyo led a growing number of investors to look to other domestic markets as sources of more affordable deals, namely, Osaka, Nagoya and Fukuoka. While, price inflation in Osaka served to compress yields causing the market to overheat to almost Tokyo proportions, Osaka managed to outshine Tokyo with its office and hotel market, easily accessible 24 hour airport and the city's far more affordable cost of living. At under 3%, 2019 saw office vacancies in Osaka at the lowest in Asia with signs of oversupply in the hotel sector, leaving some investors seeking opportunities for potentially distressed assets in the area, and likely to last for at least the next two years.
No surprise that Nagoya, one of Japan's main industrial and commercial metropolitan centers conveniently located between Tokyo and Osaka, and soon to be the beneficiary of the newest and fastest bullet train line from Tokyo, did phenomenally well. Overall, 75% occupancies for office properties, and occupancy rates across all property types the highest since 1993. Not to mention, grade A office space at a historical high occupancy of 99.4%! A new supply of commercial properties is expected to hit the market in 2020, making it easier for tenants to secure space in the office sector. A large development is already underway in Nagoya's Meieki area. Plus, railroad company Meitetsu plans to build a 30-storey mixed-use building directly south of Nagoya Station and will double the size of Meitetsu Nagoya Station in time for the Linear Chuo Shinkansen bullet train's opening in 2027. The new maglev line will run at a maximum speed of 505km/h and eventually connect Tokyo with Nagoya and Osaka in 40 minutes and 67 minutes, respectively, thereby forming a gigantic commuter belt with 70 million residents.
Another reason for the capital push to Osaka as well as Yokohama, Fukuoka and Nagoya is the belief that Tokyo condo prices are approaching their last pre-bubble peak of 1991 and therefore, further price hikes are highly unlikely. Japan's Real Estate Institute (JREI) forecasts only slight price hikes on condominiums until 2020, mainly cooperative housing (condominiums) of no less than three stories with reinforced concrete, steel-reinforced concrete and steel frame apartment buildings. Overall, the property market remained strong in 2019 with historically tight market conditions expected to continue for occupiers, developers and investors, despite some uptick in Tokyo's net supply towards 2020.
The general notion among global investors these days seems to be that Osaka, Nagoya and Fukuoka, which were previously considered "second tier" markets – meaning, provided higher yields but lower liquidity and a relatively small selection of deals – have now established themselves as extremely viable markets, for both residential and commercial deals of all sizes. These locations are secondary only to Tokyo and Yokohama, Japan's two largest cities, where both prices and yields have long been less than satisfactory for deal hunters – and Osaka is fast becoming similarly over-priced. This notion is also reflected in bank lending criteria for non-resident foreign investors, previously limited to only Tokyo, Yokohama and Osaka – but now extended to Kyoto, Nagoya and Fukuoka in many cases. And, considering the fact that all of these cities offer yields that are generally higher by at least 1% to 2%, when compared with Tokyo, Yokohama and Osaka - the decision to purchase in those cities, even for the most risk-averse investor, is virtually a given.
The quest for demographic overhaul
It is no secret that Japan's gross domestic product (GDP) growth has rarely reached 2% in the past five years, and the country has one of the worst demographic outlooks of any nation in the world. Japan's declining population, is its biggest long-term problem. The estimated number of people aged 65 or older in Japan stood at 35.88 million in 2019, accounting for 28.4% of the nation's total population, with both figures hitting record highs, according to an internal affairs ministry survey. The share of the elderly population was the highest among 201 countries and regions in the world. The elderly population increased 320,000 from a year earlier. Elderly men totaled 15.60 million, up 150,000, while the number of elderly women increased 170,000 to 20.28 million. According to the National Institute of Population and Social Security Research, the elderly population is expected to account for 30% of the total population in 2025 and 35.3 % in 2040, when the second baby boomers, who were born in 1971-1974, will be 65 or older. The number of people aged 70 or older stood at a record 27.15 million, as the first baby boomer generation, born in 1947 to 1949, reached that age. Japan finds itself in a desperate state of having to tackle social security system reform and labor shortages.
The economic outlook for younger Japanese depends on how well Prime Minister Shinzo Abe and future governments deal with one of the biggest natural demographic collapses in human history. Japan's population plummeted by 448,000 in 2018, and found itself dipping below 100 million in 2019. One resolve is the quiet overhaul of Japan's once tightly controlled visa policy protecting the traditional society. The country opened its doors to an influx of workers from China, Vietnam, and the Philippines, resulting in a doubling of foreign workers in Japan, to 1.5 million, over the last five years. While still relatively low by global standards, Japan is closing the gap with more than 3 million overseas workers from the U.K. and Germany. Beginning in April, Japan will for the first time start issuing visas for unskilled guest workers in the hope of attracting more than 345,000 additional overseas workers by 2024, although it will take deeper automation and immigration to boost Japanese productivity figures.
In real estate arena, institutions for the elderly have been gaining traction providing nursing care services such as bathing, meals, and other day to day long-term accommodation services. Gearing up to accept more foreign workers under new visas launched in 2019, Japan held its first qualifying exam for applicants focusing on the knowledge and skills required to work in the country's hotel industry and nursing care. Japan created new visas to bring more foreign workers into the country. The step marked a major policy shift from the nation's traditionally strict immigration rules. Over the next five years, the government expects up to 345,150 foreign migrant workers to acquire a newly created resident status called Specified Skilled Worker No. 1 for work in 14 labor-hungry sectors including accommodation, nursing care, construction and farming. The visa will enable foreigners to stay for up to five years.
Japan transforms traditional retail to trendy logistics
Also moving away from tradition in 2019 is the retail sector. As a direct result of the e-commerce boom, retail found itself suffering as major brands focused primarily on the very top locations nation-wide, making investments in the less central shopping and retail centers riskier. Average prime retail rents in Tokyo, Osaka, and Nagoya remained unchanged for 16, 12, and six quarters respectively, according to CBRE research. In Tokyo, domestic trading companies aggressively pick up whatever they can, therefore opportunities are not readily available and rents have been trending lower as a result. Furthermore, October's consumption tax hike from 8% to 10% is forecasted to hit the retail market hard.
Meanwhile, as projected, the e-commerce market has continued to explode throughout the country, as it has around the world – a trend of large scale distribution and shipping centers located in the outskirts of the city, moving to central city build-to-suit smaller facilities. In this sector, an economic downturn, or even a mild recession isn't likely to dampen growth significantly, considering the demand of online services provided to consumers. For this reason, investment in logistics facilities is considered to be a far more reliable, stable investment for many years to come, in comparison with traditional bricks and mortar retail. The appeal is to the point where developers are now more than happy to build such facilities even without pre-commitments or leases from potential tenants.
Data Centers emerge as favored niche sector
Driven by the growing appetite for data by cloud computing providers and the impending advent of 5G mobile technology, data centers are currently a favored niche sector, according to PWC/ULI's annual survey. Data centers are an affordable market for smaller scale commercial investors, as the sites are both affordable and generally not very big physically or too centrally located, which also makes them more affordable. South Korea, Japan, and Australia are the first Asia Pacific nations to begin the rollout of 5G services and, alongside Singapore, are the prime targets for investors in the sector.
5G will also impact property markets on a larger scale, as the sector focuses on greater efficiencies and customer convenience. Upcoming smart buildings will reduce costs and collect occupancy-related data to help boost efficiency. Retail landlords will have the ability to use customer loyalty apps, which can be used for parking or ordering food, while larger office investors in the region are experimenting with apps allowing tenants to book facilities and services. Apps can also be used, in tandem with sensors, to control or monitor different aspects of building functionality, including air-conditioning, heating, lighting, security, building performance, and eventually transmit data required for efficient processing of traffic, waste, water, and power.
Changing work culture opens the rural property market
Also transforming is Japan's traditional work culture to one with start-ups – a culture of work-life balance with a need for affordable shared office space, a growing market for diversified investment portfolios. Abandoned homes across the country, more than 8 million as of 2019, mostly in rural areas, are providing a solution. Some investors are converting C grade buildings in rural locations into B grade buildings – for instance, shoddy old hotels converted into co-living share houses near university campuses, as well as co-working office spaces, shortening commute times and thereby providing better work-life balance.
As appealing as the Japanese property market is, the widespread use of Japanese language for rental data and contracts, poses a barrier to entry in the greater, nation-wide property market. For this reason, aside from international hot-spots such as Tokyo, Osaka and Niseko – where yields are becoming uncomfortably compressed due to intense demand and price hikes - it is unlikely that Japan will be able to compete with other global destinations such as the USA, UK or Australian, for independent, small-scale investing - until information used for investment decision making, as well as ongoing communications with professionals on the ground is made accessible in English. Through the services of buyers' agencies & proxy portfolio managers, however – and considering the fully documented, legal-recourse entrenched business climate - the Japanese property market continues to be the prime choice for non-speculative, high-yield-rental-income oriented investors worldwide. Given there are very few restrictions on foreigners buying property in Japan, coupled with volatility around the world, this thriving property boom is not likely to end anytime soon.
From Nippon Tradings International, proxy & buyers' agency - Co-authored by APAC Manager, Ziv Nakajima-Magen, and Sales and Marketing Manger, Priti Donnelly
(Sources – PWC/ULI - "Emerging Trends in Real-Estate, APAC 2020" – Savills – "Beyond Tokyo 2020", "Mitsui Fudosan", Nippon Tradings International)