Official Average Roadside Land Prices of Tokyo 2016
Poste date: Saturday, July 16, 2016
A continued price increase seen in the 2016 official average roadside land prices of Japan.
On July 1 the National Tax Agency released the average roadside land price in 2016 (as of January 1). The national average price has risen 0.2% from the last year, which is the first rise in the past 8 years since 2008 before the Lehman shock. It shows the price has risen in 14 Prefectures including Tokyo, Osaka, and Aichi, 4 Prefectures more than last year. The average price rise in Tokyo from the last year has marked 2.9% (2.1% last year) resulting in 3 years of consecutive increase in price.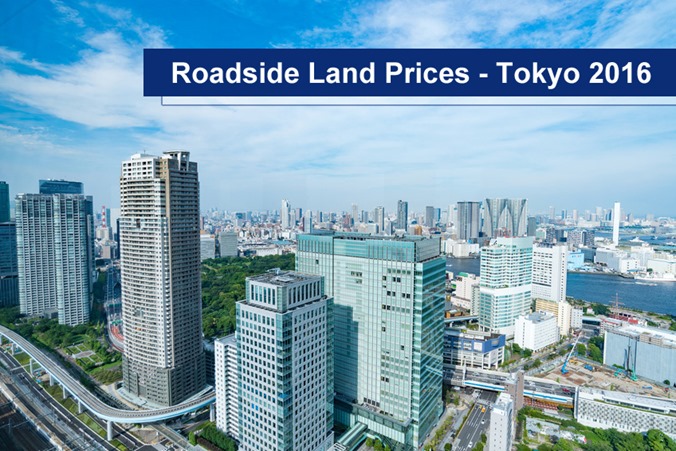 This increase of the national average price in 2016 is proving that the price rise of land has started expanding from the three major metropolitan areas into the regional hub cities. For example in 10 regional cities including Sapporo and Kanazawa, the highest roadside land price in a city has risen more than 10%, and also in Hokkaido, Hiroshima, Fukuoka, and Kumamoto the prefectural average price has started rising this year while these fell or remained flat last year. In Tokyo the highest roadside land price in an area covered by a local tax office has risen at 47 points out of a total 48 points. The price rise rate has increased from last years at 40 points and the points with more than a 5% price rise has increased to 31 points from 20 points last year. Only at one point the price rise has remained flat and the rate fall has shown zero for the past 3 consecutive years. Steady office demand and an increase of foreign visitors have pushed up land prices in Central Tokyo including Ginza and Shinjuku.
The highest roadside value nationwide is 32,000,000Yen per square meter in front of the store "Kyukyodo" on Ginza Chuo-Dori Street in Chuo ward, Tokyo. This has been the highest priced space in Tokyo for 31 consecutive years. The rate of rise in Ginza has marked 18.7% which is the highest rise in Tokyo compared with the previous year. Renovation and redevelopment works are active in Ginza corresponding to increasing foreign visitors. In other areas of Central Tokyo construction of new hotels and luxurious condominiums are on-going actively. The recent trend of companies' returning to the center of Tokyo is supporting steady office demand in Central Tokyo including in Shibuya, Otemachi, and Nihonbashi.
However, a sign of change has started to appear in the recent real estate market in Japan compared with the market situation of the roadside land price as of January 1. Yen has been stronger since the beginning of this year and interest from foreign investors has decreased a bit in the market. Furthermore, there is the concern that the fund inflow from foreign countries will become thinner if confusion caused by the secession of the U.K. from the European Union (EU) will be prolonged. In addition to such increasing uncertainty in the market, many office buildings are scheduled for completion in year 2018-2019, and there will be the concern of oversupply. There is the viewpoint that office rent is reaching close to its peak on one hand, and there is another viewpoint that the demand for luxurious condos are reaching a turning point since the pace of expensive condo sales has slowed since the beginning of this year. Some experts have proclaimed that for a continuous rise of the land price a proper market environment should be created and managed through a planned growth strategy.


Highest Roadside Value in major Tokyo tax office in 2016
(Per square meter per 1000Yen, the rate rise in % shown in parentheses, in order by tax office)
Local tax office
Roadside Name
Roadside Value
1. Kyobashi

5-Chome, Ginza, Chuo-Ward
Ginza Chuo-Dori Street

32,000
(18.7)

2. Kojimachi
2-Chome, Marunouchi, Chiyoda-Ward Daimyoukouji Street

22,500
(7.2)

3. Shinjuku

3-Chome, Shinjuku, Shinjuku-Ward
Shinjuku-Dori Street

21,440
(15.0)

4. Yotsuya

3-Chome, Shinjuku, Shinjuku-Ward
Shinjuku-Dori Street

19,600
(16.7)

5. Shibuya
Udagawa-cho, Shibuya-Ward, Shibuya Station Side Dori Street

18,640
(17.1)

6. Nihonbashi

1-Chome, Yaesu, Chuo-Ward
Sotobori-Dori Street

16,240
(8.0)

7. Shiba

2-Chome, Shimbashi, Minato-Ward
Shimbashi Station West-exit Square Dori Street

10,160
(15.5)

8. Azabu

3-Chome, Kita-Aoyama, Minato-Ward
Aoyama-Dori Street

9,680
(16.3)

9. Toshima
1-Chome, Higashi-Ikebukuro, Toshima-Ward Green-Odori Steet

8,010
(9.0)

10. Ueno

4-Chome, Ueno, Taito-Ward,
Chuo-Dori Street

6,450
(7.5)
(Source: 2016/07/02 NIKKEI Newspaper)
What is Average roadside land price?
Standard price as of January 1 per square meter facing major streets - released by the National Tax Agency. The price is used as a standard for calculating inheritance taxes and gift taxes. The number of locations priced for the Average roadside land price is much more than for the standard land price that is announced by Ministry of Land, Infrastructure, Transport and Tourism, and so the average roadside land price provides a more detailed picture of the real market land prices. It is at around an 80% price level of the standard land price in general and actual business transactions are calculated in the average roadside land price.
Real estate pricing in Japan - 6 different land prices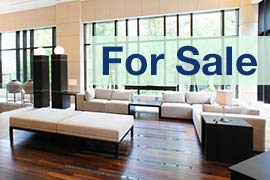 Listings of apartments, condominiums, and houses available for purchase in Tokyo.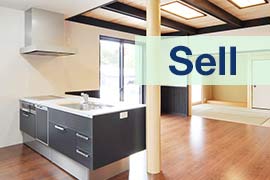 PLAZA HOMES's bilingual real estate experts offer a wealth of local knowledge
on how to effectively sell your property in Japan.