Where to find the best souvenirs in Tokyo
Poste date: Wednesday, January 31, 2018
The good thing is that there are many shops with souvenirs in Tokyo but the large number of souvenir shops make the process actually difficult. We will help you save time and make this easier. Popular items chosen by foreigners include traditional Japanese artwork, Japanese ceramics, Japanese Kimono, T-shirt with Kanji Characters printed on, Japanese traditional paper, Sushi shaped USB, latest electronics, pens with unique functions, Japanese sweets, Kit-Kat chocolate snacks (Japanese limited edition), Plastic food samples, Anime Character goods, etc…
Here we pick out some of the best places to buy souvenirs in Tokyo for going back to visit your family and friends.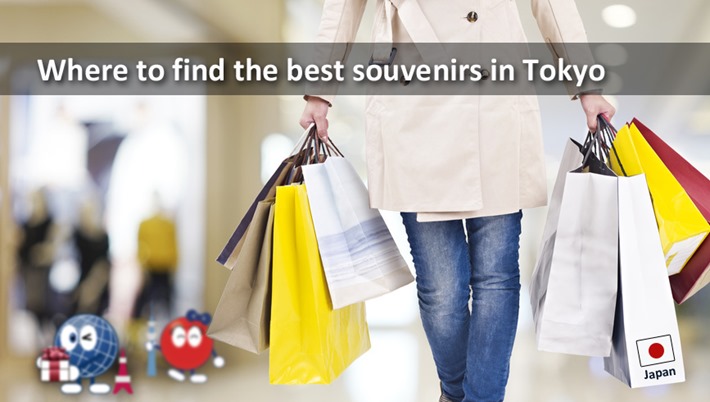 Oriental Bazaar

Oriental Bazaar is the most famous souvenir shop in Tokyo located conveniently in Omotesando. This shop offers the greatest selection of high quality Japanese Traditional goods. English speaking staff are available to assist you with finding the most suitable present for bring back home to your family and friends.
Floor 2: Antiques, furniture, antique kimono, screens, ornaments, flower vases, and lamps
Floor 1: Japanese China, Miscellaneous goods, stationary
Basement: Kimono, Yukata, t-shirts, fancy goods, china ware, books
Popular items: Tenugui (Japanese Handtowel), Japanese post cards, tableware, Washi paper (Traditional Japanese paper), beautiful items made with chirimen, yukata, t-shirts, folding fan, etc…

Address : 9-13-5 Jingumae, Shibuya-ku Tokyo
www.orientalbazaar.co.jp/en/index.html
---
Tokyu Hands

If you are looking for unique souvenirs people can enjoy, Tokyu Hands is where you should go. Popular items include Onsen powder (bath powder which can turn your bathtub into a onsen), Japanese food magnets, Japanese folding fans, Kabuki Facemasks, Kimono shaped bottle covers, train souvenirs and many more!
Popular items: Kabuki face masks, paper crafts, Kimono bottle covers, skincare products, frixion pens, plastic food, decorative phone covers, Japanese fans, train souvenirs, Onsen powder for bath, etc…

There are many Tokyu Hands shops in Tokyo, please access the link below and confirm which store is convenient for you.
www.tokyu-hands.co.jp/en/list/kanto.html
---
Nakamise Avenue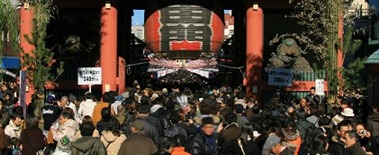 Nakamise is a 250 meter long shopping street that sells traditional snacks and tourist souvenirs. If you are looking for a traditional souvenir, this is the best place.
Popular items: Osenbei (rice crackers), folding fans, yukatas and t-shirts, lanters, masks, dolls, toys, happi coats (short Kimono style coat), etc…

Address : 1 Asakusa, Taito-ku Tokyo
www.gotokyo.org/en/kanko/taito/spot/40928.html
---
Kiddy Land

If you are looking for a place to buy souvenirs for kids, you will find what you need here. Kiddy Land has been in business for about 60 years providing exciting toys to both kids and adults. It is most likely you will find many other foreign tourists searching for interesting souvenirs.
Popular items; LINE Character goods, Rilakkuma goods, Doraemon goods, Character souvenir snacks, HELLO KITTY goods, Totoro Goods, Character socks, etc…

Address : 6-1-9 Jingumae Shibuya-ku Tokyo
www.kiddyland.co.jp/harajuku/
---
Ginza Natsuno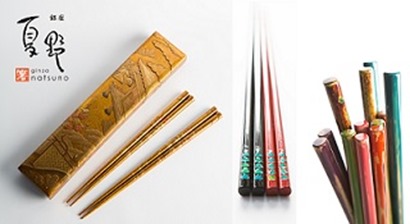 Japan takes great pride in Chopsticks and are often used as gifts to prevent evil spirits in homes. The name for chopsticks is "Hashi" in Japanese. "Hashi" means bridge in Japanese which indicates connecting people. Giving "Hashi" to your precious ones would be an excellent idea. Ginza Natsuno carries 2500 varieties of chopsticks.

Address : 1F 6-7-4 Ginza Chuo-ku Tokyo
https://www.e-ohashi.com/english/
---
Ito-ya

Best place to buy Japanese Stationery. Japanese Stationery is one of the most popular items foreigners get as souvenirs. From advanced high quality pens to "Washi" (Traditional Japanese Paper) you name it. You should check both G.Itoya and K.Itoya right next to each other.
Popular items: Letter papers, postcards, fine design pens and pencils (1,200 types), one-of a kind note-books, travel items, washi (Japanese Traditional paper), Origami paper, Washi tape, etc…

Address : 2-7-15 Ginza Chuo-ku Tokyo
http://www.ito-ya.co.jp/ (Japanese only)
---
Kamawanu

"Tenugui" is the Japanese word for traditional Japanese hand towels. They are enjoyable to collect because the patterns are endlessly different. The texture of the Tenugui is very smooth so there are many ways of use. The history of Tenugui starts from Nara Period (710 – 794)

Address : 23-1 Sarugakucho Shibuya-ku Tokyo
http://www.kamawanu.co.jp/shop/daikanyama.html (Japanese Only)
---
Isshin Do Honpo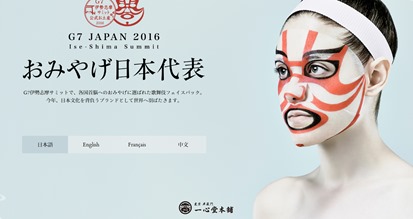 The Kabuki facemask rejuvenates your skin while becoming a Japanese traditional stage performer. People back home will definitely love this product as it is very original.

Kabukiza Kobiki-cho Shop : Address : 4-12-15 Kobiki-cho Hiroba Ginza Chuo-ku Tokyo
(More directly managed stores available)
Also available for purchase at Tokyu Hands stores and Loft.
http://japaneseface.jp/en/
---
Don Quijote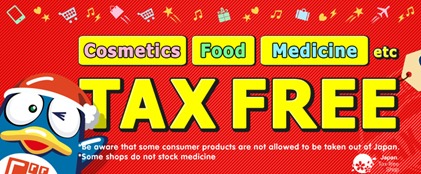 Don Quijote is a lifesaver for all the people who left souvenir shopping for last minute. The stores are open 24 hours. Hot eye masks, face masks, high quality Japanese medications, popular Japanese snacks, fashion items, electronics, Tokyo souvenir items, etc… can be found all in one store.
Popular items: Japanese cosmetic products, Japanese snacks, costumes and masks, Japanese souvenir selection, etc…

There are many Don Quijote shops in Tokyo, please access the link below and confirm which store is convenient for you.
http://www.donki.com/en/store/shop_list.php?pref=13
---
DAISO JAPAN

This is one of the biggest 100 yen chain store in Japan. Many foreigners do their souvenir shopping here. Daiso Harajuku on Takeshita Dori offers an amazing range of products and regardless of who you are buying for, you will find the right souvenir for everyone.
Popular items: Japanese traditional toys, Japanese chopsticks and ceramics, Sake set, Japanese snacks, Japanese traditional coin case, LED lanterns, Instant miso soup, bath soap, Origami paper, Japanese dolls, etc…

There are many Daiso shops in Tokyo, please access the link below and confirm which store is convenient for you.
Daiso Harajuku Store : Village 107 1-19-24 Jingumae Shibuya-ku Tokyo
http://www.daiso-sangyo.co.jp/shop/pref/13 (Japanese Only)
---
Seria

This 100 yen shop is known as the classy 100 yen shop. Things with class usually costs money but not Seria. Seria has an excellent selection Japanese style souvenirs such as Japanese style dishes, colorful disposable Japanese chopsticks, and many more…
Popular item: Mt.Fuji items (socks, mini stands, glass, coasters, masking tape, iPhone case, cute calendars / schedule books, chopsticks holders, etc…

There are many Seria shops in Tokyo, please access the link below and confirm which store is convenient for you.
http://www.seria-group.com/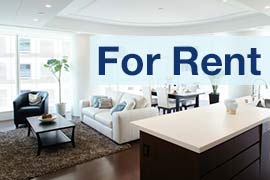 Listings of popular and luxurious rental apartments, condominiums, and houses
designed with expats in mind.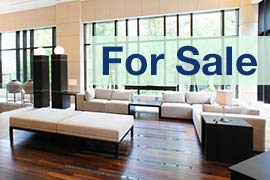 Listings of apartments, condominiums, and houses available for purchase in Tokyo.