The 2021 Japanese Calendar in English
Poste date: Tuesday, October 27, 2020
Track the days of the year with PLAZA HOMES's printable 2021 Japanese calendar in English. For foreigners living in Japan, a calendar showing Japan's national holidays is indispensable tool for everyday life. Finding one in English however, can be a bit difficult. We here at PLAZA HOMES have created a downloadable English calendar for the 2021 year. Each month lists the Japan's 2021 holidays in English making it easier for you to plan ahead.
The pictures for each month are represented with landscapes, cityscapes or nightscapes of various tourist attractions throughout Japan. To add a bit of charm and to represent seasonal changes in Japan, some additional illustrations have been added to the pictures.
Along with the pictures for each month below are a descriptions of each location and along with their name.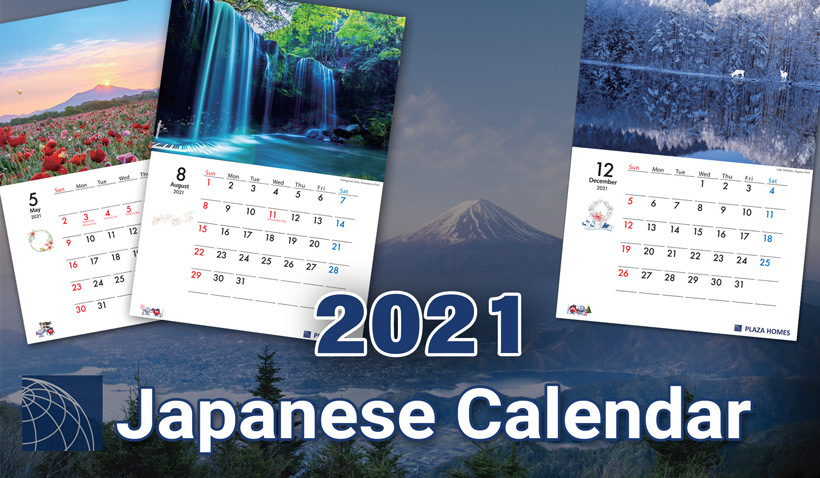 Read here for more information about Japanese Holidays in Japan
Please click the link below the each month to download for a free PDF copy of our calendar.
January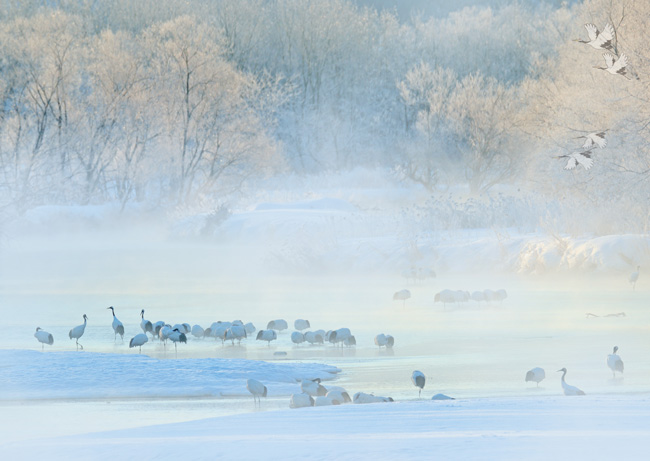 Akan, Hokkaido
Akan, in Kushiro City, is part of the Akan Mashu National Park. The park is famous for Lake Akan and its natural monument Marimo (also known as moss ball). This is one of the most famous tourist destinations in eastern Hokkaido. Tsurui Village, 30km north of Kushiro City, is famous as a habitat for red-crowned cranes ("Tanchozuru" in Japanese) which designated as a special natural treasure. Tsurui-Ito Tancho Sanctuary, in the village, is a paradise for the overwintering cranes. The Akan International Crane Center, in Kamiakan (30km northwest of Kushiro), functions as Tancho no Sato ("Home of red-crowned cranes" in English) and protects the Tanchozuru as well as providing a wealth of information on them.
February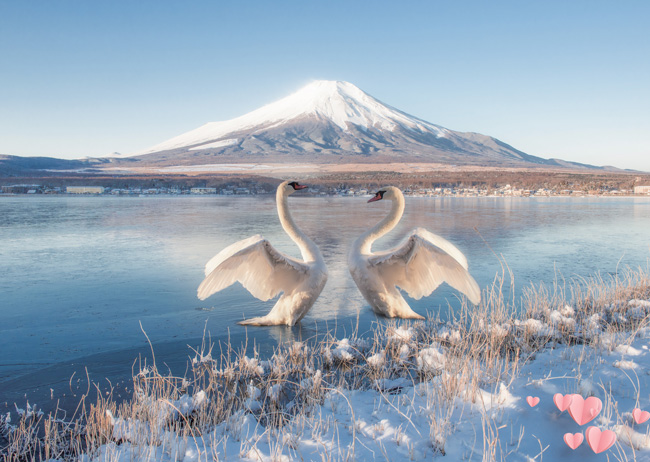 Lake Yamanaka, Yamanashi-Pref.
Lake Yamanaka lies in the central part of the main island of Japan near Mt. Fuji and is one of the Fuji Five Lakes. It belongs to the Fuji-Hakone-Izu National Park and is the largest of the Fuji Five Lakes in terms of surface area and is the highest in terms of elevation. The lake is the habitat of Fujimarimo (known as moss ball), a natural monument, which is said to be the southern limit of the Marimo distribution in Japan and is protected with care. Lake Yamanaka is also known as Swan Lake as whooper swans come over to the lake to pass the winter. The lake is the southernmost place with the highest altitude that swans choose to pass the winter every year.
March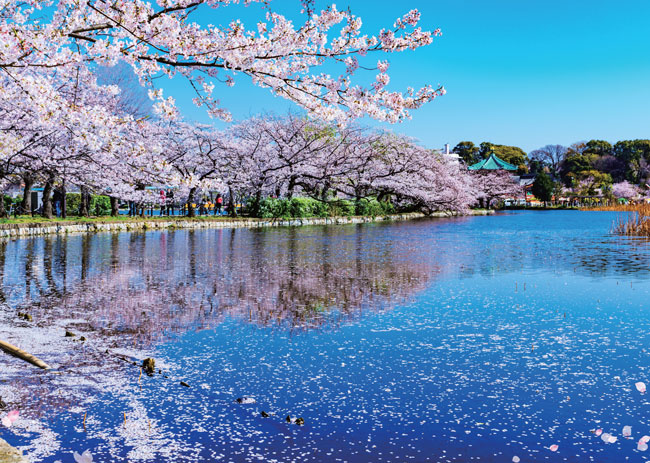 Ueno Park, Tokyo
Ueno Park, the first urban park in Japan, consists of a tableland commonly known as "Ueno Mountain" and a pond named "Shinobazu no ike". The park is a place of relaxation for citizens of Tokyo, with the view and landscape of waterside with lush greenery. Within the park are many cultural facilities such as history museums, art museums, and a zoo where visitors can enjoy high quality culture and art. You can also enjoy watching flowers and leaves change with the seasons, such as the cherry blossoms in spring, lotus in summer, and autumn foliage during fall. Ueno Park has had a historical connection with cherry blossoms during springtime since the Edo period. The park has been a famous spot for Someiyoshino (the most common type of cherry tree in Japan) since the Edo period and was selected as one of the 100 best cherry blossom spots in Japan.
April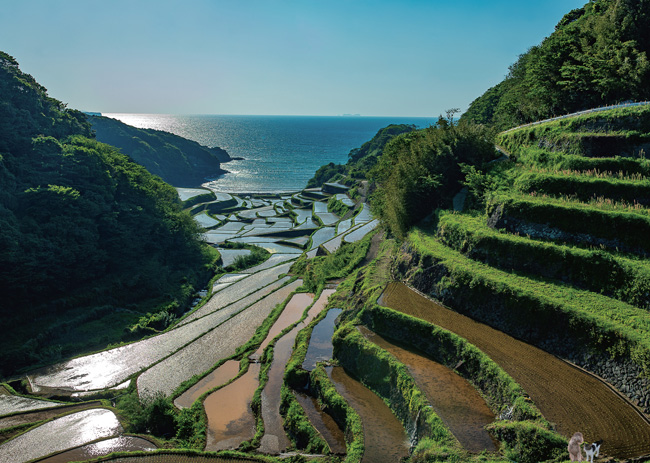 Hamanoura, Saga-Pref.
The Hamanoura area facing a cove (Genkai Town in Saga Prefecture) is covered with a series of terraced rice fields that run up along the slope from the coast line like a staircase. During the rice planting season (mid-April to early May) water placed in the rice fields shines like a mirror. During sunset, there is a stunning must-see view where the rice field's water surfaces and the sea surface are dyed bright orange together. In 1999, the area was selected as one of "Japan's 100 Best Terraced Rice Fields" by the Ministry of Agriculture and Forestry.
May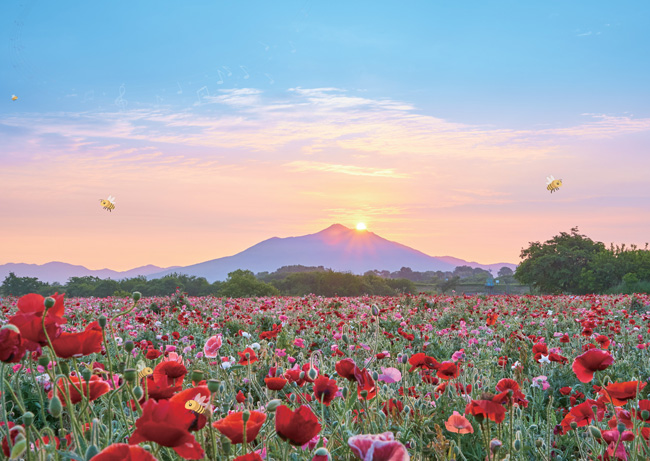 Kokaigawa Fureai Park, Ibaraki-Pref.
"Kogaigawa Fureai Park" in Shimotsuma City, Ibaraki Prefecture, which lies along the first-grade river Kokaigawa River, was developed as a place of relaxation and refreshment for local residents. The park is divided into the seven zones, and each zone aims to promote the interaction between "people and nature". In the Flower Zone, one of the seven zones, about 2 million poppies bloom in May creating a carpet of flowers spreading all over the zone.
June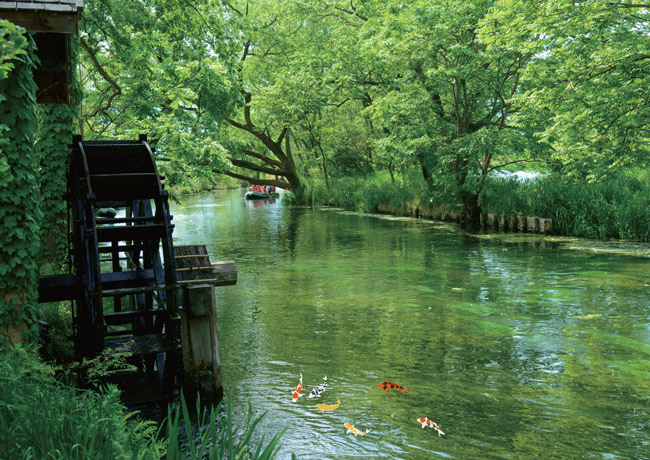 Azumino, Nagano-Pref.
Azumino, a popular tourist destination located in the central part of Nagano Prefecture, is known as one of Japan's leading wasabi production areas that uses abundant water resources. "Daio Wasabi Farm" is one of Japan's largest wasabi farms and is a large-scale tourist spot with restaurants and an experiential learning facility. You can also enjoy an idyllic scene of an old-fashioned wooden water mill with 3 water wheels spinning by the stream of Tade River. The water wheels were constructed for the filming of Akira Kurosawa's "Dreams" in 1989 and have been left standing, becoming a part of Azumino's old familiar scenery.
July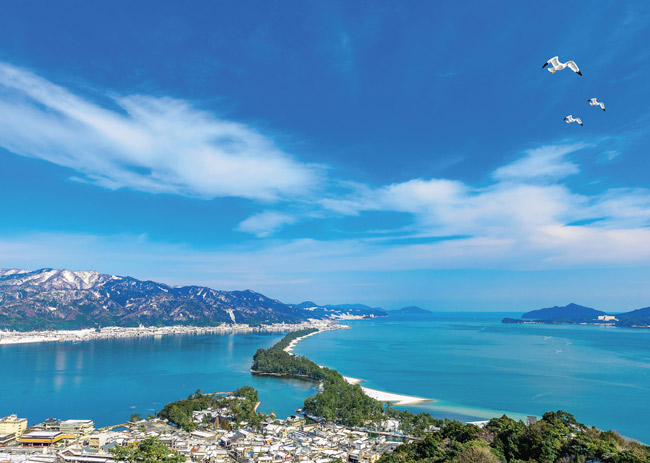 Amanohashidate, Kyoto-Pref.
Amanohashidate, located in Miyazu Bay in the northern part of Kyoto Prefecture. This is one of Japan's Three Most Famous Views, along with Matsushima (in Miyagi Pref.) and Miyajima (in Hiroshima Pref.). With the width of about 20 to 170m and the total length of about 3.6km, this is one of the best tourist spots in Kyoto Prefecture. Many tourists visit to catch a glimpse of the mysterious shape created by nature over thousands of years.
August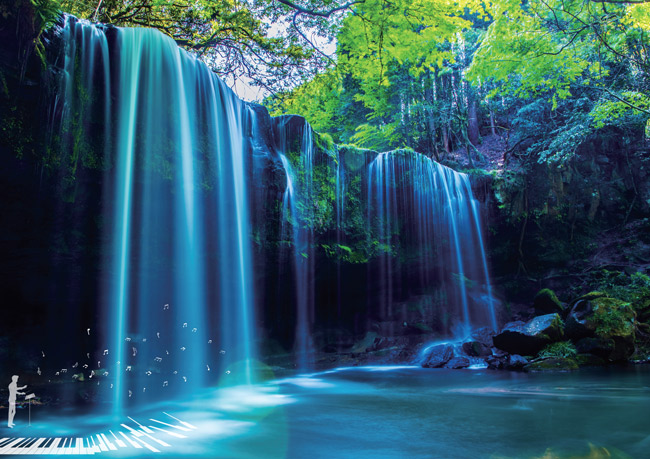 Nabegataki Park, Kumamoto-Pref.
Nabegataki Falls, in Oguni-cho, Kumamoto prefecture, became a popular tourist spot after appearing in a TV commercial. With a height of 10m and a width of 20m, water flows down the waterfall like a silk curtain. A feature of the waterfall is a cave located behind it where you can view green leaves appearing through the flowing water while rays of sunlight shine through the trees. The waterfall was formed due to a huge eruption occurring around 90,000 years ago that created Aso Caldera. The waterfall is said to have been shaped over the centuries due to erosion.
September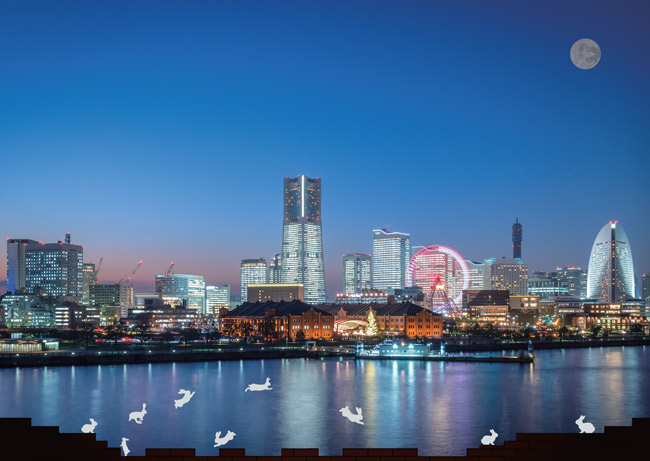 Yokohama, Kanagawa-Pref.
"Yokohama Minato Mirai 21", a popular night viewing spot in Yokohama, is an area facing Yokohama Port. This area was ranked as one of the 100 Best Townscapes as it includes Yokohama Landmark Tower, Yokohama Red Brick Warehouse, and Yokohama Cosmo World. Pictured here is the night view from Osanbashi Yokohama International Passenger Terminal. From the roof-top wooden deck, you can take in the night scenery around Minato Mirai 21.
October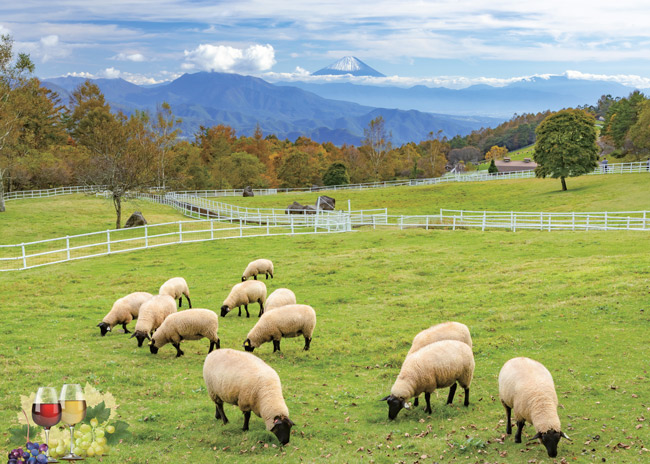 Makiba Park, Kiyosato Highland, Yamanashi-Pref.
Kiyosato Highlands, at the southern foot of Yatsugatake, is a popular highland resort. Makiba Park in Hokuto City, Yamanashi Prefecture, is a prefectural park with many areas for people interact with animals in nature along a vast green meadow. Visitors can enjoy interacting with sheep, goats, and a variety of other animals in various petting zoo zones named after "Makiba" (ranch land in Japanese), and also enjoy the idyllic landscape while strolling along the walking trail.
November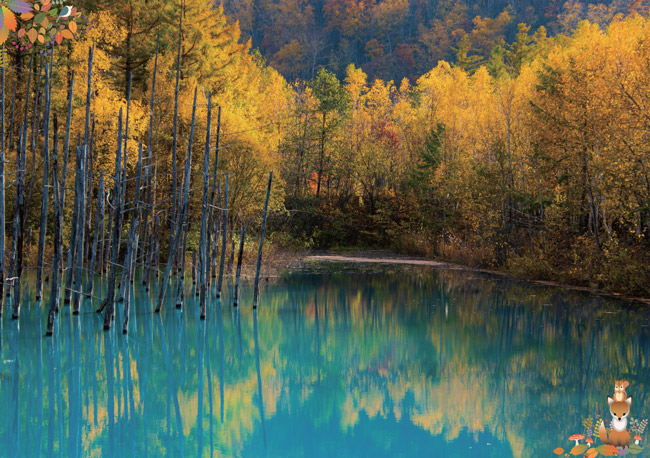 Bieicho, Hokkaido
Blue Pond is a man-made pond in Shirogane, Biei-cho, Kamikawa-gun, Hokkaido. The pond and the scenic beauty were incidentally created when a dam was erected to protect the region from mudflows that might occur from the nearby volcano on Mt. Tokachi. It is named after its deep blue color which is due to natural minerals dissolved in the water. During autumn, the red and yellow leaves of waterside trees are reflected on the surface of the pond water along with blue from the sky and the emerald green of the water. With the white dead trees standing in the pond, a vivid contrast of colors is created in the reflections of the pond's surface.
December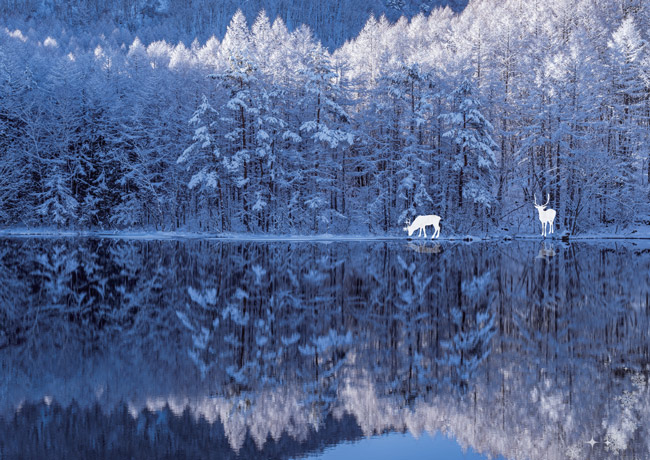 Lake Mishaka, Nagano-Pref.
This pond is located in Toyohira, Chino City, Nagano Prefecture. Many people visit the pond for the mysterious and fantastic view of trees reflecting on the surface of the water. It became well-known due to the work of Japanese painter Kaii Higashiyama's 1972 painting, "Midori Hibiku" ("The Green Echoes" in Japanese ). The painting gained attention when it was used in TV commercial in 2008. The pond was also selected by Japan's Ministry of Agriculture, Forestry and Fisheries in 2010 as one of the top 100 ponds in Japan. When the pond, reflecting the scenery of the four seasons on the water surface, enters snow season, you can enjoy the view of beautiful white rime ice covered trees and bright blue skies reflecting together on a mirror of water.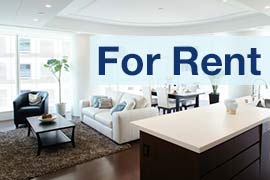 Listings of popular and luxurious rental apartments, condominiums, and houses designed with expats in mind.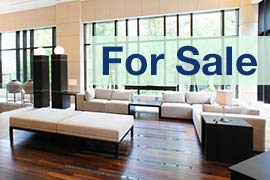 Listings of apartments, condominiums, and houses available for purchase in Tokyo.