Japan Post Office Tips: Finding your Way
Poste date: Tuesday, April 2, 2019
Have you ever needed to mail something or pick up a package while living in Japan? Like in most of the rest of the world, Japan has an efficient postal system with 24,000 post offices scattered all over the country to meet mailing needs. The Japanese Postal System also offers a number of financial services, some of which are exceedingly convenient to visitors from abroad.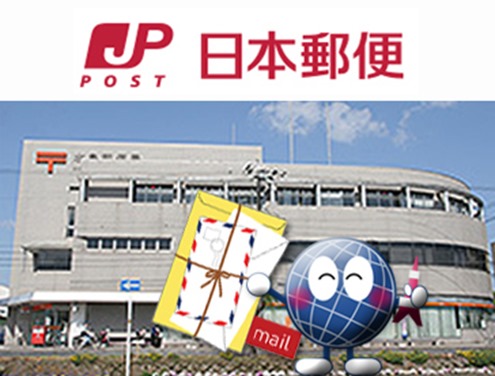 Finding a Post Office (or postal box)

Finding a post office is easy. Just look for the below symbol to identify a post office. They are always displayed in visible locations on the exterior of any post office. They also mark postal boxes where letters with appropriate stamps can be dropped off.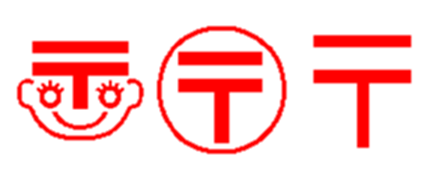 If you ever need to find a post office and don't see the above symbol anywhere, you can always ask a friendly passerby or a police officer. Just say: "Yubinkyoku ha dochira desu ka?" (Yubinkyoku means Post Office). They will certainly be able to point you in the right direction.
Services offered by the Post Office
The postal system offers numerous services that are useful to both Japanese and non-Japanese alike. 


Postal Services
● Domestic Mailing – Like anywhere in the world, standard domestic mailing is the core function of the post office.
   Letters, packages, and parcels can be sent via several classes of mail, most notably standard or express to any
   address in the country.
● International Mailing – Letters can be sent internationally to any country in the world.
    o Rates for letters sent by airmail to other counties range from 90-230 yen for standard sized envelopes going
      anywhere in the world.
● EMS Japan – Express Mail Service is an insured international parcel mailing service that allows delivery of
   packages and parcels to any location on earth. It uses computerized tracking to keep you updated on the status
   of your package through the shipping process.
    o Rates for EMS are fairly reasonable and start at 900 yen for the smallest packages going to somewhere in
       Asia and up to nearly 70,000 yen for 30 kilograms going to South America or Africa.
 
Financial Services
● Savings Accounts – The Japan Post Bank offers standard savings accounts to any resident of Japan.
   Foreigners can open and use Postal Savings accounts as long as they can show a residency card.
● ATM – One of the most useful services offered by the Japanese postal service are 24 hour ATMs at nearly every
   location that accept most international debit and credit cards. English language menus are offered on the ATMs
   so they are very accessible. 
Temporary Luggage Storage Service

Japan Post offers "Temporary Luggage Storage Service". They can keep your shopping bags, clothes, musical instruments and luggage so that you don't have to look for a coin locker any more! This service is available in Tokyo, Kanagawa and Kyoto. Go to the link above to find more details.


A Delivery Notice (if you missed your parcel / registered mail)
If you miss a parcel or registered letter delivered by the Post Office, you fill find a Delivery Notice (see the image below). You can find the tracking number on the note.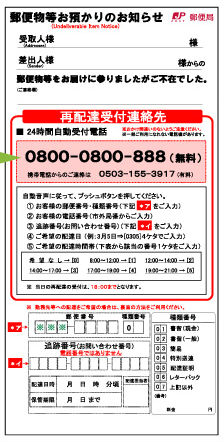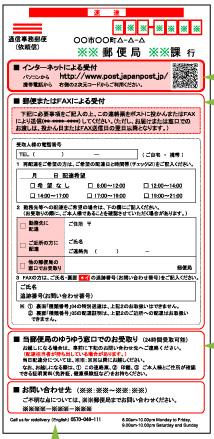 Please call the number below to request a redelivery.
You can choose the date and hours that you would like them to redeliver.
TEL: 0570 – 046 -111 (English)
Monday - Friday:   8:00 - 21:00
Saturday - Sunday: 9:00 - 21:00
If you can read Japanese, you can also request a redelivery via Internet.
Japanese Address Format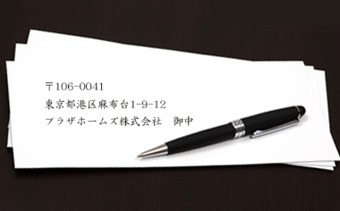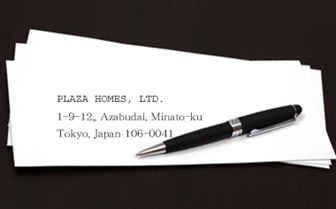 The Japanese Address System is not organized based on street name and number and houses, and buildings are not in any sort of numerically increasing order. In fact, it can seem quite random and makes finding a particular location quite challenging if you're not familiar with the area or don't have a map. That said, here's how it works.
For our example, we'll take the American embassy in Tokyo. It appears as below:

〒107-8420  東京都港区 赤坂1丁目10-5

In roman character's that's:
107-8420 Tokyo-to, Minato-ku, Akasaka 1 Chome 10-5.
Sometimes you will see it written simply as "Minato-ku, Akasaka 1-10-5."
Please remember that Japanese addresses are written from largest locational unit to smallest.
In our example it goes:
● 107-8420 Tokyo-to – this is the postal code and the prefectural level address, in this case - Tokyo

● Minato-ku – this is a municipality level address, in this case – Minato Ward in Tokyo
● Akasaka – this is the lowest level of regional address, typically referring to a district or sub-district.
   There may be multiple levels of this in a given address.

● 1-10-5 – This is the individual numeric level address, starting with the "chome" or district, and then the individual
   block and building numbers. Be warned that these block and building numbers do not follow a logically increasing
   order in most cases.
Note: If the address is written in English, typically, the order is reversed so the smallest unit comes first. To use our example, it would be: 1-10-5 Akasaka, Minatu-ku, Tokyo-to 107-8420.
Japanese Post Office Location


If you live in the Hiroo or Roppongi areas, there are a number of post offices nearby.
Closest to Hiroo Station:
● The Minamiazabugo Post Office located at 5-16-10 Minamiazabu, Minato-ku

If you live close to Roppongi, you have a couple of more options:
● Roppongi Hills Post Office – 6-10-1 Roppongi, Minato-ku
● Tokyo Midtown Post Office –Tokyo Midtown 9-7-1 Akasaka, Minato-ku
● Nishi Azabu Post Office – 1-8-11 Nishiazabu, Minato-ku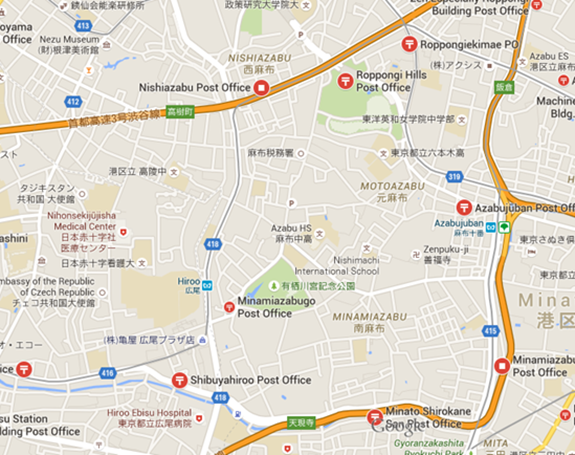 Going to the Post Office

While it seems like going to a post office in Japan might be intimidating, the good news is that they are relatively accessible to the non-Japanese speaker. Almost all of the forms and instructions at the post office have English as well as Japanese versions and there should be English labels indicating the services provided at each counter.
Also, note that service at the post office is based on a ticket/number system where you take a ticket and then go to the counter when your number is displayed. Be sure you take the ticket for the correct counter where you need service (stamps, parcel pick-up, etc.).
Mail Forwarding

If you are moving within Japan or moving outside of the country, you can contact the post office to have your mail forwarded to your new address. They will forward your mail within Japan for up to one year. If you are moving outside of Japan, please arrange to have your mail forwarded to a friend living in Japan or else, where possible, to your human resources department at your employer, who can then forward on to you as appropriate. 
In order to have your mail forwarded, you need to fill out the Mail Forwarding form that you can pick up at any post office. Please see the picture below for guidance on filling out the form.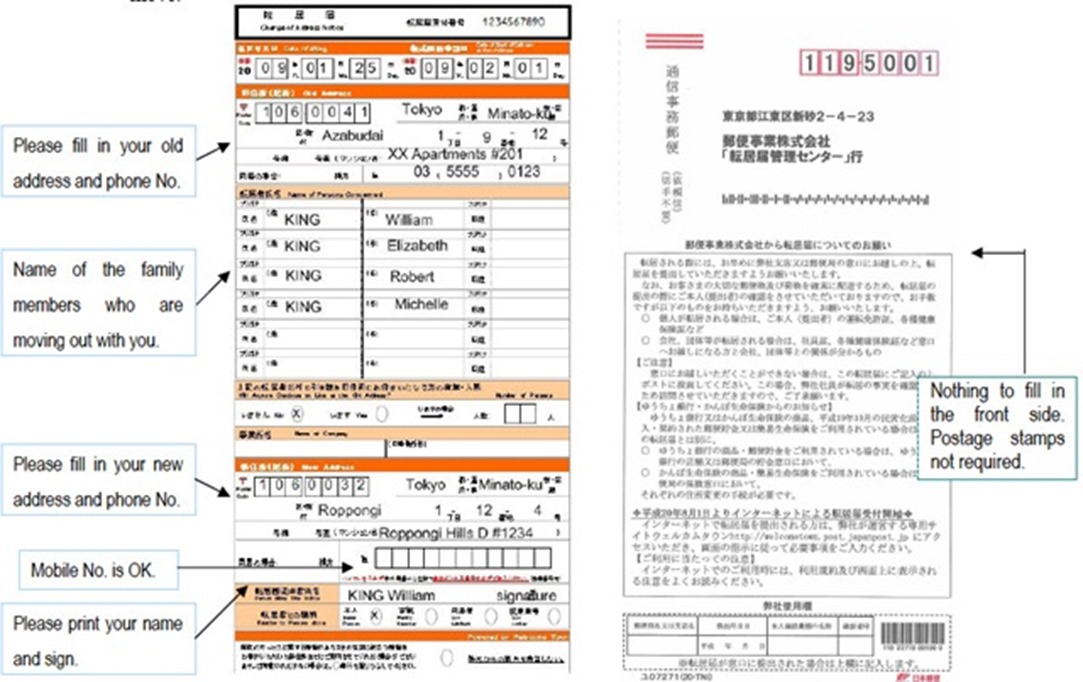 You can either submit this form at the post office or else drop it in any post office box around town.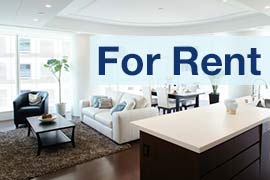 Listings of popular and luxurious rental apartments, condominiums, and houses
designed with expats in mind.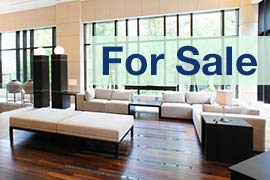 Listings of apartments, condominiums, and houses available for purchase in Tokyo.