Mail Forwarding in Japan: Domestic and International Options
Poste date: Friday, April 22, 2022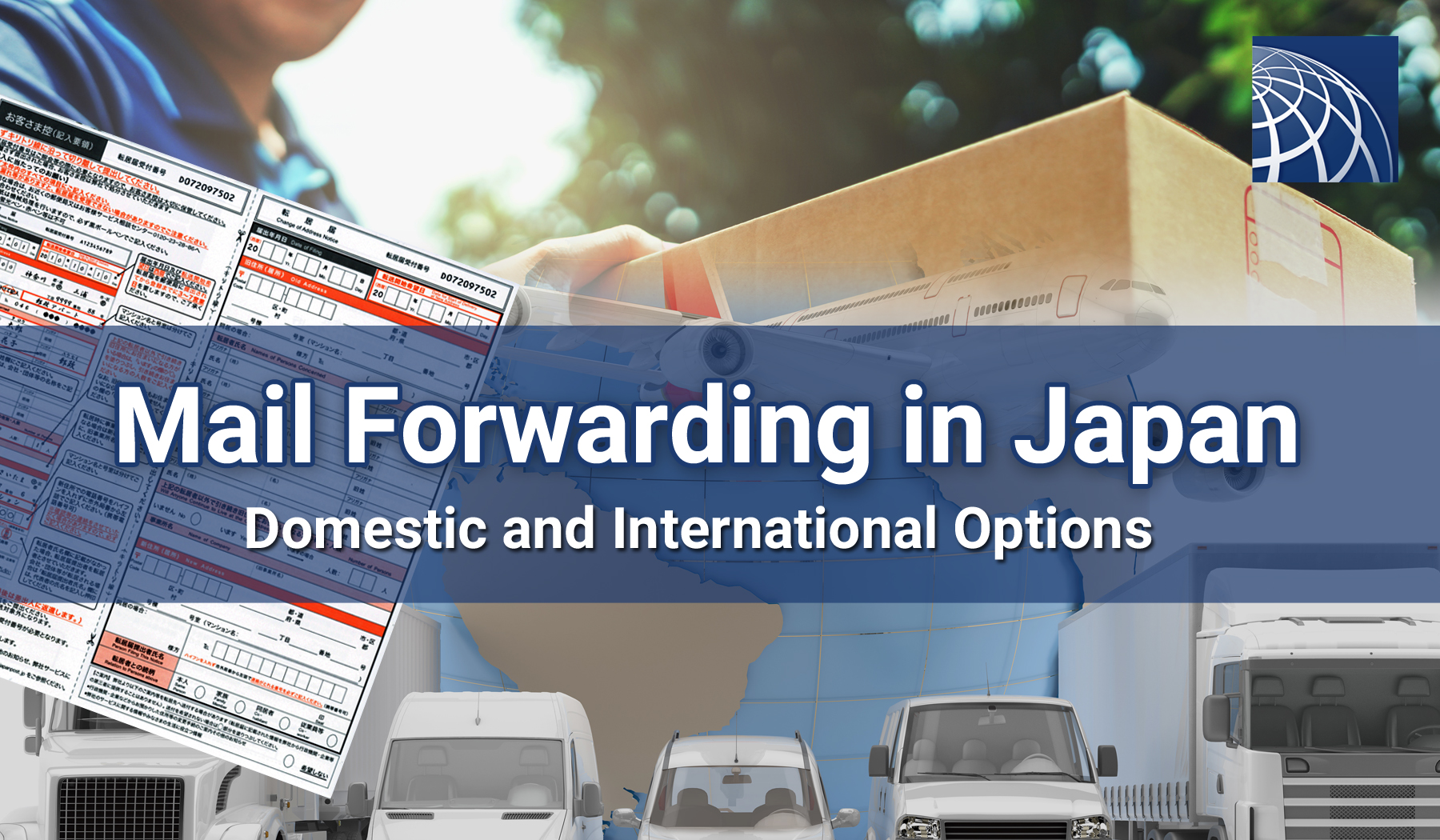 Whether you're moving to Japan, leaving Japan, or taking an extended vacation, you still need to make sure that you will have access to your mail. There are many considerations for expats living in Japan depending on the situation and length of time that you'll be away from home. Below is essential information on how you can guarantee that you will always receive your mail when you need it.
Domestic Mail Forwarding within Japan

Japan Post will redirect your mail to another Japanese address for up to one year; it is important to note that they will not forward to an overseas address. Also, if you plan to be away from your Japan residence for less than 30 days, another option is to have Japan Post hold your mail.
Visiting Japan Post in Person
In order to use this free service, you can go to any post office, and fill out a simple change of address form called a tenkyo todoke. When you go, it is important to take the following documents with you.
Identification: This includes your residence card, health insurance card, or driver's license/passport
Confirmation of your former address: This includes a bill or bank statement with your name and your previous address
Once you have proven your residence to the post office clerk and filled out this form, you have the option to either submit in person, or drop it into your nearest red postal box. If you decide to mail the form in, Japan Post asks that you allow enough time for a representative of the post office to come and confirm your identity.
The tenkyo todoke form is divided into two sides — the left side helps you fill out the form and is for you to keep, while the right side is what needs to be submitted to the post office. If you choose to mail it in rather than submit it in person, simply tear the right side off and drop it in the box — there is no need for a stamp. Below is an example of how to fill out the form.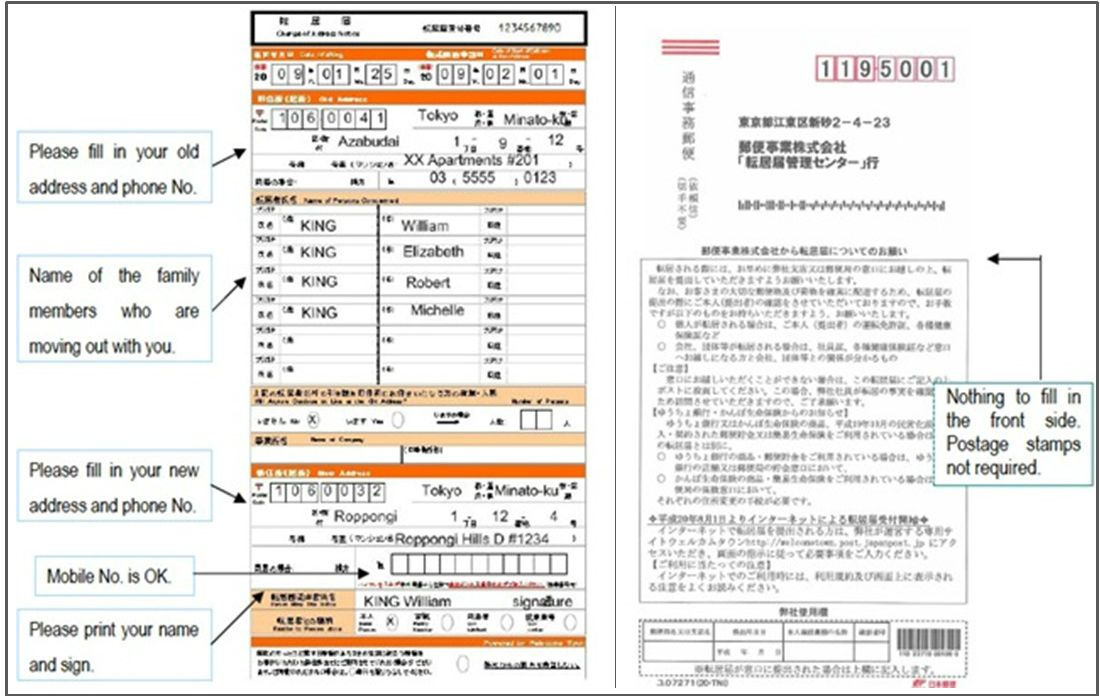 Submitting Your Request on Japan Post's Website
The e-tenkyo has become more popular over the last few years for its ease of use — all it takes is an email address and a mobile phone. However, this service is currently only available on Japan Post's website in Japanese, so it is not recommended for those who are unable to read or write Japanese.
If the e-tenkyo sounds like the best option for you, you will need to enter your address and name in Japanese. In addition, make sure you have a Japanese phone number that is able to make regular phone calls and be able to follow the automated Japanese instructions.
International Mail Forwarding from Japan
While Japan Post makes domestic mail forwarding easy, they will not be able to help you if you want to forward your Japanese mail overseas. Private Japanese companies have stepped in to offer international mail forwarding services from Japan to a number of other countries.
Dankebox
Website: https://en.dankebox.com/
By far the most expat-friendly service available in Japan, Dankebox provides full English-language customer support along with a variety of mail forwarding services. Signup is currently free, though there is a monthly fee along with additional costs for shipping and handling of each package that you choose to send.
This service is particularly ideal for any expat who will be:
Traveling outside of Japan for less than 30 days but needs sensitive documents forwarded to a temporary international address
Traveling outside of Japan for more than 30 days, since Japan post will not hold your mail for longer than that period of time
Permanently moving out of Japan and would like to continue receiving mail without notifying the sender of change of address.
If you would like to shop around for services similar to Dankebox, you will be limited to companies with Japanese-only websites like J-address.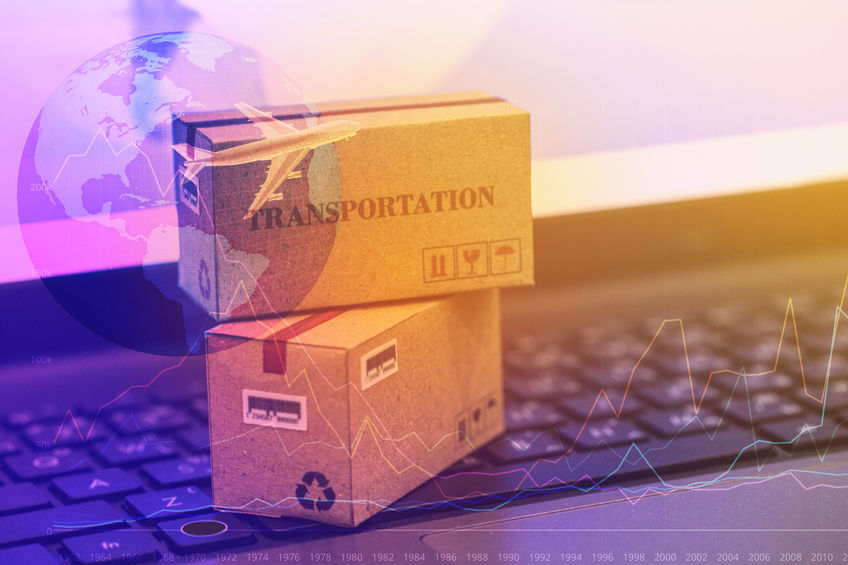 International Mail Forwarding to Japan
Forwarding mail from your respective country to Japan can be a bit trickier, and generally depends on where you live. For your convenience, we've compiled a select list of companies who will send mail and parcels from Western countries to Japan.
Traveling MailBox
Traveling MailBox's core service is mail forwarding registered from an official street address; however they also have a few additional services such as free junk mail shredding, mail scanning upon request, and digital integration with tools like Google Drive, Dropbox, Evernote. They will also deposit checks on your behalf by writing "for deposit only" on the back and mailing it to your preferred bank.
UK Postbox
UK Postbox offers mail forwarding services registered either through a free PO Box address or a paid street address that can help suggest your elite status as a business or executive. They offer all of the standard services including proxy banking, shredding unwanted mail, and parcel forwarding that lets you buy from local U.K. shops and ship the package to your preferred address. All of this can be managed on the company's mobile app available on Apple's app store.
Private Box
If you are traveling from New Zealand to Japan, there are few options available in terms of international mail forwarding; however, Private Box is a popular choice. All standard mail forwarding services are included as well as a discount for New Zealand Motor Caravan Association (NZMCA) members.
BPM-Lux
Website: https://bpm-lux.com/en/home.html
Countries of Operation: Australia, Belgium, Canada, France, Germany, Italy, Luxembourg, Spain, United Kingdom, United States
BPM-Lux is Europe's leader in mail forwarding, having even branched out into North America and Australia. While their primary service deals with shipping European parcels internationally, they also offer services for securely creating digital copies of your mail as well as storing and shredding it upon request.
Other Considerations When Moving to or from Japan
Making sure your mail gets to you is just one of many points to consider while planning your move to or from Japan. Below are several more guides that may be of assistance in your research.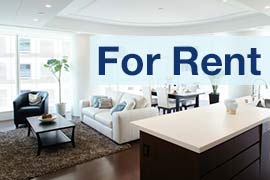 Listings of popular and luxurious rental apartments, condominiums, and houses
designed with expats in mind.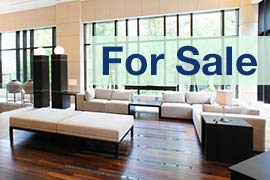 Listings of apartments, condominiums, and houses available for purchase in Tokyo.