OYADO MATSUGAYA
ID : I0038231 - New Building in Matsugaya, Tokyo
It is a vacation-rental style Inn located within an 8 min walk from Tsukuba Express Line Asakusa Station. It is near the Asakusa Senso-ji Temple and shops in Kappabashi that are popular among foreign tourists! Hotel with vacation-rental style units (includes a kitchen, furniture, and appliances) can differentiate its service and convenience from competitor hotels. Hotel use can expect improved yields and maximize profits more easily than residence use. Combined with management by an Experienced Agent Company provides easy hotel management without any extra labor, such as when you're handling a residence property for investment.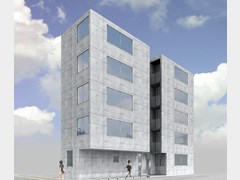 Price
JPY250,000,000.-
Address
4, Matsugaya, Taito-ku, Tokyo
Station
Hibiya Line, Iriya Station : 5 min.-walk
Tsukuba-Express Line, Asakusa Station : 8 min.-walk
JR Yamanote Line, Uguisudani Station : 12 min.-walk
Details information
Gross Annual Income at Full Occupancy
JPY43,740,000.-/year
Earning Rate at Full Occupancy
17.5%
Gross Land Size
92.23 sq.m. / 992.39 sq.ft.
Gross Floor Size
297.00 sq.m. / 3,195.72 sq.ft.
Structure / Scale
RC / 5 floors above
Completion
December, 2017
Space Utility
(Occupancy Rate)
Residence (0/9):Total (0/9)
Use Zoning
Commercial Zone
Bldg-to-land Ratio
80%
Floor-to-land Ratio
500%
Status of Boundary
West side lot line touches 11.00M-width Public Way
Ownership Type
Ownership
Status
Never occupied
Note
GOI: 17.50% NOI: 6.80% (at Occupancy Rate:75%)
Please feel free to contact us.
Our Most Reliable Realtors will provide professional services for both buyers and sellers.
OPEN EVERYDAY Mon. - Sat. 9:00am - 8:00pm Sun. & Holidays 9:00am - 6:00pm(JST)