Minami-aoyama Designer House
ID : H0014553 - House in Minami-aoyama, Tokyo
Architect Designed House in Minami Aoyama,features include multi use basement area ,roof terrace with views of Roppongi Hills ,Tokyo Tower and Midtown, environment friendly diatomite dirt walls.a 2,8m high ceiling and an octagon shaped staircase. The design incorporates a light well and internal balcony space ,providing ample natural light together with a high degree of security.This house provides a truly outstanding living experience in one of the most prestigious areas of Tokyo,with its proximity to the world class shopping facilities of Omotesando,Harajuku,the famous Meiji Shrine and the open spaces of Yoyogi Park.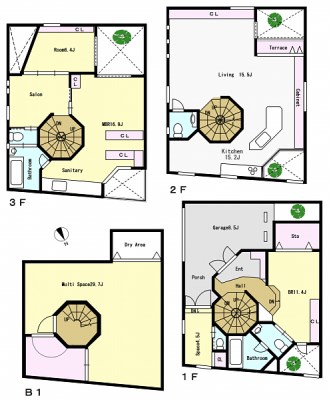 Price

JPY378,000,000

Address
4, Minami-aoyama, Minato-ku, Tokyo
Station
Ginza Line, Gaiemmae Station : 6 min.-walk
Chiyoda Line, Omote-sando Station : 8 min.-walk
Ginza Line, Omote-sando Station : 8 min.-walk
Hanzomon Line, Omote-sando Station : 8 min.-walk
Details information
Gross Annual Income
JPY12,600,000.-/year
Earning Rate
3.33%
Ownership Type
Ownership
Gross Land Size
112.40 sq.m. / 1,209.42 sq.ft.
Use Zoning
Category I Mid/high-rise Oriented Residential Zone
Bldg-to-land Ratio
60%
Floor-to-land Ratio
160%
Status of Boundary
East side lot line touches 4.00M-width Private Way
Structure / Scale
RC / 3 floors above, 1 floor below
Completion
February, 2010
Floor Size
251.78 sq.m. / 2,709.15 sq.ft.
Balcony Size
-
Layout
3BR
Parking
Available
Status
Tenant-occupied
Equipments
BS, CS, IH Cooking Range, Bidet Toilet, Roof Balcony, Washer, Self-drying Bathroom, Refrigerator Available, Washing and Drying Machine, 2 Bathrooms or more, Residential Security, Air-conditioner
Note
Pet acceptable, View of Tokyo Tower
-Fixed term lease contract will expire on November 30, 2018. -Land Area: 112.40sq.m + set back part 13.46sq.m Private road share(567.45sq.mx34/80) -Gross Floor Area includes Parking Area (14.0sq.m) and Basement Area(54.11sq.m)
Article of the property with more photos>>http://allabout.co.jp/gm/gc/373390/
Please feel free to contact us.
Our Most Reliable Realtors will provide professional services for both buyers and sellers.
OPEN EVERYDAY Mon. - Sat. 9:00am - 8:00pm Sun. & Holidays 9:00am - 6:00pm(JST)