Post: Sunday February 19, 2017
When you lease a residence in Japan, typical lease properties with long-term contract do not come with furniture and appliances.
We here provide guidance about how foreign expats can prepare for them as well as its options and precautions depending on your period of stay so that you can spend a comfortable life in Japan like being in your home country.
Deference between European -American furniture and Japanese furniture
As the European and American furniture generally has a bigger size than Japanese one, it does not fit Japanese housings in many cases.
It is possible that the furniture does not pass through the door of the room which you plan to lease in Japan even if you bring it from your country with much effort, or it looks too big for the size of the room even if it could have passed through the room door.
The following options are recommended about furniture for foreigners with long-term stay in Japan.
We recommend you to consider the below options depending on your period of stay or desirable lifestyle.
Bringing furniture from your home country
Although it takes shipping expenses and lengthy period of time to arrival, you can spend everyday life in Japan with your familiar furniture.
When you want to bring large size furniture from your home country, we highly recommend that you check up in advance on the size of each room or the door to pass into the apartment which you plan to rent prior to shipping it to Japan.
During the shipping period of your furniture, you can rent it on short-term bases.
You can also rent a complete set from tableware to bedding as well as furniture and appliances so that you can start a life in Japan immediately.
Attention: Bringing home appliances from your home country is not recommended due to voltage difference.
Leasing furniture during your stay in Japan
You can rent necessary furniture and appliances from a furniture lease company.
Such furniture lease companies carry furniture and appliances suited for European and American lifestyle providing English-speaking services. Many foreign companies use their services for preparing furniture for foreign expats with long-term stay in Japan.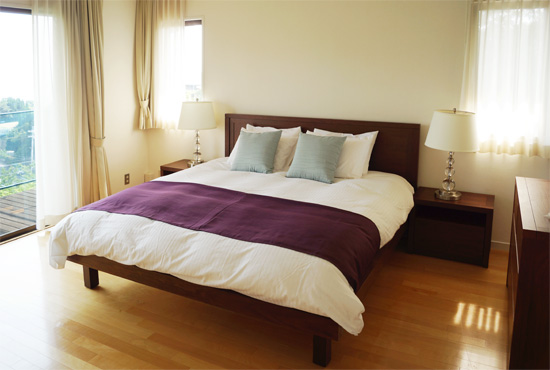 You can prepare for all the necessary items for your life such as a set of furniture, curtains, lightings, appliances, bedding and so on by using their services. They explain how to use appliances in English.
They also accept the leased furniture upon the end of your stay, so you do not have to worry about disposing of it.
Leasing Furniture by Lessor of Rental Housing
The lender of the property rents a set of furniture needed by the tenant, and the tenant rents the property with furniture rental fee included.
Buying furniture in Japan
When you buy furniture in Japan, you will have to sell it upon going back to your home country. When you cannot sell it by the time of leaving Japan, you may have to pay expenses for disposing of it.
So many expats sell their furniture and appliances cheaply upon their leave from Japan.
SAYONARA Sale is such an opportunity which searches a person who wants to buy from a bulletin board among a foreign community or on the Internet.
http://www.sayonarasale.com/
http://classifieds.gaijinpot.com/index/index/search/tag%3Asayonara
For further details about appliances and bedding, please see the guidance for foreigners below.
About Appliances
About difference of voltages, a step-up transformer, precautions upon purchase, etc.
> /news/electronic-appliances-japan/
About Bedding
About purchase and lease of bedding in Japan, size of bedding
> /news/bedding-in-japan/
This entry was posted in Living Information