Post: Tuesday June 9, 2015 Author : plazahomes
The long, cold winter and the ephemeral cherry blossoms are just distant memories. As the noisy cicadas begin to screech in deafening unison, you know it's time to break out those shorts and sandals (not to mention air conditioning), because it's summer time in Tokyo!




While Tokyo summers are notorious for their unbearable heat and humidity, they are equally famous for the sheer number of exciting events constantly happening. From fireworks to cruises to headbanging music festivals, there's something for everyone in this concrete jungle.
Tokyo Matsuri Festivals
Asakusa Samba Carnival


Break out your feather boas and stilettos, it's samba time! On August 29, thousands of musicians and dancers in vibrant outfits will parade down Asakusa's Umamichi-dori Street and Kaminarimon-dori Street during Japan's largest samba dance competition.Since the parade features bejeweled women in string bikinis decked with colorful beads and plumes, it's no wonder the parade attracts over 500,000 visitors each year! As close to 20 samba teams (some even actually native to Samba, Brazil) passionately compete against one another, you'll forget that you're still in Tokyo.

Website >> http://www.asakusa-samba.org/index.html (Japanese)


Shinjuku Eisa Festival


With its roots in Okinawa, this ritual festival to honor the spirits of ancestors is now one of Tokyo's most popular summer festivals. You'll see a whole host of dynamic performances, from barrel drumming, dancers, and even 'sanshin' players jamming on Okinawa's traditional stringed instrument.
Visit Shinjuku Station's East and West Exits on July 26, between 12:00 and 20:00, to catch this energetic and athletic human display. You'll see over 20 eisa dance groups beating their taiko drums and parading through the bustling streets of Shinjuku―you'll want to dance along as well!

Website >> http://www.shinjuku-eisa.com/index.html (Japanese)

Koenji Awa-odori Dance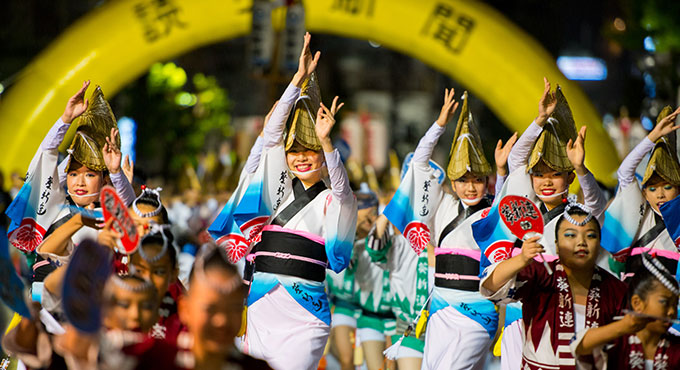 Just a few stops from JR Chuo Line's Shinjuku Station is the sleepy homespun town of Koenji. Brimming with second-hand clothing shops, grungy yakitori shops and many unique cafes, it's hard to believe that this down-to-earth town turns into the hottest Awa-odori capital of Tokyo during this event. With over 10,000 dancers and a million spectators, it's a unique experience you just can't miss. Starting around 17:00 and ending at 20:00, this two-day Awa Odori festival takes place on August 29 and 30 this year.

Website >> http://www.koenji-awaodori.com/ (Japanese)



Major Music Events
Summer Sonic Festival
Held in Chiba and Osaka, this weekend event of non-stop music never disappoints. This year, the concert will be held on August 15 and 16. Boasting artists like Pharrell Williams, Ariana Grande, Magic!, The Chemical Brothers, and more, this is definitely one of the legendary summer events for music lovers. In previous years, Ellie Goulding, Queen, Arctic Monkeys, Metallica and many more popular artists performed at this multi-stage festival. You'll definitely get your money's worth with live music for 12 hours straight. If you attend both days, you'll get to hear the artists who performed in Osaka the day before. Prepare to be blown away.

Website > http://www.summersonic.com/2015/ (Japanese)




Fuji Rock Festival


Held on the 24–26 of July, this annual rock festival in Niigata Prefecture is a huge three-day extravaganza featuring more than 200 Japanese and international musicians. Over 100,000 people attend the festival each year, making it the largest outdoor music event in Japan. Despite its name, a wide genre of music is performed there, from classic rock to techno and jazz. As a bonus, you'll be enjoying Mt. Fuji's natural beauty as you listen. With numerous food stalls and even a massage tent to rest your weary legs, Japan's Woodstock awaits with open arms.
Website > http://fujirock-eng.com/


Summer Bonus Activity
Tokyo Bay Noryosen
If you don't have the time to escape to a three-day event, you might consider cruising out on Tokyo Bay—with unlimited drinks as your companion. The Tokyo Bay Noryosen (literally, 'cool down boat') is Tokyo's favorite booze cruise. Featuring dancers in yukata robes, various food stalls, and unlimited beer, chuhai and soft drinks, this cruise departs from Takeshiba between July and September. The cruise itself is only about an hour and a half, but that's definitely enough time to down a couple beers, cool off and take some amazing selfies of the onboard festivities.
Website > http://www.nouryousen.jp/ (Japanese)


Conclusion
The muggy weather may discourage you from leaving the comfort of you air conditioning, but there's just so much to do and see! You won't want to miss the Samba Carnival or Fuji Rock, or any of the Tokyo festivals above. Once you experience just one of these audio-visual feasts, you won't regret having stepped out of your comfort zone. You might even learn to enjoy the humidity! For more festivals in and around the city be sure to check out our complete Tokyo festival list.
This entry was posted in Living Information